"Turban, Eh?" event to tie students' turbans and educate on Sikhism
Sofia Osborne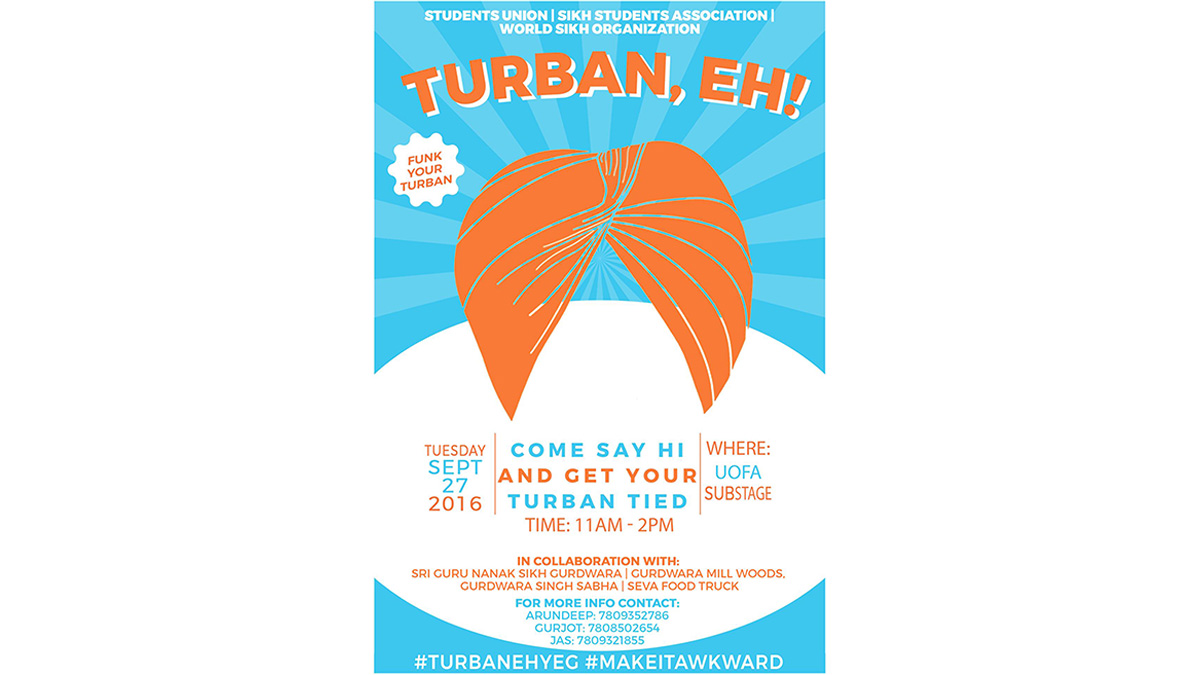 Turbans will be tied in the Students' Union Building this Tuesday in response to racist posters discovered on the University of Alberta campus last week.
"Turban, Eh?" will educate the public  from 11 a.m. to 2 p.m. on SUBstage about Sikhism and the use of turbans. The World Sikh Organization (WSO), the Students' Union, and the Sikh Students' Association are the first in Edmonton to host an event where members of the public can have turbans tied by Sikh volunteers, Gurjot Sandhu, a member of the WSO, said.
"Everyone is welcome at the event, there are no limitations on who can come,"  Sandhu explained. "Sikhs will be volunteering and we're aiming for a lot of people to get their turban tied and get educated."
Attendees can get a turban tied with free cloth and will be given informational booklets on Sikhism. The donation-funded event will also have volunteers, some who are visiting from Calgary, educating students on the Sikh turban that represents equality and altruism, Sandhu said.
Sandhu and the other organizers of the event have seen an outpouring of support from the public, he said. When the poster for the event went online it received over 500 shares and 400,000 views overnight. People from across Canada and India have called to donate money.
"People were calling from India, B.C., Calgary, willing to donate, willing to come down and volunteer," Sandhu said. "(The support we've received) has just been really overwhelming."
Last Monday several posters were found at U of A featuring a photo of a Sikh man and the text, "Fu*k Your Turban." Since then the poster has gone viral with coverage from media outlets including Vice, The Huffington Post, and the CBC.
Sandhu said he was disheartened when he first saw the posters that had been put up around campus, but he was proud of the support the Sikh community received from Canadians. The support turned negative actions of one person into a positive show of support for Sikhs, he said.
The posters were also condemned as "absolutely unacceptable" by the U of A's President, David Turpin. He said that the university has to focus on creating an environment where everyone feels welcome and safe.
"That sort of racism is not welcome and we will do everything we can to confront it," he said.
Though "Turban, Eh?" was sparked by unfortunate events at the university, Sandu hopes to see it run annually from now on.
"When you see a Sikh person, you don't need to be scared of that person, you should know that the turban stands for helping others," Sandhu said. "You can go to that one person who has a turban and you know he'll be there to help you."