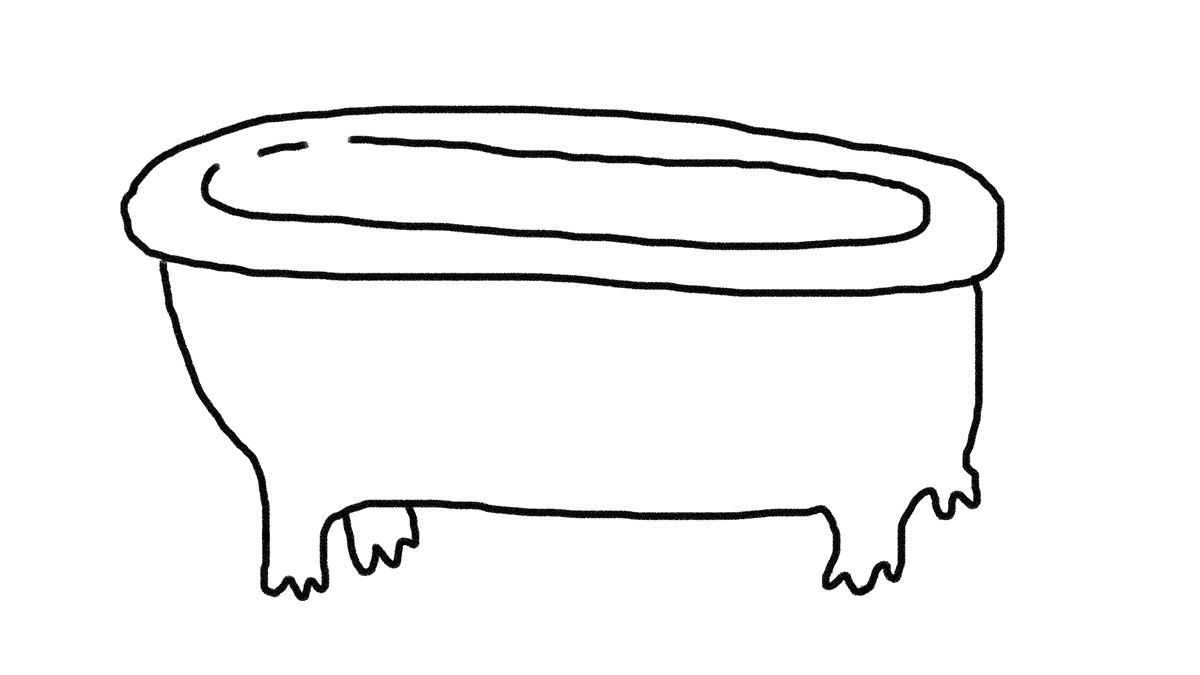 It's the first Sunday of August and campus is silent, except for a studio on the third floor of the Fine Arts Building. The cast and crew of a never-before-seen play trickle into a rehearsal studio.
The play, called The Big Fat Surprise, has a prop list that includes a lobster, a large white tarp, cucumber sandwiches, a bottle of fake blood, a cardboard cutout of a lamp, and a bathtub. As the crew remove their shoes at the door (no shoes are allowed in the studio), stage manager Louise Mallory asks one of the actors if a bathtub has been found.
Yes, we're going to rent it.
How will we fill it on stage? Could we use a water dispenser?
We're going to fill it with dirt now.
Dirt?
Dirt.
Mallory grins. Up until now, she was challenged with finding an appropriate-sized drain plug for a bathtub she'd never seen before. Now, she just has to find dirt. Mallory discusses an appropriate source and pricepoint for sparkles with director Kristine Nutting. Nutting brings up a document on a laptop to track creative changes. The script is being worked out.
The show's creators, University of Alberta Bachelor of Fine Arts (Acting) students Jake Tkaczyk and Sarah Ormandy, shove props into place. The pair run through their performance twice. The first is a warm-up, where Tkaczyk and Ormandy rehearse the movements of each scene without speaking any lines.
Nutting, cross-legged on the floor, calls out a sequence of attitudes the actors must convey as they "reach into" their characters. Tkaczyk and Ormandy open their performance with boisterous piano. "Can I see welcome coming out of your eyes?" Nutting says. "Good."
She asks for exhaustion in the next scene, then frustration, guilt, defiance ("I want to see 'fuck you' coming out of your kneecaps and eyes.") She then asks for innocence, apology, addiction, "fuck it," melodrama, sarcastic-joyful, and, finally, respect.
Nutting instructs Tkaczyk and Ormandy to quickly run through the play's attitudes one more time and leaves to make a quick phone call. The pair quickly dance, sing, verbalize snippets of lines, and correct each other on the performance sequence. They're about an hour and a half into rehearsal with three more to go. The Fringe starts in a week.
---
Fringe shows start with creators paying $700 to enter a lottery. The winners, picked at random, each get a venue, two technicians, box office services, one rehearsal, and six scheduled shows. Unlike other festivals, there is no adjudication to decide what shows are to be performed. When Tkaczyk won a Fringe venue, the 55-seat Nordic Theatre in the ATB Financial Arts Barns, he and Ormandy knew they wanted to do something outside of the audience's expectations.
"(In traditional theatre, the) lights are going to go down, actors are going to shuffle on the stage, we're going to hear some music covering (their footsteps), then the lights come up and the show begins," Tkaczyk says. "Theatre is a ritual."
He says the idea was to break the ritual.
In a booth at the Next Act, a thespian-frequented pub off-Whyte Ave, Tkaczyk explains that The Big Fat Surprise intended to "shock and ahh." He and Ormandy were going to make a show with no story with the sole purpose of entertainment.
"It's the gut reaction that we're looking for," Tkaczyk says. "(We're not going for) the whole cerebral, 'What does this symbol mean?'"
Tkaczyk and Ormandy had recently read Theatre of the Unimpressed, a book by Toronto-based playwright Jordan Tannahill. Tannahill argues that Canadian theatre has stagnated because it attracts audiences with safe narrative formats such as the "well-made play."
According to Kathleen Weiss, Chair of the Department of Drama, the well-made play dates back to Norwegian playwright Henrik Ibsen. It represents life through a linear, logical narrative where one thing leads to another. The causes and effects eventually lead to a climax, and then a denouement. The structure is "like taking a breath," Weiss says.
"It's the kind of acting you see in any movie," she explains. "(The actors) look like real people and have to convince you that they are the people they're playing."
The "unwell-made play" attempts to recreate reality by often telling nonlinear narratives that don't adhere to realism, she says. It's similar to how Picasso approached painting. "In a realistic painting, you would just see a bottle," Weiss says. "But Picasso said that he was trying to show … the top of the bottle, the bottom of the bottle, a shook-up bottle, a bottle on the floor, and a bottle hanging from the ceiling in the painting. He was presenting an idea about reality that wasn't literal — it can be true, but it's not necessarily realistic."
In a well-made play, acting is also based on motivation — characters want to do certain things, and therefore act a certain way to achieve those things. If a character is motivated to impress another, they would act intelligent or funny, Weiss explains. Rather than using psychology and behaviour to drive a narrative, an actor of non-traditional theatre might physicalize a couple of images and tie them together with a story.
Ormandy had a few images in mind for The Big Fat Surprise.
"One of the things on my list was taking a bath on stage … So we knew we'd have a bathtub," Ormandy says. "And (I said,) 'Oh, I really want to eat blood.' So we were going to have that. And as we have something to work with, we keep spewing out images."
By August rehearsals, the images were fleshed out.
---
After a warm-up, the actors rehearse the show.
Ormandy begins by singing Minnie Riperton's "Lovin' You" in a large, white bridal dress as the stage hand, dressed in 80s workout attire, blows bubbles. Tkaczyk hides in the skirt, and sticks out his feet, then legs, seductively. Ormandy then climbs on Tkaczyk's shoulders. Tkaczyk then erupts from the bodice and takes over dancing and singing after Ormandy crawls out from the bottom of the skirt.
In another scene, Ormandy pounds the floor while Tkaczyk stares listlessly into the distance. They hand out imaginary sandwiches to an imaginary audience, and Ormandy asks what they remember about "the deceased." Tkaczyk answers that the deceased wanted to go to Sudan. Ormandy picks up a box of Lucky Charms and wails.
Game show music blares and the actors are suddenly hosts of Let's Make a Deal. Exuberantly, the pair reveal three options for the imaginary audience to pick from: Streetcar Named Desire (which Nutting votes for), Streetcar Named Desire (which Mallory votes for), and Streetcar Named Desire (which I vote for.) Streetcar Named Desire wins. Ormandy becomes Blanche, and Tkaczyk becomes Stanley. They play out a scene with cardboard cutouts of a lamp, a bed, a bottle of Southern Comfort laying flat on a table.
Ormandy delivers a monologue about aging while Tkaczyk throws imaginary eggs, one-by-one, into a garbage bag.
Tkaczyk and Ormandy sing ABBA's The Winner Takes It All while Kai, their stage hand, flips through several audience prompt signs with absurd instructions including "GUTTERAL SHRIEKS" and "LET'S GO SHOPPING."
The pair recreates Streetcar once more, this time acting out the rape scene with monotone lines and robot-like movements. They change into swimsuits, and roll out an imaginary bathtub. Ormandy bathes while Tkaczyk swims in the background. They sing the Marineland theme song.
Tkaczyk spoonfeeds Ormandy blood to "Building Mode 6" from The Sims Soundtrack. In a fatherly tone, he tells her, "You are enough." She giggles. They dance.
For a third time, they return to Streetcar. It's the rape scene again, with Ormandy as the lamp and Tkaczyk as the bed. They joke about Blanche and the well-made scene. They then roll a white tarp over the audience as Ormandy leads a discussion about magic.
"I like to press buttons and read about what's going on in the world," she smiles.
Everyone in the room replies in an enchanted tone, "Maaagiiic."
"I like to go geocaching in the river valley," Tkaczyk says.
"Maaagiiic."
"I love it when I see a middle-aged man eating alone on the patio at Boston Pizza," Ormandy says to the audience. "Maaagiiic."
"I love it when I'm driving down Whyte Ave and trying to turn left but I can't because there's a pedestrian standing on the corner and I'm wondering if they're going to walk because they're staring at their phone and I don't know what they're going to do so I don't turn,"
Tkaczyk says. "Maaagiiic."
---
Tkaczyk and Ormandy don't exactly think Canadian theatre is stuck — there's a purpose to having well-known productions coming to venues that stage conventional performances such as the Citadel Theatre. Citadel productions such as Death of a Salesman, The Sound of Music, Romeo and Juliet, A Christmas Carol, and Who's Afraid of Virginia Woolf sustain a base of theatre-goers that provide consistent interest and revenue for the local arts community — Citadel patrons pay upwards of $70 for most tickets and Citadel subscribers each pay between $300 to $500 for season tickets.
Finding Canadian theatre audiences has been a challenge ever since the advent of television, Weiss says. A lot of people in professional theatre write well-made, naturalistic plays in Canadian professional theatre because they're expected and understood by the audience.
Nutting sees a number of problems in the industry, including fear, conservatism, a desperation to cling to existing resources, and a lack of accessibility (the Citadel maintains theatre audiences, but only those who can pay upwards of $70 for most tickets.)
"Our culture doesn't really let artists fail," she says. "Everything has to be a product … If you look at systems of production, before an artwork even hits a rehearsal room, it's already appeased several modes that are already proved acceptable."
In The Big Fat Surprise's handbill, Nutting reiterates her critique that Canadian theatre limits true experimentation. To gain funding, she writes, a work must be "almost guaranteed a success" before rehearsals even start. And when young artists aren't able to find funding, they can't test their works on an audience.
"What would happen today if a young Beckett submitted Waiting for Godot to the Canada Council for the Arts for funding?" she writes.  " … Honestly not much."
Nutting herself prefers creative freedom — last year, she created Devour Content Here: A Show, a "contemporary postmodern gothic opera" staged in a warehouse North of downtown Edmonton. The audience followed 30 castmembers through the building, telling told a story about an inarticulate farmboy in love. The work included scenes with old toilets, a singing of Kanye West's "Power," and a simulated feast of a dog. It concluded with the burning of a piano.
Nutting says conservative attitudes restrict artists even at the Fringe: rules stipulate that audiences aren't allowed to be moved, and bathtubs full of water aren't allowed on stage either.
---
Tkaczyk and Ormandy's The Big Fat Surprise earned four stars from VUE Weekly, which called the actors "masters of absurdist comedy." The Edmonton Journal's reviewer, however, gave the show a half star, commenting, "I don't think the actors suffered much. But theatre sure did." Ormandy says the review was great.
"Going into it, we knew that show wasn't for everybody," she says. "The (Journal's) review was a great way to see how somebody hated it and didn't find any value in it. And that's an experience, to leave and be like, 'I wish I could have those 40 minutes back.'"
The Big Fat Surprise sold out most nights — it was successful "money-wise and response-wise," Ormandy says. She and Tkaczyk will be using the next months to reflect on the show, and incorporate their experience into their final year in the more-structured, "conservatory" training style of the UofA's BFA program. Tkaczyk says the training is important and useful, but the process of creating a spontaneous, narrativeless play allows the pair to apply the tools learned in university explore their own styles of creation.
"(In the BFA program) we focus a lot on classical texts and published works that have been done before," Tkaczyk says. "It's fun to take the creative energy that we had in The Big Fat Surprise and try to follow our impulses."