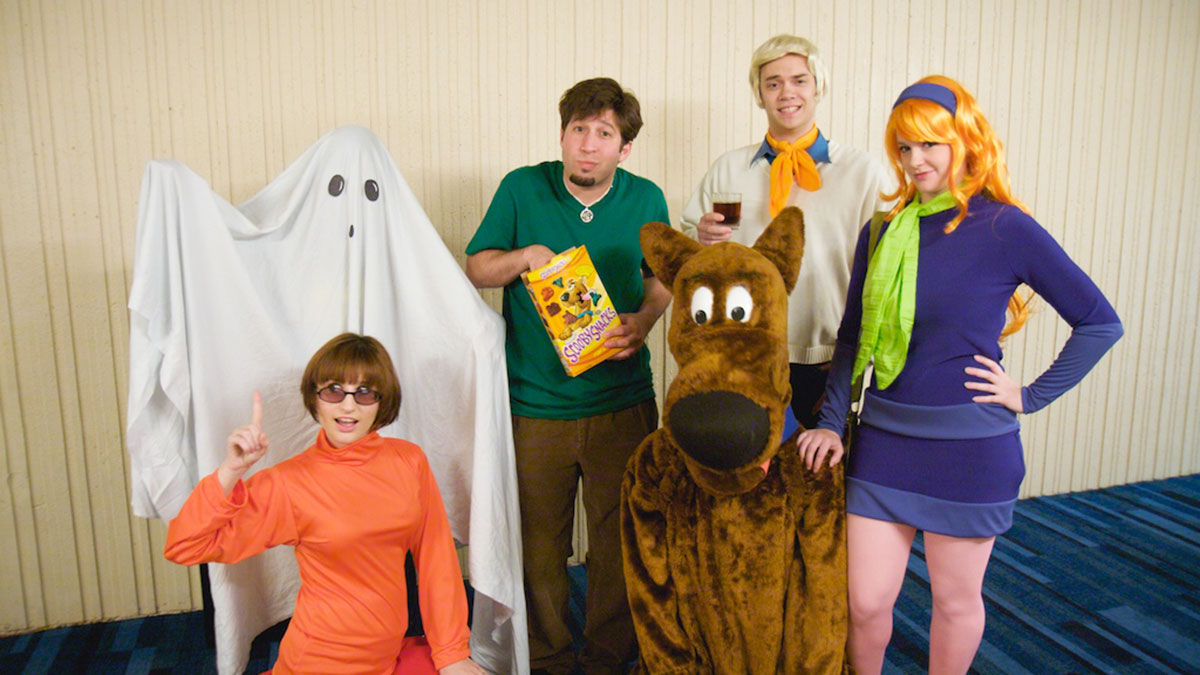 Going to a party this weekend and need something last minute? Take our advice, don't dress up as any of this stuff.
---
Harley Quinn
Don't dress up like Harley Quinn for Halloween. You'll remind everyone of David Ayer's atrocious film Suicide Squad. And you'll also be dressed the same as the other fifty-million Harley Quinns. This year be original.
– Jonah Kondro
---
Anything from a French comic
You know how sometimes a costume is great because no one gets it, but then there's that one person who understands how cool it is? That's what I was hoping would happen when I dressed up as Asterix (of French comic-book fame), and nobody at my elementary school got it. I put serious hours into that moustache, and 10-year-old me nearly cried when I went unrecognized. A few years later, I tried Tintin. Again, no dice. Learn from my mistakes. Keep it culturally homogenous.
– Mitch Sorensen
---
Onesie
Don't be last-minute Luke who shows up to a Halloween party in a onesie. You're not fooling anyone. You put less effort into that costume than I did into this group commentary. It's a frumpy pyjama suit with pockets and a hood. You'll just be that guy hitting people with your dragon tail and taking up more space than you should. Not to mention, if you show up to the bar, you'll just be a hot and sweaty fleece wannabe dragon who definitely won't be going home with any of the 12 Harley Quinns at the party.
– Ashton Mucha
---
Clown
If someone sees you at Spirit Halloween buying a clown mask and a red wig they're going to look at you with suspicion. They're going to wonder if you'll be heading to Cabela's afterwards to get a gun and a hunting knife. While you're walking to the Halloween party, posts will start popping up on Facebook: "Creepy clown spotted!" As you round the corner, almost at your friend's house, a mob of angry citizens will appear. They'll chase you down the street and you'll hide in a dumpster. Once you get to the party, looking bedraggled and even creepier, all of your friends will scream. Bobby will grab his dad's gun and run you out of his house. That's what you get for being a clown during the Clown-pocalypse of 2016.
– Sofia Osborne
---
A goat
It might be your favourite emoji to use whenever a new Lil Yachty (Lil Boat = Lil G.O.A.T.) mixtape drops, but guaranteed it's not going to be a banger of a costume at your girlfriend's friend's Halloween party. Best case scenario, someone will think you're cleverly representing Michael Jordan. Worst case, you're the embodiment of Satan. Sometimes goats look cute, but usually they're just normal farm animals. Whether you do an "adorable" or "realistic" version, it's a stupid idea.
–Sam Podgurny
---
Costumes that cause rashes
Do not wear leather pants, you will get a rash.
Do not dress up as a beaver (no one gives a damn) and you WILL get a rash.
Do not dress up as a sexy nurse, this is a sure way to get a sexually-transmitted infection (and a rash).
Do not wear a catsuit, it's hard to pee and you will probably get a rash.
Don't dress up in lingerie, you will get a rash and die of rash-related complications.
Do not wear ANYTHING, you will get a rash.
– Dufié Adasi
---
Couple Costumes
Stop, you're not being cute. No one is going to recognize the costume when you and your significant other will be apart for most of the night because you go to parties to get away from one another. Let's be honest, this costume is the last attempt to rekindle your relationship and you both know you'll end the night hating the costume and embarrassed that no one got it.
– Nick Neitling
---
Anything
The true, ancient, pagan purpose of Halloween is to connect with the dead and to celebrate (that is, mourn) the end of harvest. It's unclear to me why members of society now prefer to invest time and money into absurd clothing and makeup while farmers, alone in their cold, dying fields, watch as their barren corn stocks rot in the earth. We shouldn't be thinking about clothing and candy in the middle of an agricultural deficit. Rest in peace, harvest of 2016.
– Jamie Sarkonak
---
Chokers
Chokers are overrated. Not only are you going to look like every other basic bitch out there but you are also going to look like a submissive. Unless you're into BDSM and looking for kinky action at the end of the night, do not wear a choker. Even if those are not your intentions, you are sure to be labelled as a thirsty chick. If you don't intend to sign up for any of this, do not wear a choker.
– Jayasree Narayanan