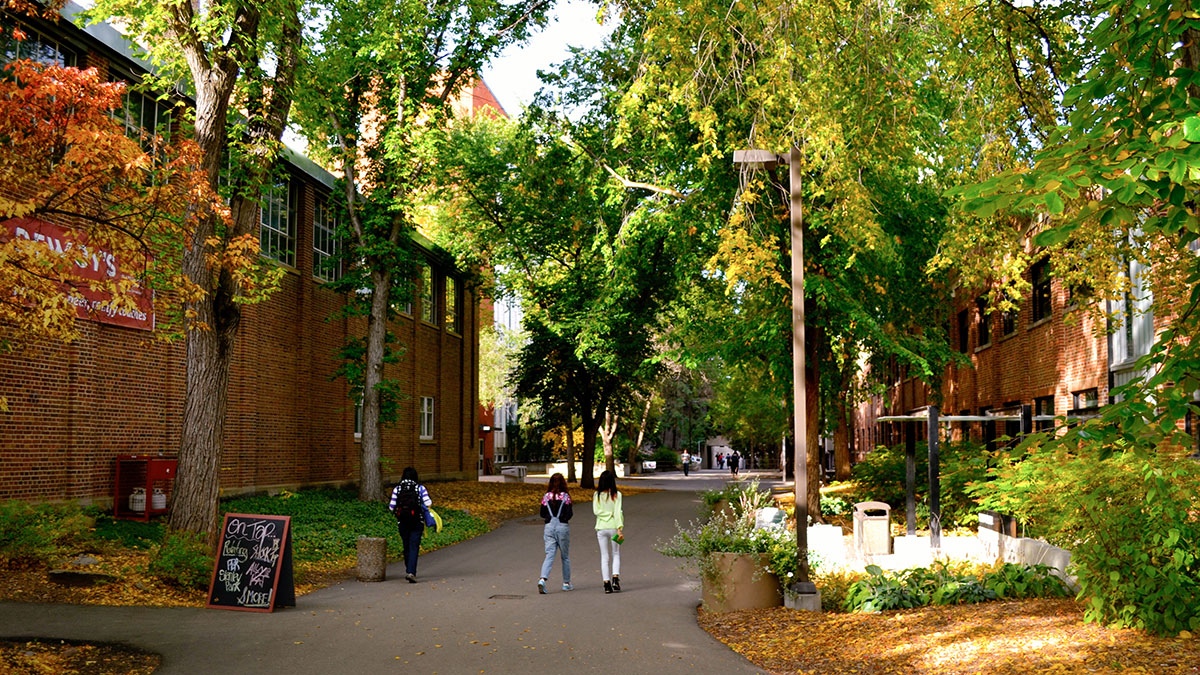 Former University of Alberta contract instructor Theo Finigan thinks it was funny when his students called him "professor."
"People would use the term 'professor' and that's fine, I wouldn't correct you," Finigan says. "But that's not my actual title.'"
Finigan has a PhD from the U of A's Department of English and Film Studies, and after he earned his doctorate, he worked from 2011 to 2016 as a contract instructor, a part-time, low paying position at the U of A. In grad school, he says he had naïve assumptions about the academic job market.
"It quickly became apparent that it was a fantasy a lot of us had that just getting a PhD means 'here's your job,'" Finigan says.
He applied to multiple institutions but didn't get a full-time position. Finigan realized the competitiveness of full-time positions when he applied to a small Lutheran college in Washington state and there were about 400 applicants. He settled to work as a contract instructor at the U of A.
"For me to make approximately $40,000 a year (as a contract instructor), I'd have to teach seven or eight courses: three fall, three winter, and one or two in the spring or summer, which doesn't sound like a hell of a lot, but it is," Finigan says.
He says he felt grateful for getting course assignments and for being able to teach upper level courses, but the lack of job security and the need to reapply for his position every year once his contract expired dissuaded him, and he finished working as a contract instructor at the U of A in June. The career wasn't viable for him long term and he decided to live with his partner in B.C.
"You have to stay on this hamster wheel to survive," Finigan says.
---
There are many ranks of academic faculty at the U of A. The highest earning and often most prestigious academic position is a fully-tenured professor — earning about a minimum $120,000 per year, and potentially much higher, as the 2015 sunshine list reveals, especially in faculties such as Business, Law, and Medicine. The expectations of tenured professors is generally to dedicate 40 per cent of their work to research, 40 per cent to teaching, and 20 per cent to administrative duties. Tenured professors for the most part have excellent job security and enjoy academic freedom, which York University's Michiel Horn describes as "the freedom of professors to teach, do research, and publish; to address issues publicly without fear of institutional sanctions; and to criticize and help determine the policies of the universities in which they work."
Becoming a fully-tenured professor at the U of A and in Canada has become increasingly difficult in recent years. According Alison Sekuler, Associate Vice-President and Dean of Graduate Studies at McMaster University, "it's now estimated that at most one out of every four PhDs will end up in full-time university faculty positions, with the vast majority of doctoral students finding employment elsewhere."
York University sociologist Indhu Rajagopal, in her 2002 book Hidden Academics: Contract Faculty in Canadian Universities, writes that the Canadian public funding model for universities has shifted since the 1960s, in which governments made significant capital investments in universities and created new major spending programs. There was "faith in the economic value of higher education and confidence that it would repay an investment of large-scale public funding." Attending university in Canada became enormously popular during the '60s: full-time enrolment in Ontario rose from 32,000 in 1960 to 120,000 in 1970, while attendance at the U of A rose from 5,000 to 17,500 in the same decade.
There was concern about high university operating budgets in the 1970s, and according to the Association of Universities and Colleges of Canada, "provinces began to shift funding away from education." Universities needed to cut costs, and administrators had, as Rajagopal characterizes Cynthia Hardy's conclusion, "two choices: either cut salaries and hire cheaper teaching resources to handle enrolment bulges, or retrench tenured faculty."
Administrators often chose the former. Contract positions existed in universities in order to replace instructors during sabbaticals or other leaves of absence. But Rajagopal observes that in Canada in the mid '70s, contract faculty began to significantly replace full-time faculty.
Since then, university enrolment, and expenditures, have increased. According to Statistics Canada, 1,955,300 total students in Canada in 2010/2011 has increased to 2,048,019 in 2013/2014, while, according to Higher Education Strategy Associates, total labour costs at Canadian universities have risen 10 per cent while income has risen only five per cent: Alex Usher concludes such a financial model is "probably not sustainable in the long term." The U of A experienced similar trends, as enrolment increased from 26,030 full-time and nearly 4,000 part-time students in 1999/00, to 33,617 full-time and 3,229 part-time students in 2015/2016. The U of A's financial situation was described simply in a 2014/2015 budget document: "expenditure rates are increasing faster than revenues." The amount of revenue from the provincial government has never been higher, but neither have university expenses. The logic was that more and more students needed to be taught for less.
One of the U of A's major annual expenses, according to the 2015/2016 operating budget, is staff salaries and benefits, which constitute 60 per cent of total costs. In order to curb the rising expenditures of salaries and benefits of academic staff over the years, large bodies of contract academic staff, who work part-time and earn much less than tenured professors, have gradually emerged at the U of A and in most North American universities. According to Academica interpreting the U.S. Department of Education, in 1976, "full-time tenured and tenure-track faculty made up 44.6 per cent of instructional staff in higher education, with part-time faculty making up just 25.1 per cent. However, in the nearly 40 years since then, the two lines have moved in opposite direction: full-time tenured and tenure track faculty are now just 23.6 per cent of instructional staff and part-time faculty are 41.5 per cent." The same study reports that part-time faculty, full-time non-tenure track faculty, and graduate instructional staff constitute 76.4 per cent of America's postsecondary instructional staff.
Much information about contract faculty in Canada is unavailable. According to the Globe and Mail's Simona Chiose, "In Canada, publicly available data on contract faculty does not exist on a national, or even provincial basis." Sylvain Schtetagne of the Canadian Association of University Teachers estimates "more than 30 per cent of academic staff in Canadian post-secondary institutions are faced with short-term, insecure employment."
Carolyn Sale, president of the Association of Academic Staff University of Alberta (AASUA), and Associate Professor in the Department of English and Film Studies, writes in an email that contract academic staff at the U of A "are teaching about 40% of the total courses offered in any given year" and that there is about one contract academic staff member for every two full-time continuing faculty members.
---
Students are often unaware of the conditions under which contract academics work. Working conditions vary depending on the faculties and departments that hire.
"With contract academics there's no one size fits all. We're a wide variety," says Kelly MacFarlane, Chair of the Contract Academic Staff: Teaching (CAS:T) Committee of the AASUA. MacFarlane is also a faculty lecturer in the U of A's Department of History and Classics, a renewable five-year position that she describes as "quasi real faculty, and quasi CAS:T member."
MacFarlane says that for the majority of contract academic staff who work in the Faculty of Arts and the Faculty of Science, teaching on temporary contracts is their primary job. Most contract academics at the U of A earn between $7,228 per course in their first year of teaching, and $8,889 per course in their eighth or subsequent year. Contract faculty don't have control over what courses and how many courses they teach: if fully-tenured staff want to teach courses, contract faculty don't teach them.
"The biggest thing when it comes to working conditions in my experience is (questions such as) 'Am I going to be able to pay my bills next year?' 'Am I going to have teaching next year?'" MacFarlane says.
Unless contract academics get lucky, MacFarlane says, and earn contracts to teach three courses in the fall and three in the winter, their work is considered part-time and doesn't come with benefits that include health, vision and dental coverage.
"A lot of people won't get six courses," MacFarlane says. "They'll get five or four or three, and (they) try to cobble together a working salary or living wage."
Contract academic staff re-apply for their jobs every year and at the end of April, they're often unsure if they'll find work in September. Often they find out they will be offered courses on short notice, if at all.
"You scan the headlines and think 'Oh yeah, this person is on sabbatical, wonderful, maternity leave, oh yay, hit by a car, score, there are courses available,'" MacFarlane says. "That's a horrible way to live. We really don't want anyone to be hit by a car."
Contract faculty wages have hardly changed since the early 1990s. The justification for the low pay is that contract faculty are temporary staff and only paid for teaching time, but MacFarlane explains that teaching requires more work than what students experience as teaching in the classroom.
"If you're on an eight month contract, you are paid September through April. If classes start on September 1, when have you prepared that course? You've prepared it in August because you can't walk in on September 1st and say 'Sorry guys, I just started the job today, I don't have a syllabus, I haven't ordered textbooks, but trust me it'll be a great course.'"
Contract faculty who don't teach three fall courses and three winter courses per year don't receive professional expense allowances to purchase teaching materials such as whiteboard markers, paper, and printing ink. Depending on the faculty that's hiring, office space can be limited, and staff frequently share offices. A lack of a professional expense allowance requires contract faculty to pay for their own professional development, and they must pay their own way to attend conferences. Grants cover some costs, but many contract staff are ineligible for grants.
"A lot of us struggle in our research because there really isn't the access to funding for it," MacFarlane says.
Contract faculty who seek lasting, full-time positions are often in a predicament. There are few tenure-track jobs, but earning them is difficult because of the constraints of working on short-term teaching contracts. According to Peter Midgley, acquisitions editor at the University of Alberta Press, publishing monographs, which are book-length studies, was something scholars often did as a reflection of their work at the end of their career. Monographs are now often required of tenure-track position candidates. As an increasing number of contract academics are teaching, attending to students, writing grants, and earning low wages, they can only find time to write chapters and articles, and publishing anthologies has become more common. University presses have had to adapt.
"People used to have to do a really solid job to be a professor," says Cathie Crooks, associate director of the Press. "Now I think you have to be a rockstar."
MacFarlane says that earning desirable academic positions requires more than teaching and research talent.
"We like to think of (the academic world) as a meritocracy," MacFarlane says. "It's not. A lot of times (getting hired) is plain luck. You have the discipline that's hiring and they wanted someone with your specialty when it came time."
MacFarlane attributes earning her position as a faculty lecturer to hard work as well as her husband, a tenured faculty member at the U of A, being offered jobs elsewhere.
"The (U of A) said 'If we offer your wife a faculty lectureship, will you stay?' He said 'Ok.' There needed to be something to trigger open the magic pot of retention money," MacFarlane says.
MacFarlane likens the situation of getting hired in full-time academic positions to a "gold ring at the carnival."
"Everyone's trying, and a couple of people are going to get it. The rest of us have more precarious positions."
If those who want a tenure-track job aren't lucky, like Finigan, they sign contracts academic year after academic year and hope for full-time positions to become available.
"The rough stats I think are basically three out of four (contract academic staff) are in that four month to eight month mill," Sale says. "We can see the numbers dropping off over sort of five, 10, 15 year periods. Once we get to that 20 year mark we're down to a very small number of contract academic staff who've managed to hang on in those precarious circumstances."
Even if jobs become available, many contract faculty aren't considered for tenure-track employment after they reach a certain age because faculties often look for young candidates.
"We're not temporary by any stretch of the imagination," MacFarlane says.
Academics whose primary job is contract teaching report the inability to pay off debt, difficulty getting mortgages, starting families and saving for retirement. Lack of morale and mental health are frequently-discussed topics.
The growing body of contract academic staff concerns Sale, not only for the conditions under which they work, but because it affects academic freedom.
"If you have people who are focused on performing at their job in a way that they will secure another precarious contract or two for the next year, (there is little) likelihood that they're going to feel empowered to be speaking about the work that they do in ways that would be consistent with academic freedom, or exercising intramural freedom of critique," Sale says.
Sale believes the conditions under which contract academic staff continue to work result from a "lack of social will" from administration.
"I would say it's not just a money problem, it's a problem with the ethos of university culture," Sale says. "Being able to pay contract academic staff less helps (budgets) and administration would probably take the position that its budgetary constraints are compelling them to do this. But I would not rest easy with the idea that it's all about the money. It's actually a failure of social ideas and social commitment."
---
MacFarlane says the situations of administrators are difficult.
"As department chair, you really have an awful lot of unpleasant decisions. I think the only thing worse than department chair is dean," MacFarlane says. "Both of them are ultimately responsible for people who will or will not get courses, not because they're evil people. (They) have budgets."
In March 2015, Dr. Lesley Cormack's term as Dean of Arts was extended for another five years. The Dean of Arts since 2010, Cormack says her position involves making financial decisions with scarce resources, such as about two per cent of the Arts budget because 98 per cent of the budget is in continuing salaries.
"Every year, (money) comes from the government and tuition, it goes to central vice-president academic, the academic side of the salary goes to the provost, and the provost loads it into our budget," Cormack says.
The Faculty of Arts operating budget in 2015/2016 was about $78 million. Of all faculties, Arts had the highest headcount of CAS:T members with 270, along with 322 teaching faculty. Nursing, with a 2015/2016 operating budget of about $23 million, had 122 CAS:T members and 47 teaching faculty, while with a 2015/2016 operating budget of $30 million, Education had 92 CAS:T members and 104 teaching faculty. Science had the fourth most CAS:T members with 63, while also having 286 faculty members, and a operating budget last year of $92 million.
Determining who consider contract teaching as their full-time job is difficult: Cormack says the CAS:T headcount in Arts includes instructors who teach orchestra instruments yet who work primarily for the Edmonton Symphony Orchestra, life models in Art and Design, and graduate teaching assistants who are also CAS:T members. In a document given to deans by the provost's office, full-time equivalents are used to determine the number of contract academic staff rather than headcount. Cormack explains measuring full-time equivalents would count "three people who each teach two courses" as one full-time equivalent.
Department chairs choose the number of full-time and part-time staff needed to teach the amount of required sections, which is determined by curriculum. The Department of English and Film Studies needs the staff to teach all undergraduate students, while social sciences requires the staff to teach programs that, according to Cormack, are "laddered," in which students are required to take sequences of courses. Chairs in many faculties plan according to an idea called "sustainable teaching," in which, as Cormack describes, chairs "offer as many sections of courses as they have full-time faculty to teach them, and they should only be employing sessional instructors to replace people who are on sabbaticals and various leaves."
Faculties always require contract academic staff, but Cormack sees the situation of contract academic staff differently than MacFarlane and Sale.
"I'm not convinced that there's a story that's out in the world that universities are being taken over by sessional, precarious instruction," Cormack says. "That's not my experience of the University of Alberta and I'm not sure how true it is in Canada at all, but it is a story that always gets told. There are some areas where we could hire a few more faculty members, but we've reduced the number of faculty members, we've not replaced them with CAS:T instructors. We're still using the CAS:T instructors for a combination of expertise that we would never have on staff, like the oboe instructor, graduate, professional development, and sudden spikes in interest, plus replacing people while they're on leaves. There's no world in which anything else could ever happen."
A question deans face is whether or not to hire staff to teach courses after faculty retire. This year in the Faculty of Arts, 14 lines will "probably" be closed, meaning "people have retired and we're not replacing them," Cormack says. The extra money will be used to pay for increases that continuing faculty collectively bargained through the AASUA.
"We have to reduce the number of faculty that we have in order to pay the ones that remain," Cormack says.
Sale says that the AASUA opposes the practice of the university's senior administration "(downloading) the responsibility for compensation to faculties."
Professors often disagree about administrative positions.
"(Deans and chairs) are supposed to be advocacy positions, so this culture of quietism is not helping us at all," Sale says. "If we don't have the people who are running units both at the department and faculty level willing to advocate for change, how is it going to happen?"
"A dean is appointed by the board of governors, and so a dean is always between senior management and the faculty," Cormack says. "And so I think deans have a dual responsibility: they have the responsibility to represent their faculty up and they need to represent the strategic planning and goal of the university down. I think it's clear that a dean who disagreed a lot would probably need to resign, or might be asked to resign."
---
Administration, faculty, students as well as the public, are becoming aware of the high percentages of contract faculty in universities, and Statistics Canada plans to collect data on the number of contract faculty in the country. One of President David Turpin's points in the U of A's Institutional Strategic Plan is to "Stabilize long-term investments in contract academic staff by offering career paths that include the possibility of continuing appointments based on demonstrated excellence in teaching." The idea of a teaching-tenure stream, in which academics would earn tenure by working as instructors, has been circulating on campus.
MacFarlane would support a teaching tenure stream as long as it is teaching-intensive rather than teaching-only. She thinks academic freedom could be protected if the contracts of teaching tenure staff didn't end. MacFarlane says contract academic staff have academic freedom but contracts can expire and don't have to be renewed — proving a contract wasn't renewed due to outspokenness is difficult.
Finigan acknowledges the teaching tenure stream could have problems, but he feels that contract academics are already a de facto second class.
"If this is the way things are going, by virtue of how this thing has been working we need to formalize it a little bit more, and stop kidding ourselves on both sides."
The AASUA doesn't have an official position on the tenure stream, but Sale has reservations. She says the tenure stream might be "a new sort of competitive thing for academics to be applying for from across the country" rather than a hiring stream directed toward current U of A staff.
Some consider the conditions of contract academic staff to be exploitative. MacFarlane doesn't quite agree.
"I hate the word exploit, but (I prefer) overworked because you love the job that you do. And so we find ourselves doing more than we are paid to do and more than we necessarily should be doing. But at the same time, we want to do it because we love what we do, we love the teaching, we love the research, we love the university world.
"Unfortunately, we love what we do."
Correction: The November 3 printed version of this article and the November 23 online version of this article stated that Carolyn Sale "estimates the amount of contract academic staff at the U of A to be at least '40 per cent.'" The article has been amended to say "Carolyn Sale, president of the Association of Academic Staff University of Alberta (AASUA), and Associate Professor in the Department of English and Film Studies, writes in an email that contract academic staff at the U of A 'are teaching about 40 per cent of the total courses offered in any given year' and there is about one contract academic staff member for every two full-time continuing faculty members."