Throwback: "Young Communists host Capitalist pig roast"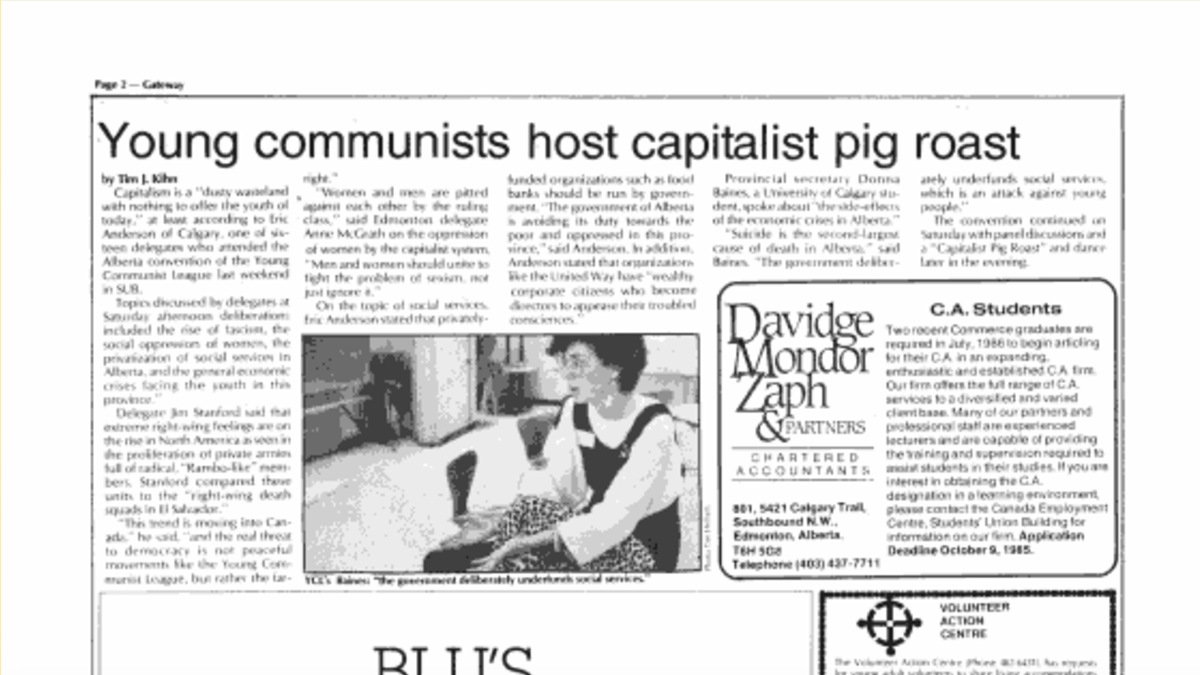 Throwback is a semi-regular feature where we dive into The Gateway vault to find historical, noteworthy, or just plain weird stories from our past. This article comes from the September 24, 1985 issue of The Gateway, and was written by Tim J. Kihn.
Our back issues dating to 1910 can be found in print at the U of A Library, as well as online at Peel's Prairie Provinces archive.
---
Capitalism is a "dusty wasteland with nothing to offer the youth of today," at least according to Eric Anderson of Calgary, one of sixteen delegates who attended the Alberta convention of the Young Communist League last weekend in SUB.
Topics discussed by delegates at Saturday afternoon deliberations included the rise of fascism, the social oppression of women, the privatization of social services in Alberta, and the general economic crises facing the youth in this province.
Delegate Jim Stanford said that extreme right-wing feelings are on the rise in North America as seen in the proliferation of private armies full of radical, "Rambo-like" members. Stanford compared these units to the "right-wing death squads in El Salvador."
"This trend is moving into Canada," he said, "and the real threat to democracy is not peaceful movements like the Young Communist League, but rather the far-right."
"Women and men are pitted against each other by the ruling class," said Edmonton delegate Anne McGrath on the oppression of women by the capitalist system. "Men and women should unite to fight the problem of sexism, not just ignore it."
On the topic of social services, Eric Anderson stated that privately funded organizations such as food banks should be run by government. "The government of Alberta is avoiding its duty towards the poor and oppressed in this province," said Anderson. In addition, Anderson stated that organizations like the United Way have "wealthy corporate citizens who became directors to appease their troubled consciences."
Provincial secretary Donna Baines, a University of Calgary student, spoke about "the side-effects of the economic crises in Alberta."
"Suicide is the second-largest cause of death in Alberta," said Baines. "The government deliberately underfunds social services which is an attack against young people."
The convention continued on Saturday with panel discussions and a "Capitalist Pig Roast" and dance later in the evening.