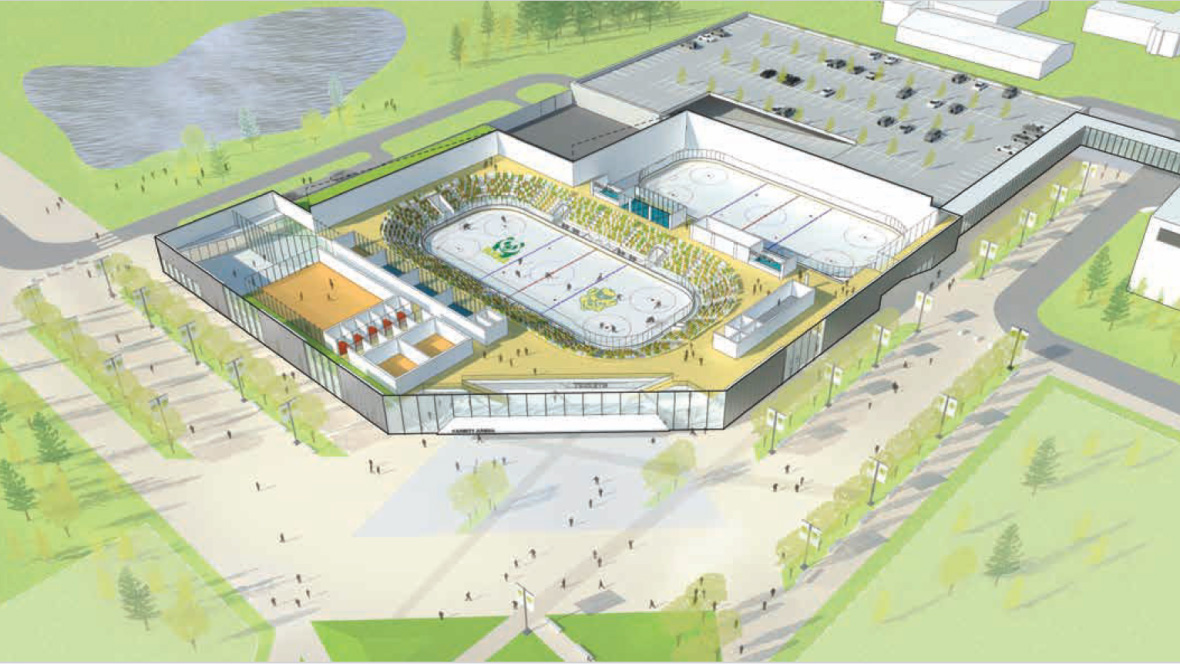 Students who study and play sports could be expecting two rinks to be added to South Campus with the addition of an ice complex.
The $65 million complex would include a competition arena with 3,000 seats, a recreational arena, and a training and research centre. To finance the project, the University of Alberta is asking for donations and for funding from the City of Edmonton, the province, according to Kerry Mummery, Dean of the Faculty of Physical Education and Recreation.
The competition rink at South Campus will become home to the Bears and Pandas hockey teams, which, Mummery said, should have an upgrade given their successful histories. He added that fans at the games will have a more comfortable experience in a modern arena and that a new facility would help with team recruitment.
"We've got support so far from the city, we've got support from donors, and we're currently working with the provincial government," he said. "They have a proposal in front of them that will hopefully get the final funding pieces in place so we can begin construction."
The city has been asked to contribute $20 million to help build the two arenas on university land. With a tentative start date in Fall 2017, the project is projected to take about two years to construct.
[perfectpullquote align="right" cite="" link="" color="" class="" size="10″] [themify_box style="blue rounded"]
Did you know?
The U of A currently has 51 intramural ice hockey teams, comprised of 1,173 participants. That breaks down to:
36 men's teams (889 participants)

Nine women's teams (172 participants)

Six over-35 teams (112 participants)
This includes the university's first openly LGBTQ Hockey team.

[/themify_box]
[/perfectpullquote]
According to the City of Edmonton's 10-year Arena Strategy plan, 34 new ice sheets are projected to be built by 2019 to meet demand. Because the university also needs more rinks for the Bears and Pandas hockey teams, intramural ice sports players, and other recreational users, the collaboration makes sense, Mummery said.
Having three ice pads will take stress off of Clare Drake arena at North Campus which would remain for recreational use after the construction of the new rinks. The arena is currently in great demand from intramural hockey players, Mummery said.
The complex will allow those who study sports to do so in a high-cost training and research centre. The centre could house the (tentatively named) University of Alberta Institute of Sport, which Mummery is excited about.
There would also be space in the complex for teaching programs within the Faculty of Physical Education and Recreation, such as the Master's of Coaching and the Bachelor's degree in kinesiology with majors in Sport Coaching or Sport Performance.
"For the people coming here to study sport I think it will be a direct benefit to the faculty," Mummery said. "We're very excited about that and we think the new facility will aid our ability to attract not only top caliber students but also faculty."
Mummery added that students in the Faculty of Physical Education and Recreation will "without a doubt" be impacted by the complex.
"(The complex) will start to present the South Campus as a very unique area, not only where we provide sport and access but also to study sport and teach sport." Mummery said.