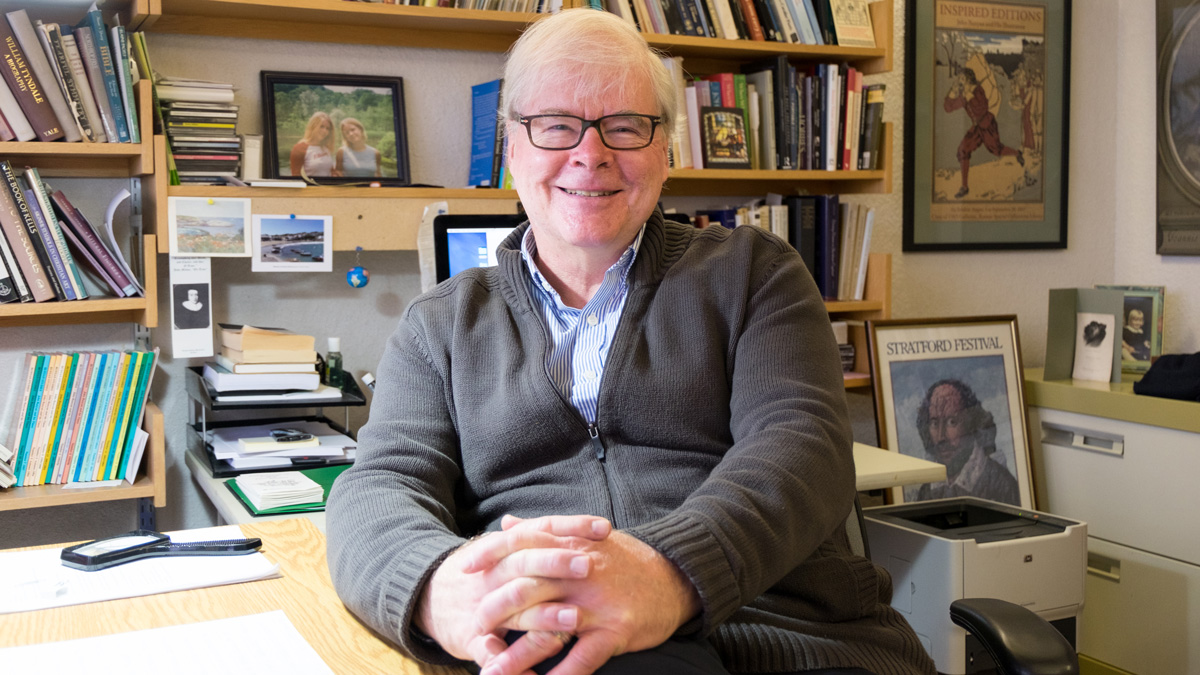 Name: David Gay
Faculty: Arts
Position: Professor of English
Favourite place to be: Off-leash dog park or the River Valley
---
Professor David Gay may be a familiar face for students in English (or students taking English requirements). This year, the Shakespeare and early modern literature expert is teaching ENGL 102 (Introduction to Critical Analysis), ENGL 209 (The History of Reading and English), ENGL 339 (Shakespeare), and ENGL 426 (Reforming Places in Early Modern Literature). We sat down with him to learn a bit more about who he is.
How did you get into your field? I began by studying English because I loved words, I loved language, I loved the way English studies combines so many facets of society from politics to religion to history. And I find all of those interests reflected in literary texts. My first research and teaching focused very strongly on Paradise Lost and John Milton.
Can you tell me about Shakespeare? I'm enjoying Shakespeare tremendously — it's his 400th anniversary this year and tremendous attention is being given to him. With Shakespeare in particular, you have contemporary adaptations and continuing cultural resonance that makes a strong connection between the past and present.
Can you give any examples? I remember being very excited in the 1990s when Linda Woodbridge was a great and very distinguished Shakespeare scholar here. At the time, she did work on King Lear showing its relevance to vagrancy laws, homelessness, and even elder abuse. Those are issues of both Shakespeare's time and our time.
I am fascinated by the way some artists, like actor Simon Russel Beale in London, confront science of aging in King Lear. He portrays Lear as someone who suffers from a very unique form of dementia, called Lewy body dementia. I am amazed at how Shakespeare is always ahead of our own curve ready to help us interpret the very things we need to think about at a given moment.
Where's your favourite place for a holiday? One of my happiest places as a professor of English has been sitting in the British Library in London where you can call up any rare book and immerse yourself in research and reading. Then you can pop out and see a Shakespeare play at the Globe or the National Theatre as well. So, I would say London is a place I have grown very fond of through my career.