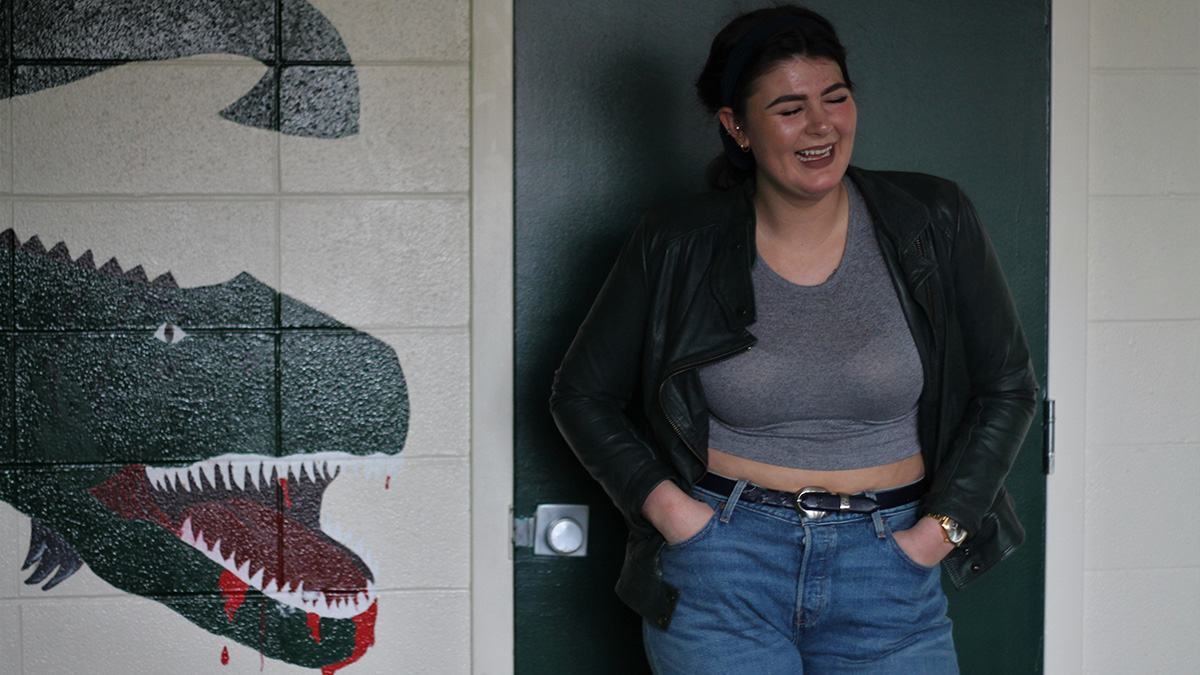 Gateway: Tell me what you're wearing.
Jill: From the bottom to the top, I'm wearing Doc Martens and Levi Jeans. They're very light and high-waisted. I'm wearing them with a navy blue belt because I don't own a black belt. I'm wearing a long-sleeve crop top from Aritzia in this nice ashy grey colour, and this olive jean jacket… wait, fuck, it's a leather jacket. Whatever, same animal. Except it's definitely faux. I'm also wearing this gold accented watch and ring.
How would you describe your style?
Honestly, I feel like that really depends on my mood. It's hard for me to keep a consistent style for a long period of time, because I'll get bored of it. I like to switch it up. I often go for decade pieces — especially since I'm from Vancouver, and I get a lot of my inspiration from there. I lean towards more hipster style if I'm trying a bit harder. Recently, I've been really digging the '80s and '90s looks, with a lot of gold pieces.
I can see that '80s and '90s inspiration in your hair today.
I just went and picked this up from the mall yesterday. Since Urban Outfitters — wait, fuck, I mean American Apparel — is closing down, they've got a huge sale going on. It's a wired chiffon headband. I've been trying to use a lot less heat on my hair, so I've been doing a lot of braids and putting pieces in my hair like this one to add a little oomph.
What's the most important thing about fashion to you?
Definitely feeling comfortable in what you're wearing. You can tell who feels comfortable in what, and it totally reflects on yourself. Having things in the right fit and being able to express yourself through clothing while staying true to yourself. Self-expression is a big thing, especially from the city I come from where the style is very wild and wacky. If you're in East Van versus Central Vancity versus Richmond or the other districts, the style changes so much, and I think that allows people a lot of room to get creative. You know, the you-do-you mentality. There's also a lot of international influences, and little clusters of groups around the city that you can peek into.
What's some fashion advice you live by?
Jill: I always just say, be thrifty. You're gonna spend a lot of money throughout your life, and you can find the coolest things if you put time and effort into it. Going out to thrift stores lets you find these great, wild things that make people ask you where they're from, and then you get to disappoint them in a way by saying Value Village, because you know that they'll never be able to find another thing like it. It's all unique, just like you are.