Review: Neil Pasricha's "make 2017 awesome" lecture
Maja Staka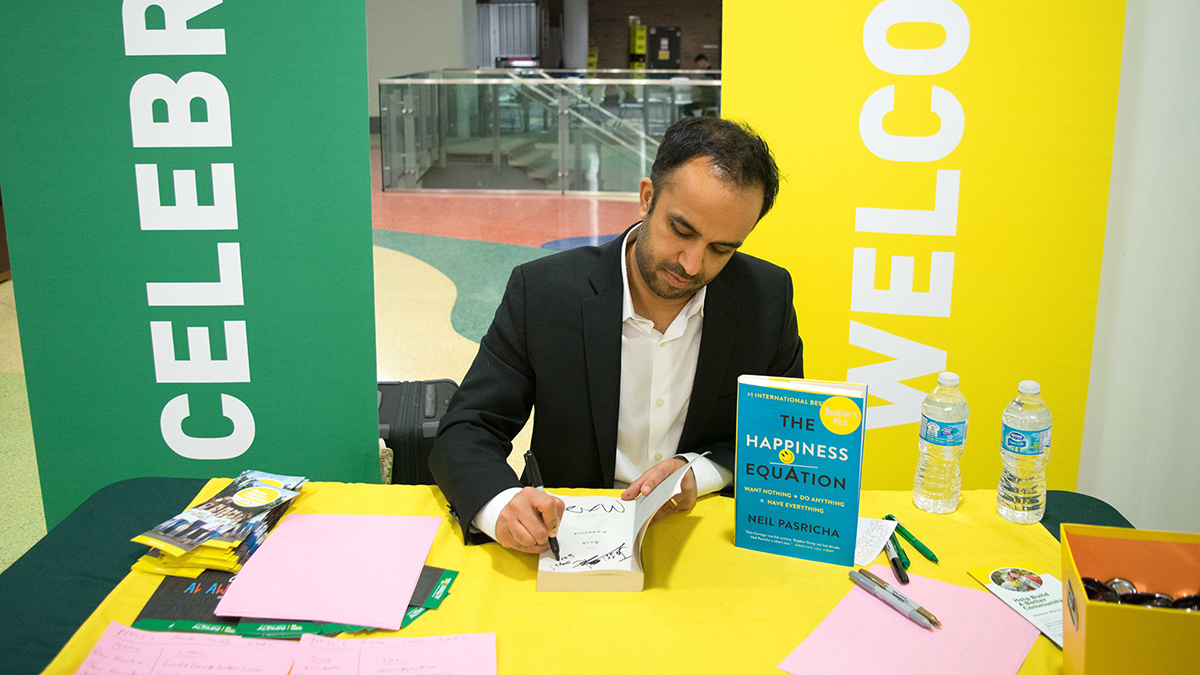 From the moment Neil Pasricha stepped on stage, it was obvious that the best-selling author is both a seasoned speaker and somewhat of a comedian.
Throughout his lecture at the U of A on January 25, Pasricha connected with the crowd by asking some personal questions, making a few jokes, and getting right into the nitty gritty of his subject. After all, he only had an hour to two to discuss happiness, a feeling that many people cannot even describe.
Where Pasricha differs from other authors is how he combines dry scientific facts with an obvious passion for helping others. When a speaker loves their crowd that much, it's impossible to not be captivated by their message, or in Pasricha's case, his discoveries.
When Pasricha's first wife left him around the death of his close friend, he began a blog detailing the little things that made him happy. Every once in a while, he would write about popping bubble wrap, flipping his pillow to the cold side, the smell of rain on a hot sidewalk and sleeping in new bedsheets. In addition to helping him heal, the blog became a raging success and was quickly picked up by publishers and transformed into The Book of Awesome. This newfound fame inspired the author to further research happiness and how to achieve it — this time not for himself, but for his newborn son. The Happiness Equation was published in 2016, and has since become a New York Times bestseller and a go-to book in self-help sections of bookstores around North America. But why?
Simply put, Pasricha makes some very good points. Happiness doesn't have to be complicated. Referencing the emerging field of positive psychology, Pasricha describes seven ways that are scientifically proven to enhance happiness: taking three walks a week, replaying positive experiences in your brain, carrying out five random acts of kindness, unplugging from electronics, "finding your flow" in everything that you do, meditating for two minutes a day and starting a gratitude journal.
He also goes over self-acceptance and prioritization, making the point that creating space for the things we love is probably the most important thing we can do for ourselves. Love breakfast? Make your outfit the day before and spend ten more minutes making an omelet in the morning. Keep losing your keys? Attach them to a chain and tie that to your bag or jacket.
In keeping with the trend of simplicity, Pasricha allows his audience to stand up, take the mic and share their simple acts of happiness. For one man, this meant watching the sunrise every morning on his way to work. For an older woman, it meant learning one of her old students found a full-time position in their desired field.
Pasricha leaves his crowd with seven (perhaps his lucky number?) pieces of advice: be happy first, do it for you, remember the lottery, never retire, never overvalue yourself, always create space, just do it and always be you.
Although Neil Pasricha's talk was essentially an overview of his second book, I still appreciated the author's authenticity and passion. Never straying from his own life, Pasricha references his second wife with love and gratitude throughout his talk, citing her constant support as a deciding factor to his own happiness. Pasricha is neither preachy nor too cerebral. He is simply awesome, and I invite everyone to discover his books and find their own happiness equation. Just do it! You are more powerful than you think.