Album review: Two Zero One Seven (How Chief Keef will make me a better person in 2017)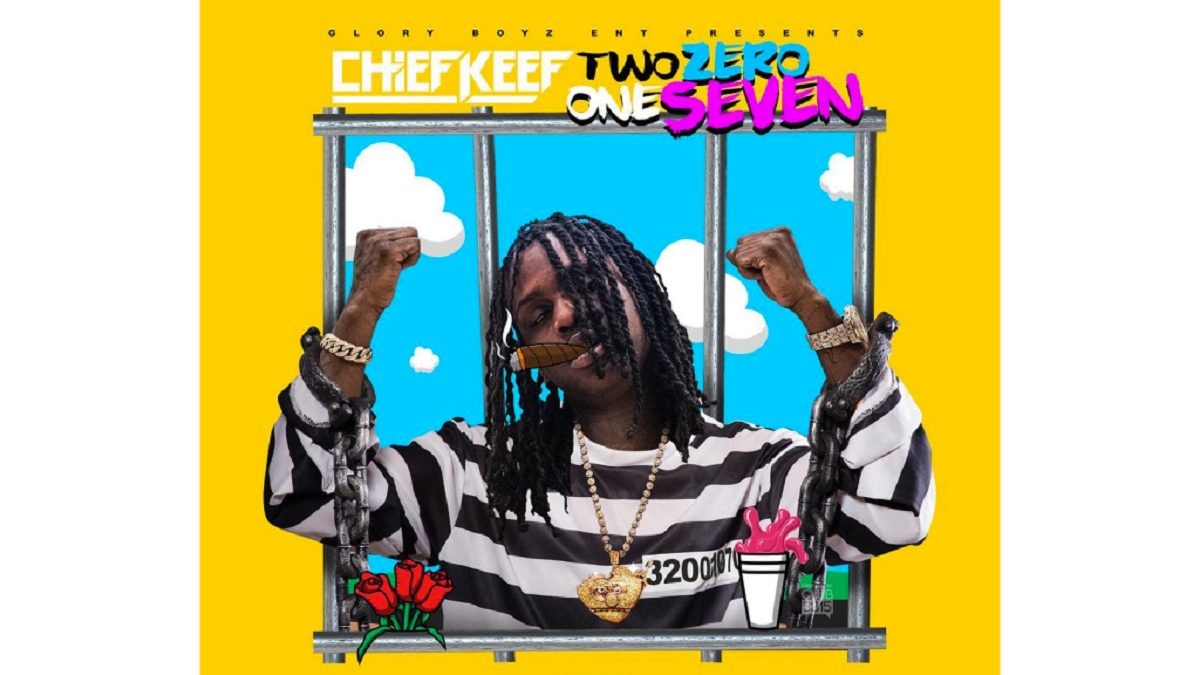 Chief Keef
Two Zero One Seven
Glo Gang, RBC Records
Download here (Datpiff)
---
I woke up this morning without a hangover, this picture going viral, and a new Chief Keef mixtape. Happy New Year to me.
Two Zero One Seven marks the long awaited return of Keef to rap, coming after a year long hiatus in 2016 (his last project was Nobody 2, in December 2015). It also hopefully means the king of Chicago drill is really back and ready to tackle 2017 in full force.
However, the importance of Keef's New Year's re-emergence extends beyond hip-hop. In fact, as far as I'm concerned we can all set our yearly resolutions a little better, and strive to make this year our year thanks to him. Here are five lessons I took from Keef's Two Zero One Seven that can teach us how to live better life in 2-0-1-7.
1. It dropped on New Year's Day
By dropping Two Zero One Seven on the first day of the new year, Keef sends a positive message: in order to achieve our goals this year, we need to start working towards them on day one. Always be striving for greatness.
2. Keef himself produced 11 of the tape's 17 songs
You are always your best resource. Sure, friends and/or co-workers are key — industry vets Young Chop and Lex Luger do pick up production credits on the album — but to find success in 2017, the first and last person you should rely on is you. Pick any song on the tape and it will have you rockin'. Whether you're in your car or in your crib, Keef easily keeps up with dudes who's main hustle is beat production. The moral of the story? You will get fit when you make it a priority. You will learn to make that hot beat when you make it a priority. Personal accountability, accountability, accountability is key this year.
3. Recently, when asked about today's young rappers "biting his sound," Keef responded: "N***a I am the new school! [laughs] I'm still young, younger than some of them n****s."
People are always going to want a slice of your success — this is the nature of things in work or in play. Keef reminds us when this happens, remain confident, and keep working, but always keep a watchful eye on your surroundings. Find your areas of opportunity this year (in the same interview, Keef talks positively about "King of the Youth" Lil Yachty, and collaborating with rising rap beast, 21 Savage) while identifying where you can assert yourself against the competition ("All these n****s my sons, using my flows. I was doing that shit like, two years ago, go on my Youtube. It's aight, I'm coming for necks this year."). Amen.
BONUS: Keef is truly younger than much of his competition — he's only 21 years old (despite being 18 mixtapes/albums and 3 children into his life). Even though you may be relatively young in your field of study or work, Keef reassures us that we can still be experienced, accomplished, and successful.
4. The album artwork is both colourful and serious
The tape's cover features a lil' cartoon lean cups, blunt, and roses as well as a nice yellow and baby blue colour scheme. But it also shows Keef wearing a black and white prison jumpsuit with chains around his wrists. This year, you don't have to sacrifice your creativity and unique flairs in order to be taken seriously. When Keef's going in on bars bragging up his riches, bitches, and processes for dealing with snitches, you won't think less of the man for his cutsie colour/sticker choices. Your work and art can speak for themselves this year — be yourself, not what others think you should be.
5. The first song is called "So Tree"
I have no idea what this song title means, or what Keef specifically is getting at when he calls himself "So Tree." (Just for context, I'm writing this review without having done too much in-depth research — to be honest, I haven't even finished the whole thing yet — so this means I haven't done any Genius searches on lyrics or song titles etc.) If I was to take a shot in the dark at this line's meaning, it most likely has something to do with marijuana — and either the act of procuring, dealing, or smoking a whole shit ton of it. However, this year Chief Keef presents us this phrase as a way to re-teach a basic lesson: what do assumptions do? Make an ass out of you and me. In 2017, we need to communicate better. In a post Trump-elected society, I think it's safe to say we don't really know what the majority of people around us are really thinking, believing, needing, or feeling. This needs to change. Get to know people, ask them questions, clarify what they mean when they say things. Don't misinterpret in 2017, we can all be better communicators this year. Maybe we can all be "So Tree" (still don't know what it means).
///// //// /////
/////
.//" ////@@@////
/^"
"""""hApPy                                                                                           
//////Cool
""""""/"///daY/////
2
0
1
7