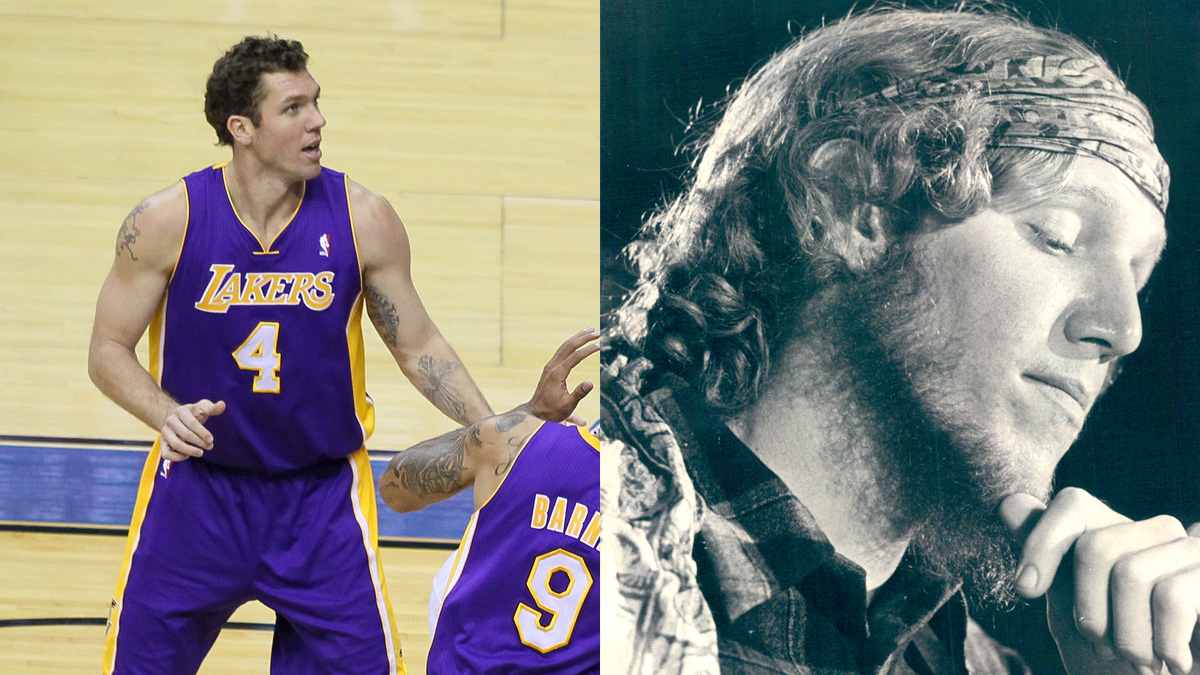 No, not the sitcom family from the '70s, I'm talking basketball's first family of big men.
Bill Walton broke onto the basketball scene in the 1970s, playing on the national team as a 17-year-old, and winning an incomprehensible three straight NCAA Player of the Year Awards on John Wooden's UCLA Bruins. Adding two NCAA Championships and another two Final Four MVPs, Walton was hailed as the saviour of the Portland Trail Blazers when they drafted him first overall.
After two injury-riddled seasons, Walton led the NBA in blocks and rebounds over all-time great Kareem Abdul-Jabbar. In the Finals that year, Walton's Blazers dominated Abdul-Jabbar's Lakers in a series sweep. Walton would go on to win a league MVP and a Sixth-Man of the Year Award with Boston in the twilight of his career. He also rocked the "Amish Jimi Hendrix" look throughout his career, and pulled it off. (see above)
Throughout all this, Walton was doggedly stubborn and completely disregarded any kind of script. He sat out two seasons with injury, and a third holding out for a trade from the Blazers for mishandling player injuries. Not being traded, he sat for an entire season in his prime on personal principle. He was also one of the first league megastars to accept and thrive in a backup role, when he came off the bench behind Kevin McHale and Robert Parish for the Celtics.
Fighting through blown ankles and knees in his playing days, and a massive spinal injury after his retirement, Walton has gone back to the game, calling play-by-play for NCAA and NBA games. Throw in his Grateful Dead superfan status, and his unquestionably great soundbites, and Walton deserves to be held up as one of the most valuable voices to come out of the NBA. Most recently, he had this to say about weed in America.
Bill, however, is not the only Walton who has left his mark on the game. In a decade-long NBA career, Bill's son Luke won two titles with the Lakers in the early 2000s, and went on to win another ring as assistant coach to the Golden State Warriors in 2014-15. During Head Coach Steve Kerr's break from coaching in 2015-16, Walton led the Warriors to a 19-0 start, and probably was more deserving of NBA Coach of the Year Award that year than Kerr, the eventual winner.
From there, Luke went on the be hired as Head Coach of the Lakers. After a decade of Kobe Bryant and his ruinous effects on the team's depth, Luke has been tasked with building the young team back to it's status as a legendary NBA franchise. Oh, and 36-year-old Luke is the youngest Head Coach in NBA history, just as a topper. Bryant even chimed in to sing his praises. He also doesn't shy away from speaking his mind, and has been ejected once already this season. This is in stark contrast to other so-so players-turned coaches (looking at you, Tyronn Lue).
https://www.youtube.com/watch?v=mFgqPtI5D7A
With a history like this, it's no accident that the Waltons are the premiere father-son duo in basketball. Yes, that means moreso than the Currys, Riverses, Barrys, Thompsons, and Wigginses.