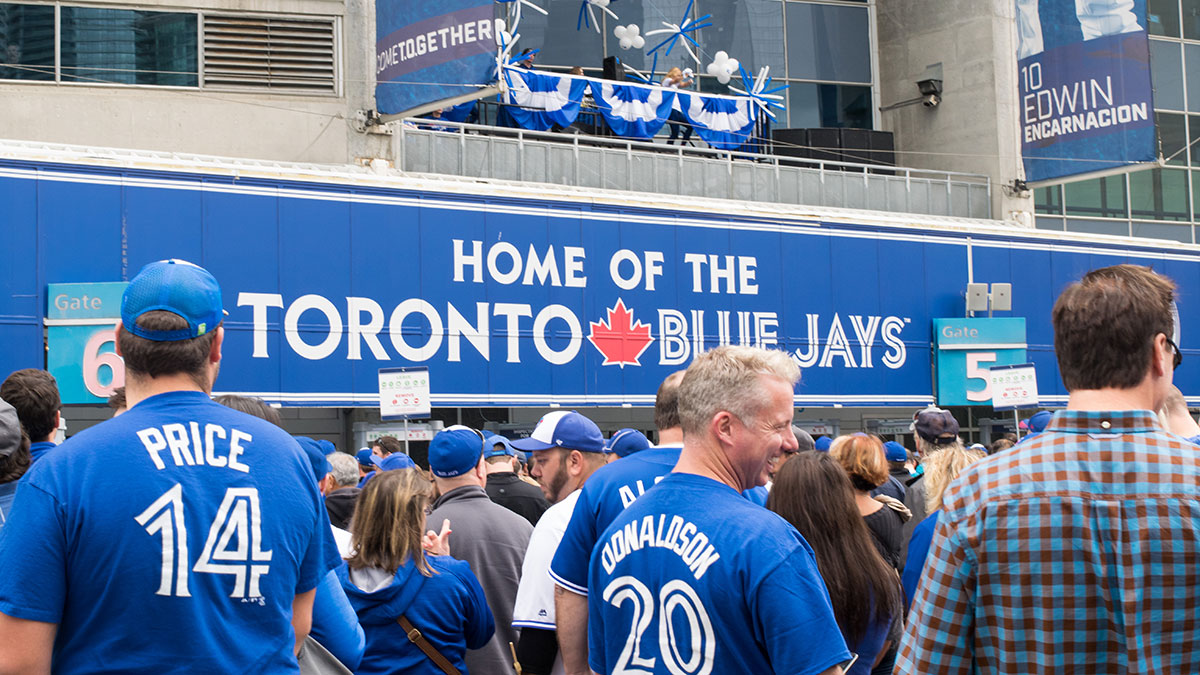 Blue Jays GM Ross Atkin's off-season moves have left fans wondering exactly how the team has gotten better since their ALCS defeat at the hands of the Cleveland Indians last October. After some significant arrivals and departures, the Jays' front office has left a few questions to be answered as the team starts to take shape in the final days before Spring Training.
One of these questions is what the outfield will look like come Opening Day (April 3). While the centre field will still be patrolled by standout defender Kevin Pillar, what remains to be seen is who will take over the corner positions. Neither left nor right field are set in stone, and the Jays have a couple of different options open to them. Last season saw Michael Saunders and Jose Bautista in these spots, but Saunders has since departed for a role with the Phillies and Bautista has experienced a sharp decline in his defensive ability. His arm has never recovered from an injury sustained trying to unnecessarily gun Orioles' Delmon Young down at first along with a recent string of injuries, forcing him into missing extensive stretches of games. With this in mind, let's look at the options.
Towards the end of last season, Ezequiel Carrera pushed Saunders into more of a platoon role in left, and showed well. What works in Carrera's favour here is the Jays' lack of a clear-cut leadoff man, and he proved to handle the bat well in postseason. His speed also represents a valuable asset, and something that the team is lacking as a whole.
Midseason acquisition Melvin Upton Jr. was limited to more of a bench role with the Blue Jays than an everyday player. However, with the pair of openings in the outfield, he is a strong contender for an opening day position, though once he came to Toronto, he hit a measly .196. Again though, Upton Jr. provides speed on the bases and is an above-average defender.
Of course, Bautista's return to Toronto came as good news, although it was more of a move to bolster the offence than to anchor the outfield. With his increasing susceptibility to injury, Bautista can expect to be used as a DH for the team, with his bat being far more important to the Jays than his defending ability.
Free agent signings Steve Pearce and Kendrys Morales have experience in the outfield as well, but there are more effective ways to use them in the field. I see Pearce being used as a utility man along with Darwin Barney, providing stable relief all around the field, giving rest to injury-prone shortstop Troy Tulowitzki and former MVP third baseman Josh Donaldson, who spent much of the 2017 season dealing with nagging injuries to his calf and hip. Morales, though he possesses outfield experience, isn't a viable option in the outfield, lacking the speed that Carrera and Upton Jr. possess. I would look for Morales to take over the Opening Day first base role, with two-year Jay Justin Smoak riding the bench, but don't be surprised if he doesn't find a spot on the 25-man roster coming out of Spring Training.
Looking at all these factors, I would expect the outfield to look something like this come April 3:
7: Carrera
8: Pillar
9: Upton Jr
DH: Bautista
Next week, we break down the bullpen.