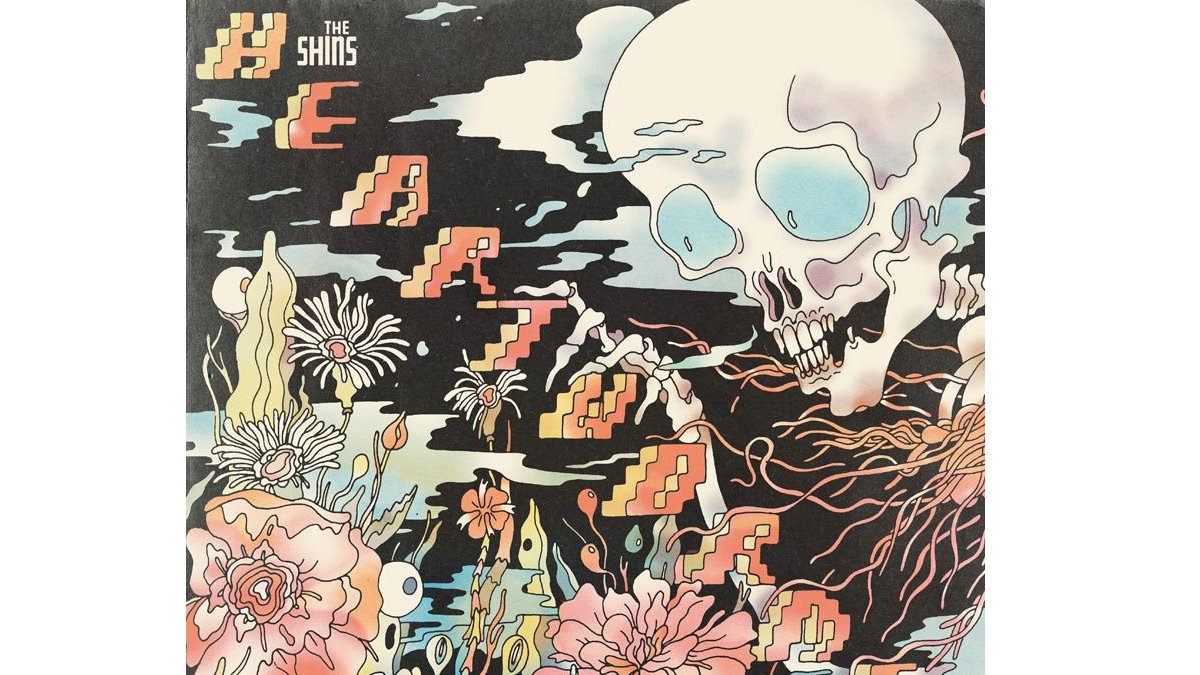 The Shins
Heartworms
Columbia
theshins.com
---
Balancing the sounds of past albums with fresh experimentation, Heartworms finds The Shins' James Mercer painting a familiar picture, but with some new colours on his palette.
Heartworms is The Shins' fifth studio album, and their first release in five years. Although the album was produced and recorded by Mercer — the group's sole remaining founding member — over that period, it's arranged in a way that seems so effortless you'd think it was written on a whim rather than over half a decade. A deeper look however, reveals the attention to detail Mercer devoted to equally celebrating the band's past and exploring its future.
Parallels to old albums appear as early as the first track. "Name For You" is about Mercer's three daughters and has all the trademark sounds of a The Shins song, including catchy, jumpy guitar, la-la backing vocals, and a chorus that tugs at your heartstrings. This song is so close to the classics that brought The Shins their fame, I can almost hear Natalie Portman playing it to me on some shitty headphones. "Mildenhall" is another where Mercer reminisces. The song explores Mercer's childhood as an army brat and his discovery of music, and he plays a folky tune with soothing chords and far-off sounding electric notes that instantly call back to the The Shins' second album, Chutes Too Narrow.
If you're one of those cool music guys who likes to complain "If I wanted to listen to The Shins old music man, I'd listen to their old music!" you should feel bad in this case. Just because a band emulates their past styles, doesn't mean they're being unoriginal or are somehow less talented. Mercer wants to evoke a sense of nostalgia, bringing listeners back to the early '00s, when The Shins were always silly and indie as hell, and on Heartworms he accomplishes that.
Although it's understandable why Mercer brought back many of beloved sounds of the old days, Heartworms isn't all throwbacks. The Shins bring new tricks into the mix with tracks like "Half a Million," a song with contagious beats and lines that are all too relatable to uncertain university students ("There's half a million things that I'm supposed to be"). Mercer takes another bold step forward on the pop-rock and wavy synths of "Cherry Hearts," playing the sort of thing robots would listen to in their free time — but not just any robot, a cool robot, like in Ex Machina. The showcase of Mercer's new skills can be attributed to his role in the synth-laden/space-rock duo, Broken Bells, which Mercer joined after wanting to try something new after The Shins got "too heavy."
The album sends us off with dreamy two-chord "The Fear," a song about Mercer's struggle with anxiety. Songs as emotional as this have been a beacon for the generation of the '00s, and this record stays true to those fans, while bringing something fresh to the scene.
Heartworms can be seen as Mercer's own personal voyage through this 21-year-old project called the Shins, giving us a mix of nostalgic sounds, exciting changes in style, and even a glimpse into the future. Heartworms may be fond of the past, but it's its own important next step in The Shins' ever-growing discography.