SU Election Playlist: Candidates, what song are you?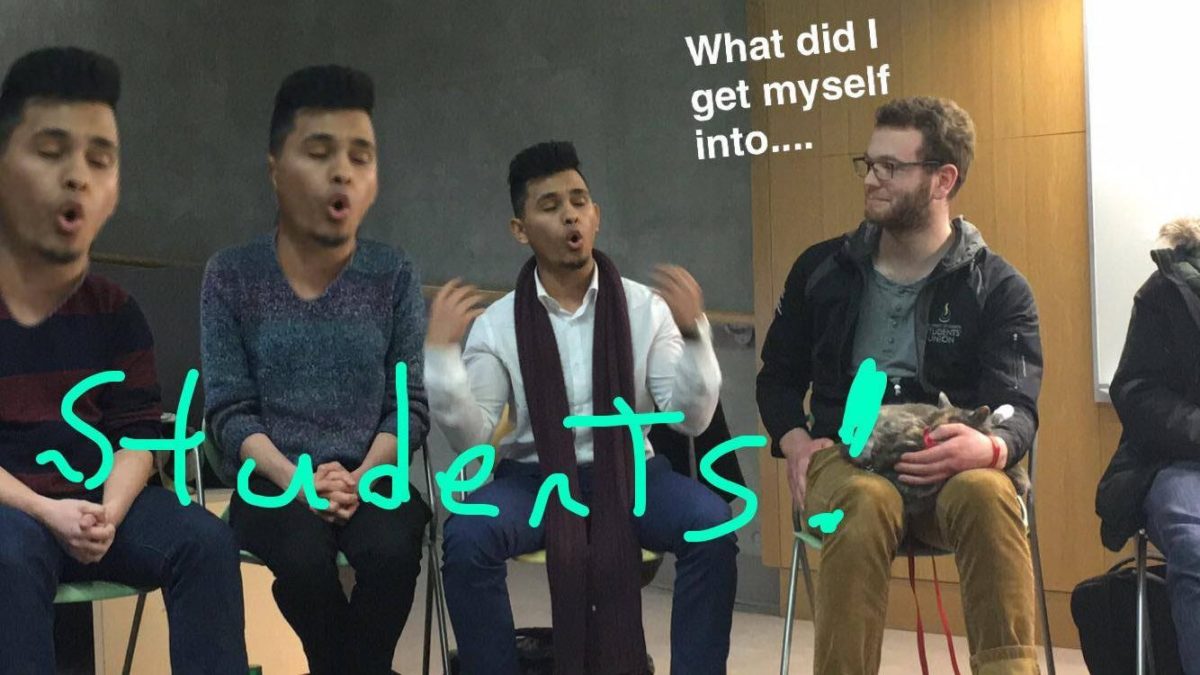 While the candidates running in the SU Elections may believe their platforms points, debate topics, and wishful promises are music to the ears of students, they're not. The reality is, no one is going to get up and dance to demands for diversity or boogie down to aims for accessibility, no matter how admirable they may be.
So in an effort to up the fun factor of student governance and make things a little more musical, I've put together a playlist that pairs each candidate (and referendum/plebiscite) with a song that I think best represents them. Check out the 18 tracks below!
---
1. "All That" – Carly Rae Jepsen (Marina Banister; President)
"All That" seems to belong at a high school prom, but when you look closer it's commendably qualified — mostly because of Carly's smart self-awareness and her collaboration with Dev Hynes. With the combination of a title that's suggests a little too much self-love and comforting lyrics like "I will be there, I will be your friend," this song perfectly captures the essence of Marina's candidacy.
2. "Rise Up (Instrumental)" – Ghostface Killah & Adrian Younge (Bashir Mohamed; President)
Themes of revenge and retribution permeate both Ghostface Killah & Adrian Younge's Twelve Reasons to Die II and Bashir's current campaign. "Rise Up" is a song that particularly reflects his Bernie-esque, anti-establishment attitude. And just like Bashir doesn't put his face on his posters to ensure his platform does this talking, this track is the instrumental version — its all about the music, man.
3. "Reminder" – The Weeknd (Donut the Cat; President)
Donut, like The Weeknd, just wants to be taken seriously. While The Weeknd is conflicted about winning a kids' choice award for "talkin' bout a face numbing off a bag of blow," Donut is growing equally fed up with receiving condescending scratches and pets. God damn, Donut's not just a joke candidate, but a contender in the SU President race. Consider yourself reminded of that.
4. "Where Are Ü Now" – Jack Ü with Justin Bieber (Chen Liang; VP-OpsFi)
Robyn: "I need you, I need you, I need you, I need you (to debate against)"
All: "Where is Chen now when OpsFi needs him?"
5. "Vibin In This Bih" – Kodak Black ft. Gucci Mane (Robyn Paches; VP-OpsFi)
As it stands, Robyn is currently vibin' in this one-man race for VP-OpsFi. Similar to how Kodak boasts "now I've got my muscle up, you know I'm gon' flex," Robyn's prepared to flex his previous nine-months experience as VP-OpsFi to ensure he's got this race locked tightly under his his bulging bicep.
6. "Bounce Back" – Big Sean (Reed Larsen; VP-External) 
Man did Reed ever take an L during last year's election cycle. Inadvertently having "METH" as spelled out on your campaign poster will do that to you. But guess what, like Big Sean, who had long been the court jester of the rap game, he recently set out to reclaim his image. Reed and Sean have both made some big steps forward to "Bounce Back" from previous L's.
7. "Badge & A Bullet (Pt. I & II)"- Stray From The Path (Ankur Pandey; VP-External)
These songs do not reflect any personal sentiments I have towards men and women in uniform, I simply couldn't resist the urge to pair these mosh-pit inducing picks with our very own collegiate candidate in blue. Plus, when am I ever going to be able to cleverly refer to another SU campaigner's slogan as being "Vote Ankur: A Badge & A Ballot" again?
8. "Audition (The Fools Who Dream)" – Emma Stone (James Thibaudeau; VP-External)
The song I chose to go with here is one which I believe best represents the wide-eyed optimism of a young, aspiring politician. And I think it's particularly fitting for James, being in the busiest of all the candidate categories, because the chance of heart-break is highest. You can almost feel the excitement and passion pouring from young Thibaudeau when you see him. But you can also sense the impending inevitability of the explosion that will take place in his chest when his heart bursts from the crushing disappointment of defeat. But just remember, even when everything goes to shit, at least you had a dream and you went for it. One day, just maybe, you'll to find your way to the city of stars.
9."Hi" – Hannah Diamond (Lisa Zhang; VP-External)
My name is Sam. We haven't met before, but I've heard about you. I don't really remember you from your campaign posters at the moment — I'm sure they're very nice, I just can't recall them all right now — and I haven't heard you speak yet at a forum. So for now, we are strangers. But I feel like it's time to take the first step to being more than just blank faces to one another as we pass by in the hallways or our way to class. So, with Hannah Diamond as my guide, I say to you,"Hi."
10. "Love Me Like You Do" – Ellie Goulding (Shane Scott; VP-Academic)
Typically, when only one person is running for an SU office there's no choice except for them to be the apple of every voters eye in that category. But not this year. Not for Shane Scott. Throughout his arduous campaign, he will be forced to keep singing to the melody of Ellie Goulding's hit Fifty Shades of Grey tune, "Love me like you love Banana, love me, love me like you love Banana."
11. "Diane Young" – Vampire Weekend (Banana the Hamster; VP-Academic)
Vampire Weekend's brand of commercial indie gold fits perfectly into Banana's bananas campaign. The Wes Anderson style movie posters can only be complemented by this soundtrack choice. Plus, Banana is a hamster… Diane Young is what they do.
12. "Money Longer" – Lil Uzi Vert (Rabib Alam; VP-Student Life)
Rabib says that residence rates are too high. YUHH! And that students can't stack enough cash to pay for their living expenses. YUHH! But because Lil Uzi Vert can stack his money longer, he would say "it do not matter" if residence rates decrease. Surely Alam and his scarf would disagree… and not say YUHH! to this. Lil Uzi Vert as a rapper, is in with the youth culture, I mean he's got purple hair and shit and likes Scott Pilgrim. I guess that's what the VP-Student Life has to do too, fit in with the kids and the students right? Rabib, I've got the hair dye whenever you're ready.
13. "Best Friend" – Young Thug (Kyle Monda; VP-Student Life)
The first thing you think when you look at Kyle Monda is undoubtedly, "That's my best friend, that's my best friend." He's tall like Thugger, so they have that in common. Plus, they both have extensive experience in the field of swagonometry… whatever that means. Fortunately for Monda, he doesn't need a GQ feature to decipher the words coming out of his mouth.
14. "I Just Wanna Party" – YG (Ilya Ushakov; VP-Student Life)
Well, he does. All Ilya wants to accomplish in his role as VP-Student Life, is to keep the Week of Welcome party rocking all year long. Is that so wrong? Shit, he don't wanna hurt nobody, and I can get down for that. Party on Ilya.
15. "No Absolution" – Thy Art Is Murder (Armand Birk; BOG Rep)
Something about Armand just gives me the impression that this dude is a force of nature in a mosh pit. No one radiates such kindness without taking out their day-to-day anger somewhere. If you're gonna let loose, might as well be by running around with a bunch of stinky metal heads. Or maybe it's just because the word "bog" brings about images of a dark, damp and desolate place — one that's perfectly captured in the type of apocalyptic, nihilistic deathcore Thy Art Is Murder crafts so effectively.
16. "Cell Boomin" – Maxo Kream (Mike Sandare; BOG Rep)
"All day juggin' on my trap phone /Gettin' on my my nerves switch to airplane mode" … I feel this was the inspirational quote Sandare had in his mind when brainstorming for his campaign's aesthetic.
17. "Convoy" – C.W. McCall (U-Pass "Yes"; Referendum)
This came to mind because Oumar has a C.W. McCall song on his iPhone, but it's not this one, and I've been wanting to listen to it for a minute. I have an image in my head of Fahim leading a convoy of ETS buses from all around the city (and surrounding areas) into the HUB terminal to celebrate if this referendum gets passed.
18. "I Don't Give A F**K" – DJ Rashad (APIRG "No"; Plebiscite)
I don't give a fuck indeed.