Writing rhymes and taking names with the Edmonton Poetry Festival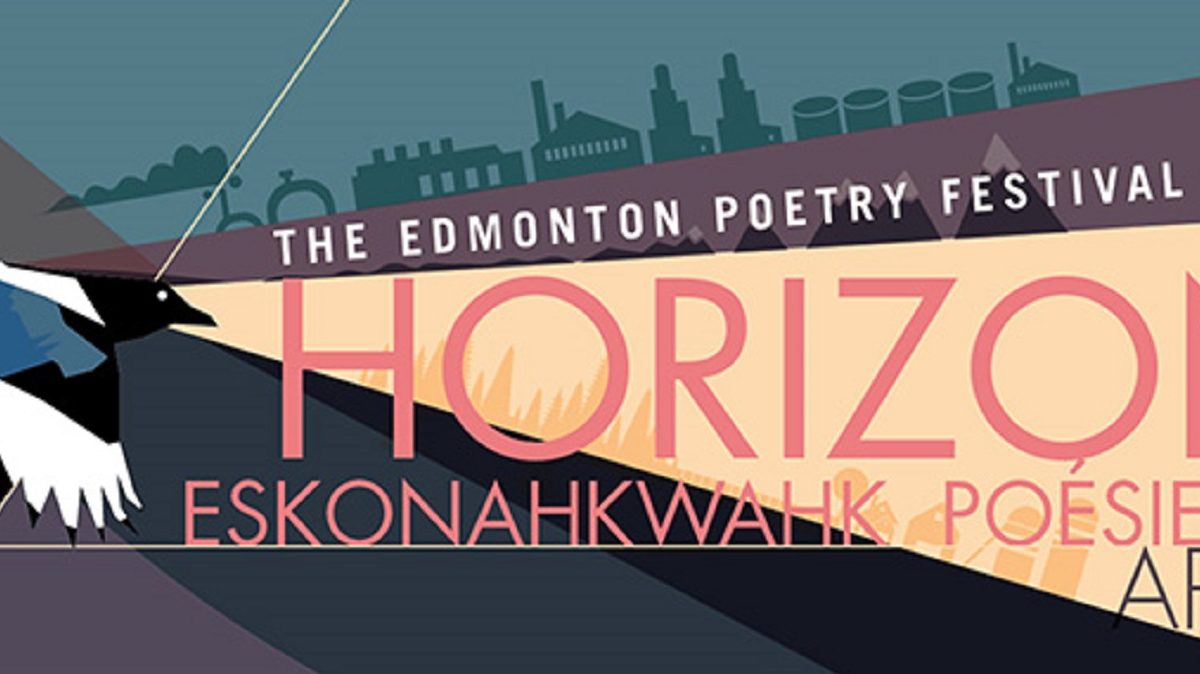 What: The Edmonton Poetry Festival Presents: Horizons / Eskonahkwahk / Poésie à L'Horizon
Where: Various locations
When: April 16-23, 2017
Tickets: Available at the door or online at Tix on The Square
Festival schedule available here
---
Poetry lovers from across the city are high fiving over haikus as the Edmonton Poetry Festival (otherwise known as PoFest) kicked off over the weekend.
Borne from the mind of Edmonton's first poet laureate, Alice Major, in 2006, the annual festival is a celebration of language, poetry, and poets of local and international origins. The festival features an array of diverse offerings — the final count clocks in at 50 plus poets and over 40 events — sporting a range of poetry from the decidedly academic to the time-honoured art of slam.
"As part of (Major's) tenure (as poet laureate) she decided to start a poetry festival in the city, (she wanted) to lead a legacy of poetry," says Executive Director of the festival Rayanne Doucet.
This year's PoFest, titled Horizons/Eskonahkwahk/Poésie à L'Horizon, plans to showcase events and poets writing with a different view to the horizon, who are pushing the boundaries of the form, and challenging the status quo. One of the most popular items on the schedule is the female-leading "Wine and Wild Women Wordsmiths," which features four poets and treats the audience to wine samples that Doucet says "complement each poet's personality." Another notable inclusion is the newly realized "Eskonahkwahk," which celebrates indigenous contributions to poetry through the works of four "absolutely magical" indigenous poets from across Canada. Doucet notes that she's pleased to see the addition has already been seeing a warm reception, even before its Wednesday night debut.
"The Slam Finals" are another a perennial favourite and a competitive event where spoken word poets perform slam poetry for the chance of being ranked within the top five — an honour that comes with a spot in the national poetry championships. According to Doucet, the Finals involve a "younger crew," an element she hopes will encourage other young folks to venture out and explore the festival.
"If there's a younger person kind of wondering about what's poetry like or asking  'should I go take a look?', I'd encourage them to go the Slam Finals," she says. "It's really happy, really fun, lots of energy, and a great way to learn about what the spoken word scene is like."
Despite the festival's primary focus on poetry, Doucet realizes it's important to also welcome to the festival those who might not be as familiar with poetry. Shows such as Saturday night's musical poetic tribute to Leonard Cohen are designed to do just that.
"'Birds on a Wire' (the Cohen tribute) will be great to watch as a musical event (that also includes) poetry," Doucet says. "It's like going to any music show; it's very, very accessible to everybody. You don't have to be a poet to be able to enjoy that evening, and it will be very friendly for everyone."
In addition to linking poetry with other media like music and visual art, the festival also draws connections to fields like science, politics, and spirituality through its substantial cast of performers — at least half of which are locally based. Doucet explains how the uniquenesses of the poets themselves and their individual experiences bring all new perspectives to audiences on these topics.
"Each individual poet brings something different to the audience," Doucet begins. "For example, an event called 'Cutlines' looks at dementia. (The poet) had a family member that suffered from dementia and eventually passed away and so they  look at the science of the disease and then present it in a poetic way for people. Then if we're talking about politics, I think every event is political… poets respond to the changes in culture and political shifts in their work."
For the bravest of attendees who want to take things a step beyond watching the poetry, there are a few open mic events in the schedule which are open to everybody. Though the festival's official committee selects which poets will be invited to perform each year, Doucet makes sure to stress that community and providing opportunities for diverse voices is extremely important to the festival.
"We are very clear that we are a community festival," she says. "If there's a local poet who really wants to perform and hasn't seized the opportunity, we will not turn community away if there is a member of that community who wants to perform. We will find ways for them to come in."