Nurturing the art of writing: Margaret Christakos as the U of A's Writer-in-Residence
Nicholas Villeneuve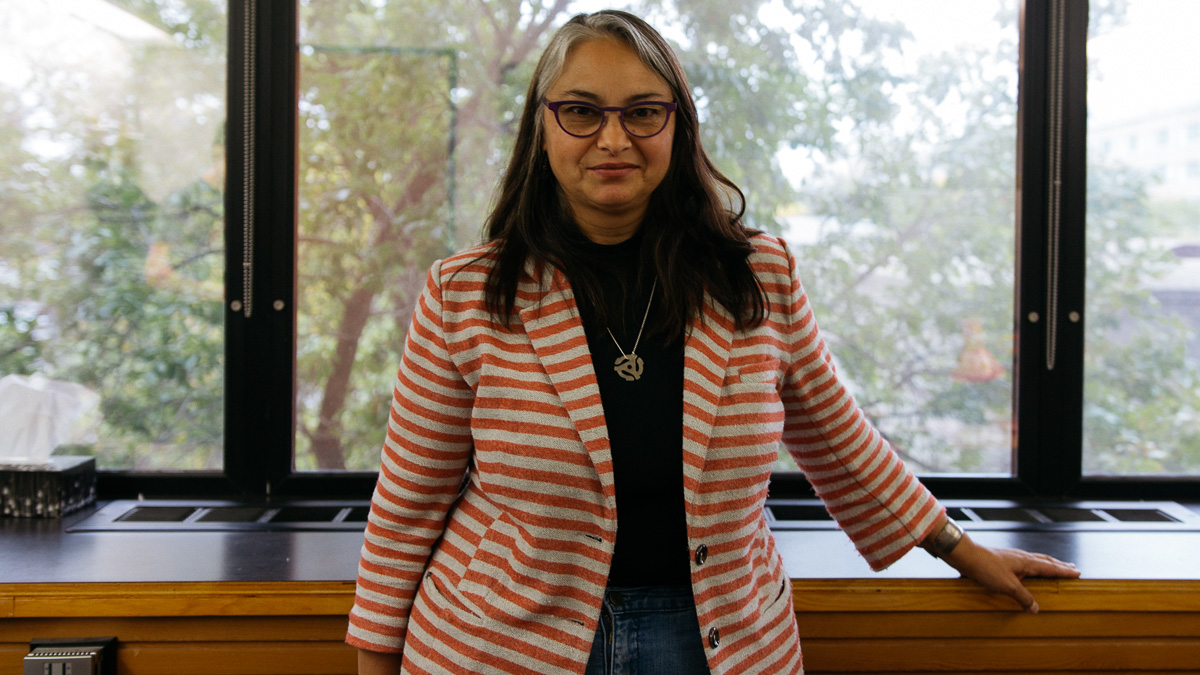 For most, writing can be a daunting task, and may dissuade them from writing professionally outside of work. However for those people, the university offers the Writer-in-Residence program to assist any Edmontonian in developing their writing skills and exposing them to the broader literary culture.
Last year, Margaret Christakos was the Canada Council Writer-in-Residence at the University of Western Ontario, and before that, she was the recipient of a two-year Chalmers Arts Fellowship in Ontario. She has written nine books of poetry, a creative memoir, and a 2002 Trillium Book Award-nominated novel, Charisma, about a Torontonian woman who discovers she is pregnant after a one-night stand in Paris and decides to name her unborn child after her slain mother. Now, she is the newest Writer-in-Residence for the Department of English and Film Studies.
In her role as Writer-in-Residence, Christakos offers herself as a facilitator and consultant between writers, whether they be students or faculty or other Edmontonians, and the community at large. "I want to animate relationships between students and other members of the community with language in a public space," Christakos says. "For writers, it's about this sense of involvement in language and dialogue with other writers, whether it be literary, political, social." She sees the residency as a beneficial opportunity to expose writers who would otherwise write for themselves or for profit, and to bring them into the larger culture of writing and interacting with the culture.
Christakos believes many writers burden themselves with marketability and appealing to some predetermined matrix of "good" literature. "There is a lot more pressure to make art fit some kind of matrix that precedes them," she explains, "like writers who want to become like Stephen King, instead of finding their own unique and idiosyncratic relationship to writing." She also stresses the importance of seeing literature as a collaborative and evolving art. "It's about seeing writing as in-process, not about perfecting, but seeing how it can change or transform through the editing process."
Likewise, Christakos had transformed her study towards creative writing and poetry from her previous focus. Born in Sudbury, Ontario, Christakos has been writing since she was a teenager. While studying Visual Arts at York University, she discovered creative writing. "There were some fabulous creative writing courses taught by practicing authors," she explains, "and some of those mentors just opened up the world of writing for me and made me understand it as something I would be fascinated by and wanted to pursue. That was the early phase of creative writing departments in Canadian universities, and at that time, you were working with practicing writers." Specifically, she names Canadian poet bpNichol (otherwise known as Barrie Phillip Nichol) as her mentor and the guiding force that pushed her to explore the world of literature.
She summarizes her interests and subjects in her work through the concept of language and its mutable and transformative possibilities. "I've been interested in the idea of how we speak to each other," she explains, "and how we reach across this space of silence through language to form relationships." Christakos also explains her origins in feminist poetics, which has allowed her to write about understanding difference and the subjectivity of experience within public and private spaces. "I think that writing allows for interaction with the idea of difference and opens a space where difference becomes included, welcome and bearable."
When asked about offering any advice to give for potential female writers, she is hesitant to offer any immediate, clear-cut adages. "There's not one bit of advice fits all, except for allowing your private experience to be open in a more public context and participate in political discourse." In her personal experience, she remarks about continuing her writing after having three children whereas some other mothers she knew moved away from writing. From this, Christakos does offer one piece of advice for writers who are mothers, or parents, for that matter: "What is essential is to continue your practice and make art despite your life circumstances and whatever difficulties that might stop you or silence you or distract you."