Students air grievances at Fine Arts safety forum
Nathan Fung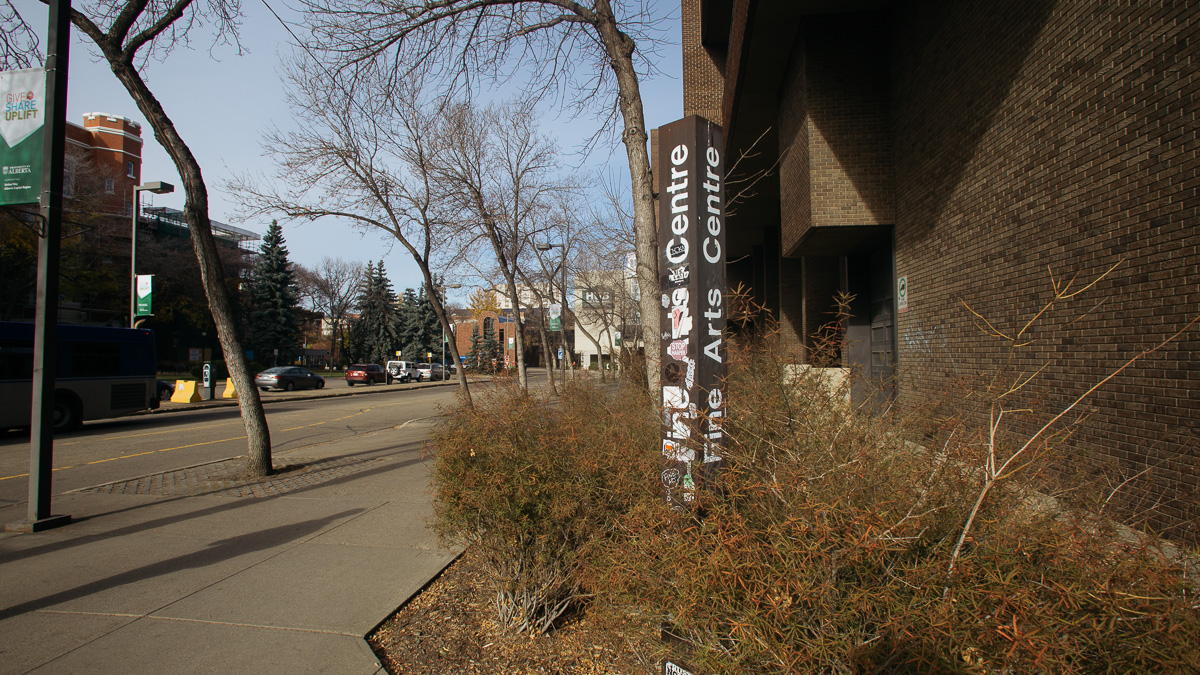 Students and university representatives attended a town hall in the Fine Arts Building (FAB) to discuss steps that are being taken to increase the building's security.
Arts students arranged a safety forum on November 29 where they discussed the building's security issues with representatives from the Faculty of Arts, Risk Management Services, and University of Alberta Protective Services (UAPS). About 15 students attended the forum.
A number of incidents have occurred in FAB this year that have made students feel uneasy. Examples include several locker break-ins in the summer, and instances where students encountered trespassers in the building's washrooms.
Michael O'Driscoll, acting vice-dean of the Faculty of Arts, explained that the university has taken a few immediate steps to address some of the concerns students have, such as implementing new operating hours for the building. Effective November 20, FAB is now open 7:30 a.m. to 9:30 p.m. on weekdays, and 7:30 a.m. to 8:00 p.m. on weekends. The building was previously open from 7 a.m. to 11 p.m..
O'Driscoll also explained that the faculty has contracted security agents through UAPS, and will be in FAB from 6:30 p.m. to 10:30 p.m. on weekdays and 5:30 p.m. to 8:30 p.m on weekends.
"Those stretches of times are the time in which we have noted peak activity that have created safety and security issues for the folks in this building," he said.
Additionally, the faculty is looking to have nine cameras installed in the building, the details of which were not shared in the forum.
"We feel we have been fairly responsive," O'Driscoll said. "We have reacted to this in a timely fashion in order to make sure that everyone here is safe."
Phillip Stack, associate vice-president of risk management services, explained that while security is a priority, the university wants to maintain an open campus. He also said that the university has a limited amount of resources in dealing with security due to the size of campus.
"We do not have the capacity to just lock buildings by just contacting facilities or protective services, and they go to a computer screen and just punch in a code and lock all the doors," Stack said. "We just don't have the capacity to do that."
While there were many questions from attendees, communication became an ongoing topic as several students asked what was being done to alert them to security incidents in FAB. Stack said students are notified but it depends on when the university is informed, which can take several days.
Ben Angus, president of the Organization for Arts Students and Interdisciplinary Studies, said news about FAB only reaches students in formal settings like meetings with people from the Faculty of Arts. He suggested that the faculty could set up a "safety newsletter" or a faculty-wide email to better inform students. Another student, Gabrielle Potvin, agreed with Angus' suggestion, and said they weren't aware of some of the incidents in FAB until one of their professors told them about it in class. O'Driscoll said he would consider Angus's suggestion.
After the forum ended, Kyle Monda, the fourth year arts student who helped organize the event, said he was happy with the way it went, especially with the turnout.
"I think, especially at this time of year, it showed how many people care about the issue and I'm happy about the responses we got from the faculty and risk management, which showed that it is a priority for them," he said.