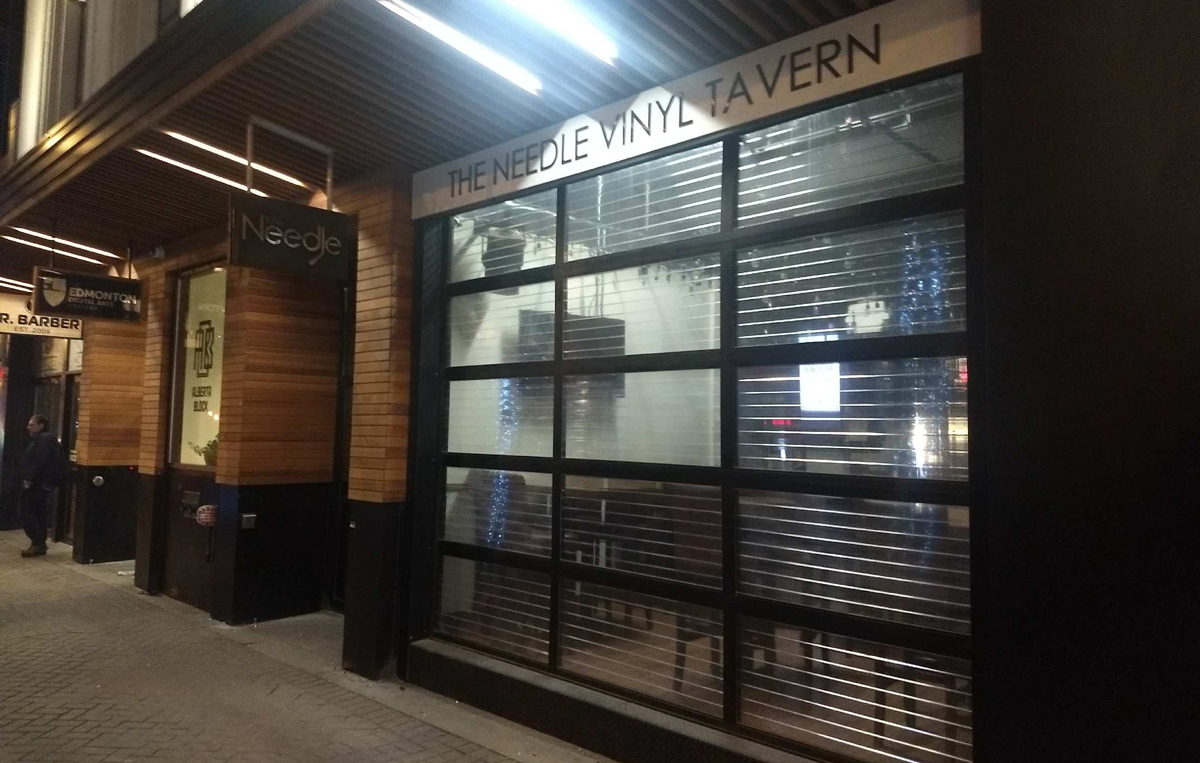 First, there was a tweet from a previous staff member. Then a Facebook post. Two days later, The Needle Vinyl Tavern shut its doors.
The Edmonton music venue closed down for the foreseeable future last Tuesday over sexual assault allegations from a previous employee, but not before completely missing the point and issuing not one, but three astonishingly bad "apologies."
The initial post from Brittany Lyne Rudyck involved a guy with an industry history of sexually and mentally abusing women who, after complaints from multiple workers, was hired by The Needle anyway. But once word spread, it was quickly apparent that this was much more than a problem with one terrible person — and extended to the ownership as well.  
Sadly, this is nothing new in the all-too-often toxic air of the music industry. But we can go further than repeating the cycle of getting angry on social media whenever a brave enough victim comes forward. The Needle closing down should show Edmonton it has a powerful voice it can use to address systematic abuse.
Alex Vissia, local solo artist (performing under the name VISSIA) and owner of the music label Hurry Hard Records, was impressed with the public's haste.
"Everyone responded really quickly," she says. "It wasn't as if people needed proof. They were on board. And it's complicated (to come forward) when you're a victim. There's all the shame, guilt, confusion, or thoughts of people not believing you."
When we talk about The Needle closing, though, many of us are apt to sympathize with the venue itself before anything. That said, this presents beyond useless dialogue. In the words of The Outline editor Leah Finnegan, "You didn't have to say anything. Wait: Even better. You could have just whispered something like this to a speck of dust."
You can, and should, empathize with the staff who have lost their jobs in one of the busiest times of the year, or you can be sad for the abuse they had to endure, but being primarily upset for the venue is selfish and myopic.
It's time to be less narrow and individualistic about losing a venue and start thinking about the bigger impact. On this, Vissia says, "We all have an equal responsibility to do our part. There were people not focusing on the problem at hand and saying they were still going to go (to The Needle) and go support the music and the musicians. By then you're kind of missing the point. We don't need to worry about losing a music venue if it's not serving the community."
Another point still lost on many is that the responsibility of addressing sexual assault doesn't lie on those affected. Asking why staff didn't come forward months ago or why only so few outed their abusers is the same useless advice women have been receiving for decades. The responsibility instead lies with us, the consumers. But Vissia thinks audiences are only part of the equation.
"Artists, owners, and promoters need to speak on what they're going to do to be supportive instead of just posting anger," she says. "Anger is part of the process, but we need to focus on what we can do on the individual level where thoughts and words become actions."
"Take cue from leaders, who might be the artists," Vissia continues. "I'm not going to play at toxic venues like that. As an artist or a promoter, you get more of an inside look at the place. That's a way where we can help audiences by keeping then in the know."
An audience member still holds an important role, though. Vissia says one of the obvious positive actions we can take is simple: support the businesses and venues who are treating their staff, artists, and guests well.
"There are plenty of venues that are safe for everyone, and even if sexual harassment does make it in, they deal with it quickly and effectively," Vissia adds. "The Sewing Machine Factory is a great example."
While these steps can foster a safe environment in music venues, they won't solve the main problem at hand. They mainly serve to address the symptoms of a systemically damaging industry. But Vissia thinks there are steps we can take to address the problem head-on too.
"If you want to get to the root of the problem, an obvious move is having more women in those positions of power. Most of the promoters and owners you see are men. You see a lot more men in those power roles. If we focus on promoting women to those positions, you can get that perspective that you really need," she says.
"There isn't one answer. It is a complex issue. But the doors have been broken down and the conversation is flowing."