South Campus 'super lab' to provide training experience for science students
Calvin Chan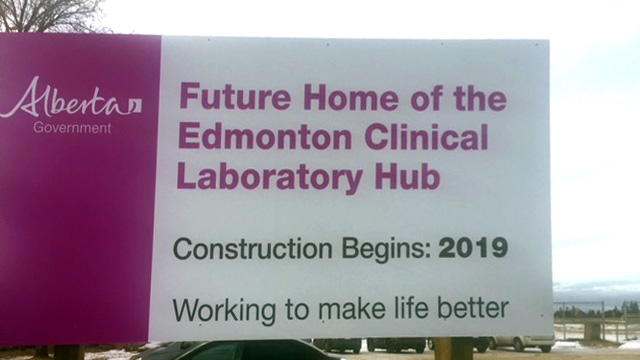 U of A training labs and rotation programs for medical laboratory science students will be moved to a new facility at South Campus in 2022.
The decision comes as part of Alberta Health Services' (AHS) goal to consolidate Edmonton's laboratory testing into a single facility. Individual labs across Edmonton maintained by AHS, Covenant Health, and DynaLIFE will be closed with services relocated to the new 'super lab' at South Campus when it opens in four years. Likewise, the U of A's seven training and teaching sites for undergraduate and graduate programs in medical laboratory sciences and pathology will also be moved.
Laboratory Medicine and Pathology Chair and AHS Edmonton zone clinical department head, Michael Mengel, said this move will "significantly improve student's learning experience."
"Historically, we've been using space left over at varying (Edmonton hospitals and clinics) for our training sites," Mengel said. "But with the new space we're designing it to have training labs specific for teaching."
Currently, training labs for Medical Labratory Sciences students are located at Edmonton General Hospital, with students performing second-year job placements rotating between six different public and private labs across the city.
Apart from mandatory hospital rotations, this new move will place all upper-year seminars, training labs, and work placement sites within the single facility.  
Mengel said the move will help junior students develop a better sense of what it's like working in a laboratory environment sooner and reduce commute times for senior students traveling between campus and their job placements.

"It'll be great to have (the training labs) adjacent to the actual clinical labs," Mengel said. "So students can see what they're getting into right away."
While the planning and construction of the new 'super lab' is funded solely by the Alberta government, Mengel said U of A teaching staff are being consulted during the planning process. The space is being designed to ensure student and faculty needs are met, taking into account potential growth in the MLS programs.
"We're designing it so that rooms and labs are sized properly and positioned within the facility in ways that make sense for students," Mengel said. "That way students won't have to run from one side of the building to the other to find the facilities they need."
No U of A jobs will be lost in the transition, rather new jobs may be created if the government chooses to increase enrollment numbers for Medical Labratory Sciences programs.  
The U of A is one of only two Canadian universities offering bachelor's degrees in laboratory sciences, and Mengel anticipates a rise in the number of applicants following construction of the new facility.
"Our MLS program already has a strong national reputation," Mengel said. "But having the leading laboratory facility in Canada right next to the U of A is definitely an advantage."