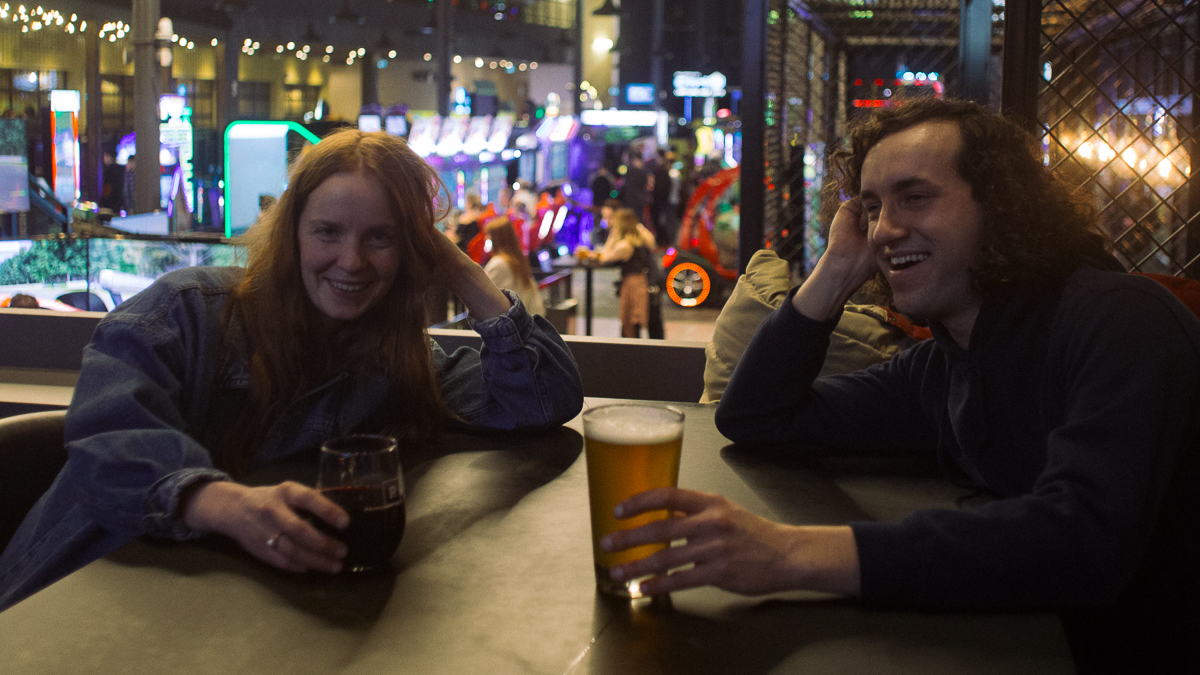 Faith Healer's music is a celebration of things that nobody celebrates. Like the last day of February — a perfectly un-special non-occasion occasion.
Kicking off their latest North American tour at The Rec Room in Edmonton on February 28, Faith Healer is made up of former University of Alberta student Jessica Jalbert and her bandmate Renny Wilson. We sat down for drinks before the show to talk about music videos, touring, and weird music reviews.
Faith Healer is an Edmonton project at its core with Jalbert and Wilson both being frequent collaborators with local musicians and artists. One of these artists is Edmonton-based John Osborne, who created the mesmerizing computer-generated visuals for their song "Light of Loving."
https://www.youtube.com/watch?v=KYGZ-yQmHWY
Jalbert discovered Osborne after being really bored and finding herself at Metro Shorts at Garneau Cinema, where she was super impressed with Osborne's psychedelic shorts. This eventually led to a collaboration on this music video. "The music is a little aggressive and he's an older guy so I didn't think he would be so into it," Jalbert says. "But he wrote back right away saying, 'Hey, I hear some of Jimi Hendrix's "Foxey Lady" in this song.' It turns out he had actually made the music video for 'Foxey Lady' by Jimi Hendrix in the 60s."
Osborne's trippy visuals accompany a musical style which is hard to pin down musically. Faith Healer has been called dream pop, chamber pop, poppy neo-psychedelia, and more. Jalbert and Wilson are amused by these music tags. "Not to shit on people who write about Faith Healer — 'cause that's really sweet — but a lot of the times people write something really goofy like 'Jessica must've been lying in a field of daisies when she wrote these songs because it is just so summery,' and blah blah blah — and I just find it annoying," Jalbert says.  After our chat Faith Healer rocked it on stage, but the whole time I couldn't help but imagine myself in the shoes of a melodramatic music reviewer just watching the show while thinking, "Fuck yeah, this sounds like flowers." (In the spirit of that, the rest of this concert review channels this fictional reviewer's style in a satirical way.)
Faith Healer is tepid beach-dream psych-pop. Jalbert's voice is hot like a mild sunburn after a nap on the beach, but nobody is surfing. Her voice is cool like a lighthouse beam filtered through fog: steadfast, but not too blinding. You're kicking it at the beach, but you're on the rocky shore of a fishing village too. Wilson's guitar is the sand trapped between your toes — in a good way — like the gentle grains that texturize the smooth swells of Jalbert's voice with a fine gossamer film.
Faith Healer bounces lightly but carries a mundane and intimate demeanour like a comfortable weight. This demeanour is underscored by the occasion of the concert: it's the last day of February and we're ringing in March together — a perfectly un-special non-occasion occasion. So it goes with Faith Healer.