Hundreds turn up to town hall on cannabis policy
Nathan Fung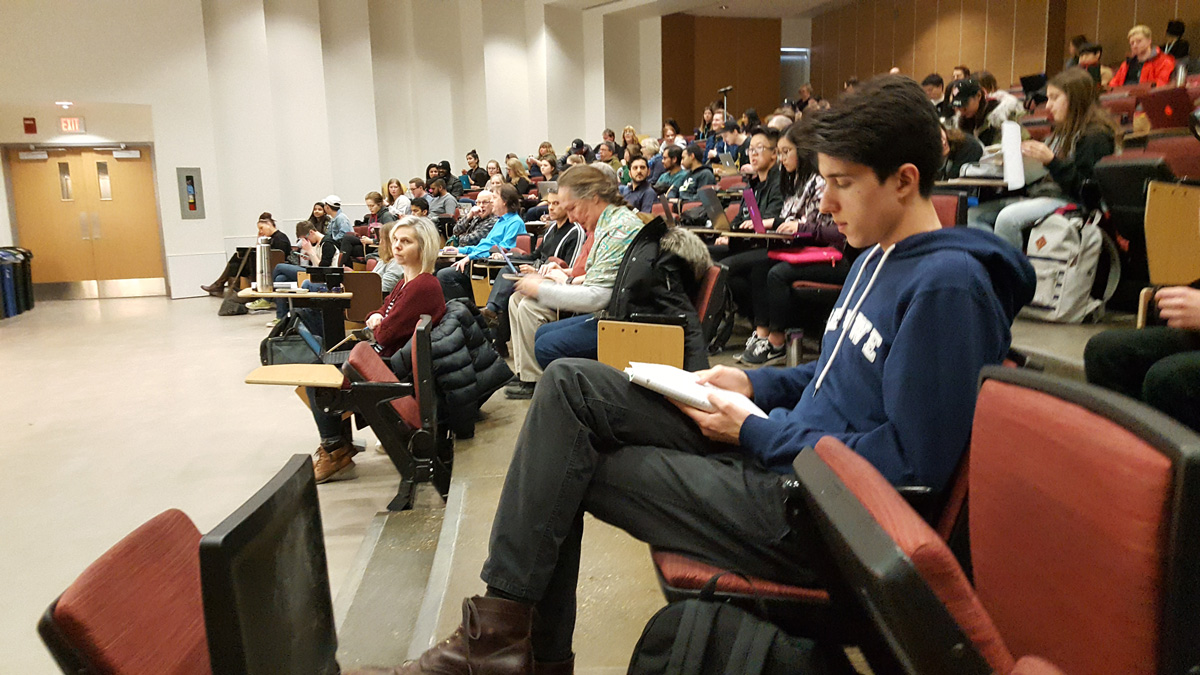 Hundreds of students and other members of the university community showed up to a town hall to discuss cannabis use on campus.
The University of Alberta is in the process of drafting a policy on cannabis use on university property in order to prepare for legalization, which is set to happen sometime this summer. A working group consisting of several university administrators has been assembled to gather community feedback on cannabis us. The information will be compiled in a report to the university, which will be submitted by April.
The town hall is part of a larger push to get input from the community. The university also launched an online survey which will run until March 30. The survey is open to anyone with a CCID.
The event had many attendees and filled the lecture hall. Students and other members of the campus community asked numerous questions to members of the cannabis working group, and gave their thoughts on the policy moving forward.
At the town hall, incoming Students' Union vice-president (external) Adam Brown said he thinks the university's policies should closely resemble municipal laws around cannabis. He said students have told him they are concerned about whether the policy would allow students living in residences to store cannabis and paraphernalia in their rooms, if it would be sold on or near campus, and if mental health supports will be available for those who need it.
"Talking with students, they want to make sure that the student experience here isn't hampered by choosing to consume cannabis or choosing not to," he said.
Other comments from the audience raised concerns about second-hand smoke. In response, the university's risk management director Andrew Leitch suggested cannabis could be banned near areas frequented by children. He also said the policy on cannabis could look to how the university handles tobacco consumption for guidance.
"We have a joke that once we take a map of campus… the actual places where it would even be legal to smoke (cannabis) will be a six square inch space near Saskatchewan Drive," he said.
Another comment came from incoming vice-president (operations & finance) Emma Ripka who asked if members of the cannabis working group considered some of the social conceptions around cannabis. She gave a hypothetical example where a professor would grade a student harder because they thought they were a bad student because of their cannabis consumption.
"The only response I have right for that right now is that we're looking at how we can educate our community," said Assistant Dean of Students Kevin Friese.
Following the town hall, Dean of Students Andre Costopoulos said the final policy on cannabis will have to balance the community's concerns and interest.
"It's not impossible. You never reach a perfect balance, but you can be in such a balance where you don't fall over," he said