UASU Cares an example of the importance of executive accountability
Jonah Dunch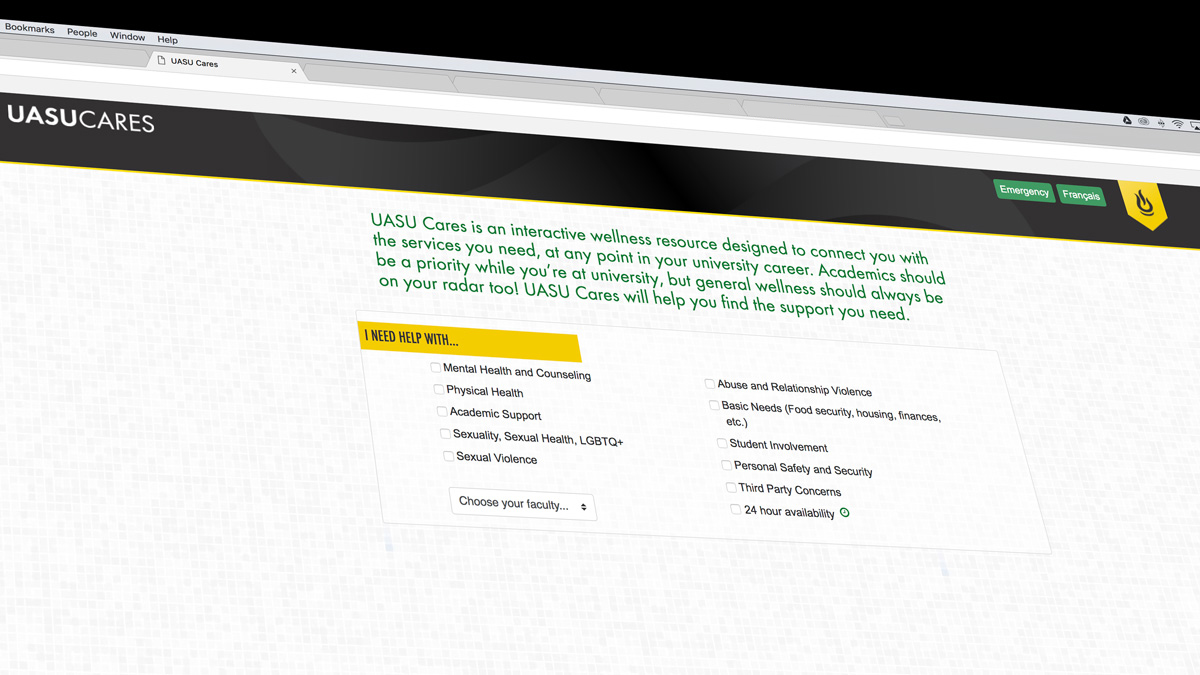 Jonah Dunch is the vice-president of departmental affairs of OASIS, the Organization for Arts Students and Interdisciplinary Studies. 
As any reader of the Gateway's news section or follower of disgruntled University of Alberta student politicians on Twitter would know, Students' Council is rife with fractious relationships and disagreement. From GovWeek, to Bill 5, to Robyn Paches' taste in memes, councillors have much to be concerned about, and it should come as no surprise that our representatives often don't see eye to eye.
A new Students' Union website designed to direct students towards health and wellness services is the latest in a now long line of issues which has courted controversy on Students' Council in the 2017-18 academic year.
Developed by 2016-17 Students' Union vice-president (student life) Francesca El Ghossein and completed by 2017-18 vice-president (student life) Ilya Ushakov, UASU Cares, was met with criticism from members of Council during a meeting in the fall term. Connor Palindat, a councillor representing the Alberta School of Business, says the website's development and launch was poorly managed, and is indicative of larger problems of a lack of accountability on the part of the Students' Union executives.
"The executive committee this year is not very transparent to Council," Palindat said. "The execs report to Council, but Council doesn't even know what's going on half the time. They don't ask us for our thoughts, they just say 'this is what is happening,' and I know in the past that's not how it's been."
At the Council meeting, Palindat pointed out that the School of Business was missing from the website's drop-down list of faculties, a mistake which Ushakov immediately corrected. But Palindat says oversights of this nature can shake Council's confidence in the process behind executive decision-making.
"Sure, it's a simple technical error, but it really shows to me that they're not reviewing things before they launch them. (The number of faculties) is something you can easily catch," Palindat said. "A lot of things that the SU releases don't seem fully polished to me."
Palindat also criticized the website's level of visibility, saying the launch failed to get the word out to the student body and pointing out that (at the time of interview) a Google search of UASU Cares does not turn up the website itself in its top results. (The Gateway's previous news article reporting on the website used to come up first.) By contrast, Palindat notes that if you google UASU Golden Box, you get right to the website. Since my interview with Palindat, the SU has fixed this issue, with the UASU Cares website coming up as the second search result. The Students' Union website also now features a direct link to UASU Cares on its homepage.
"To me, that just shows mismanaged priorities," Palindat said. "It's a tiny thing, but if we don't argue for the tiny things then there's not really anything to argue for."
Ushakov said these concerns are being addressed, and that overall the roll-out of UASU Cares has been successful. He said the Students' Union gave UASU Cares a soft launch because they were still figuring out some of the website's technical issues but wanted it to be available to students. The Students' Union is advertising the site on SUTV and on posters across campus in January and February. According to Ushakov, during the launch period in November the site averaged 10-100 hits per day.
"Student criticism or evaluation is something that's really critical with this website," Ushakov said. "I want to make it better so people use it."
Ushakov said he has received constructive feedback from students' councillors about UASU Cares, and that the executives and Council have a positive working relationship. Palindat says the current political dynamic in the Students' Union is imbalanced, and the Students' Union needs to be more open to collaborating with students from across student governance and campus at large.
"We shouldn't have to beg for information," Palindat said. "Students don't know these things exist. And if they don't know they exist, they can't hold the SU accountable."
While UASU Cares is undeniably a constructive and good faith effort to improve mental health on campus, it should serve as only the beginning of mental health initiatives to come. Moreover, our Students' Union executives have a responsibility to communicate with councillors honestly and earnestly; the executives are beholden to Council, after all, not the other way around. As election season rolls around, watch for executive candidates who demonstrate a commitment to listening to councillors and students at large, and watch for Council candidates who are willing and ready to take the executives to task.