In VPX race, Brown is ready to make his own change
Shay Lewis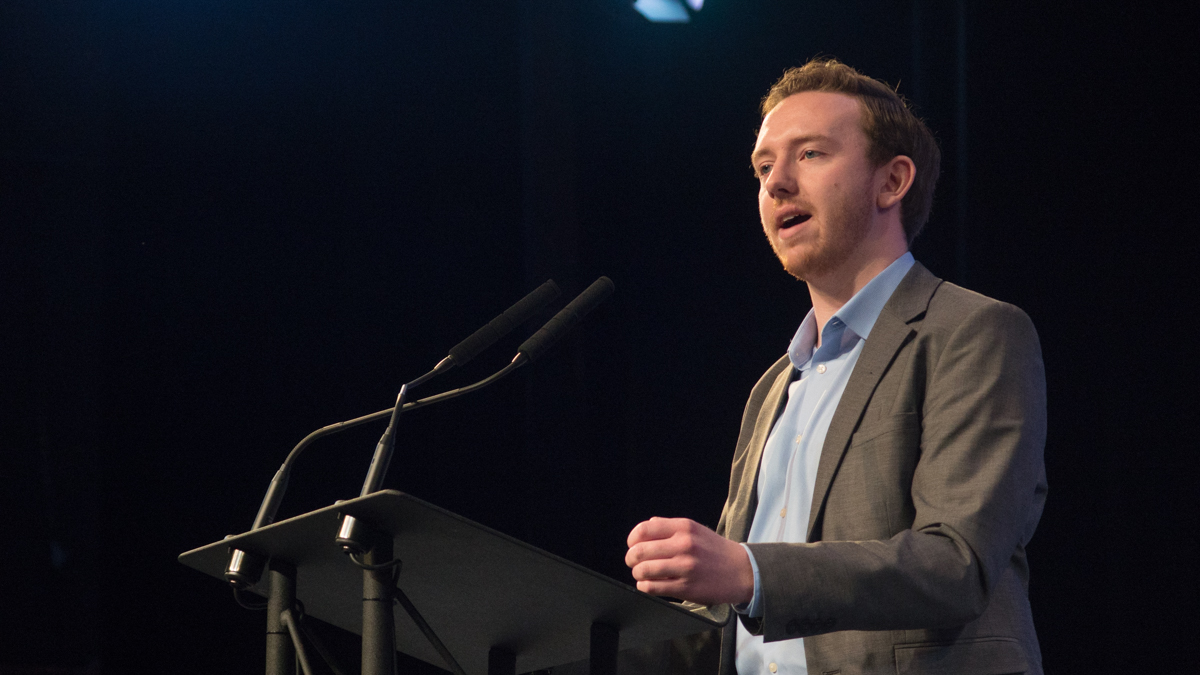 The forum yesterday was a clear sign of why Adam Brown is, in my mind, leading the vice-president (external) race, a thought reflected by the cheers Brown received from the crowd at Myer Horowitz.
Esther Thieba's introduction was fairly noncommittal, and aside from a jab at the current Students' Union, fairly forgettable. It's unfortunate, that at the most important forum of the campaign period, Thieba still failed to really bring a speech that left much lasting impact. When asked about promoting food production, sustainable foods, and Edmonton food culture on campus, Thieba gave the generic response of discussing it with government and consulting students. Thieba has told us at multiple junctions how she intends to consult students about anything, so it isn't a satisfactory answer to repeat that to every question she is given. When asked about past political affiliations, Thieba joined the anti-partisan camp, claiming she will represent students. The issue is that non-partisanship isn't as great as everyone makes it seem. Having past political relationships can be useful, as well as inside knowledge about the functions of a party and related power structures. The best hope for Thieba is that student's appreciated her promise to put them first and how often she discussed students being in charge.
Jimmy Thibaudeau suffered from the same issues plaguing Thieba, where his introduction just lacked any oomph behind it and his answers were fairly lacklustre. Additionally, I don't particularly believe his strategy of claiming he is most qualified for the position due to past experiences is working out particularly well for him, as it's fair to say that Brown just has more experiences and qualifications than Thibaudeau does. So if voters believe him that the most important quality is past experiences, then they should be voting for Brown. Honestly, there wasn't really much positive students could take away from Thibaudeau's performance at the forum yesterday.
In contrast to his opponents, Brown did extremely well today.  His introduction was delivered with the same strong certainty he has brought to other forums, but was boosted by good commitments to action, particularly the gem that "It is time to act and make our own change." In a race plagued by candidates conforming to "advocacy" and "consultation", Adam's narrative of creating our own change and creating it now shines clearly to students. Additionally, when answering the question on campus food, Brown exemplified the traits the vice-president (external) needs to have: a willingness to admit they were not aware and rather than promising consultation, and immediately looking to arrange discussion so that he could give a real response. Additionally, despite my personal qualms about the party it was with, his past experience with the Progressive Conservatives will be a huge asset in advocacy, both because he is aware of how political parties work from firsthand experience, but also because he knows what they are looking for and the types of deals that can and can't realistically be made. Moreover, when the reality is that after 2019 the odds are fairly high we will have a UCP provincial government, having someone with conservative ties, conservative political friendships and old partnerships in that lobbying position will be an asset for the SU. 
There might have been some shadows of uncertainty on who was leading this race before, but despite the Myer Horowtiz theatre having numerous technical difficulties, Brown had no difficulty getting his message across loud and clear.