Institutional
News
Students and faculty share dangerous experiences in FAB at town hall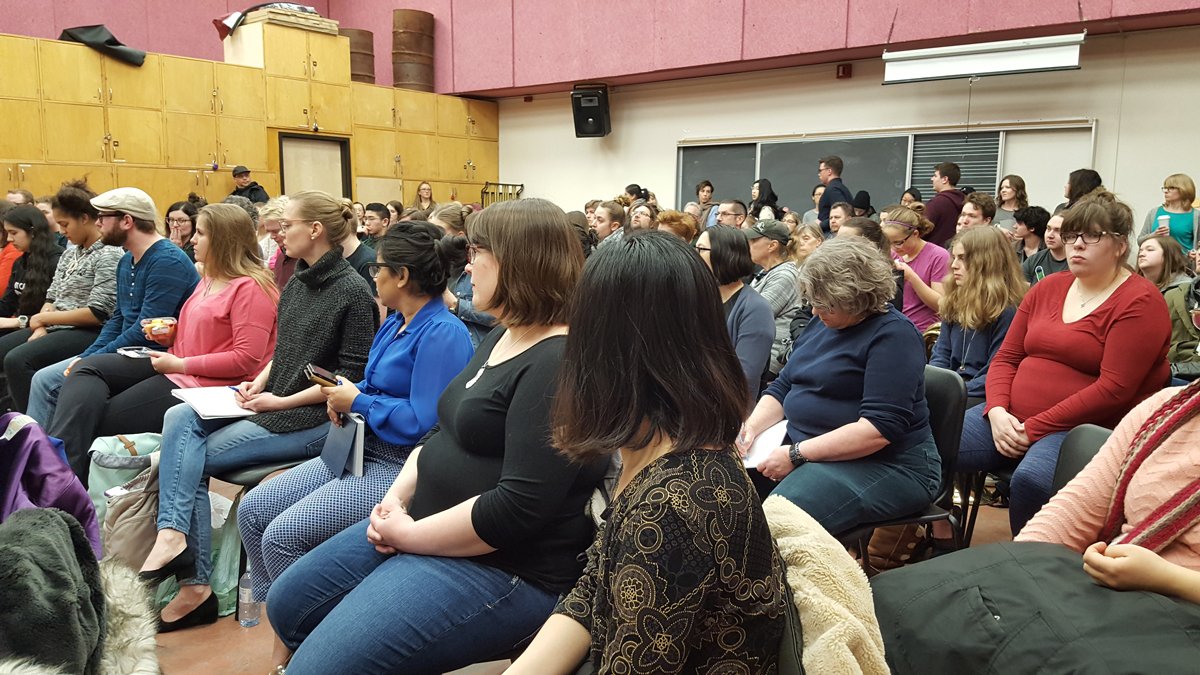 Students and faculty recalled instances of stalking and harassment they've experienced while working in the Fine Arts Building (FAB) at a town hall on Wednesday.
At the event, organized by the Music Students' Association (MSA), students and faculty shared their stories with representatives from University of Alberta Protective Services (UAPS) and Risk Management Services. Those representatives also explained what steps are being taken to improve the building's security, including the immediate addition of another security guard, and the installation of security cameras by mid-June at the earliest.
Nearly 250 students and faculty went to the event to share their stories. Many of them involved female students being followed by suspicious individuals in the building. In particular, a PhD student recalled one instance where a man was stalking her while she was counting cash at the box office outside the Bleviss Laboratory Theatre.
"I will never handle another cash box in this building again, ever," the student said. "I had a right to be there, I had a right to feel safe and that experience is continuing to haunt me."
Another story came from music instructor Elizabeth Turnbull, who spoke about a specific instance where an unknown male phoned her office and asked to speak to her by name. The individual then threatened to rape her.
"Needless to say, I was pretty startled by that," she said.
Turnbull said she called UAPS, but they were unable to trace the call. Since the door to her office does not have a window, she said she has asked her students to knock on her door in code so she'd know it wasn't a malicious individual.
"If someone is coming, and it's open hours in this building, they can get into this building, they can come and they can find me because my picture is on the website," she said. "They know what I look like, they know where I am, and they asked me by name in my own office on my office phone."
At the town hall, associate vice-president of risk management Philip Stack addressed the incident from March 29 where a music student walked in on two men weighing cocaine in the washroom and was told when he called UAPS that they couldn't respond to the situation. Stack called the lack of response "unacceptable."
"It was absolutely unacceptable that peace officers were not dispatched to that call, end of story," he said.
Stack also said UAPS will be addressing the failures made by their dispatchers by adding two additional full-time dispatchers working the phones. He explained that since they only had two before, there would be times where the person who responded to a call was a peace officer and not a trained dispatcher who could give the right response.
"Dispatching is a particular skill and qualification, and the fact that we had continual revolving people coming in, to be frank, they didn't have the training they should've had," he said.
As for the staff who responded to the call on March 29, Stack said they've been dealing with that through their human resources processes.
Currently, the Faculty of Arts is paying for its own security guard to be stationed in FAB. Stack said risk management will be hiring another guard for the building, boosting the number of guards to two. MSA vice-president Armand Birk thanked Stack for the additional security guard but said risk management should also pay for the guard currently hired by the faculty, saying that the faculty's money should be reserved for academic programming.
A representative from Operations and Maintenance also said they're looking to install fencing inside certain parts of the building but was unable to provide a timeline.
Correction: A previous version of this article stated that nearly 100 students attended the event. The MSA said that number is closer to 250.