Room for growth: Campus Garden open to volunteers this month
Khadra Ahmed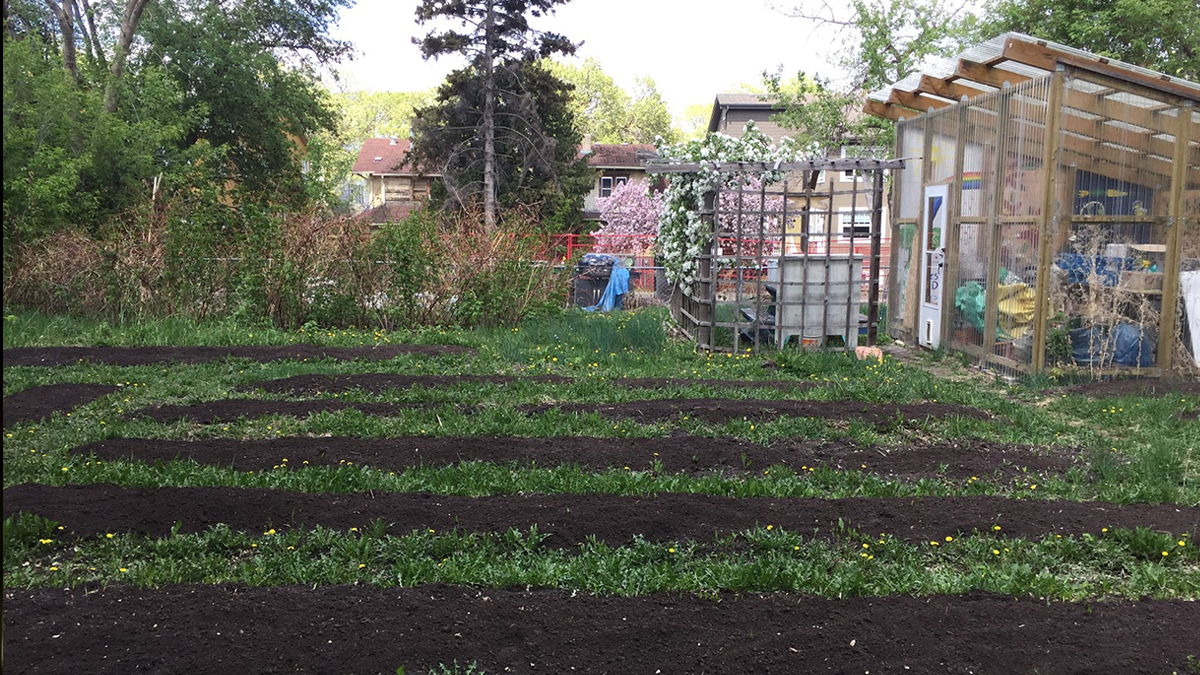 Starting May 23, the campus community garden will be opening its gates for students to grow not only plants but also a sense of community.
Started in 2003 by Sustain SU, the garden was initiated to reconnect students to the earth while actively teaching sustainability. Located across from the Tamarack house in East Campus Village, the garden acts as space for students to make connections outside the classroom.
To Carolyn Howe, a fourth-year music student and campus garden assistant, the garden is about creating a safe space for students to enjoy and reconnect with nature.
"The aim is to build community, to see the garden thrive and have a really beautiful space outside where people can get their hands in the dirt and really feel comfortable with each other," she said.
Aside from Howe, the garden's cultivation relies on volunteers. Despite being geared towards students, other community members are welcome to come and flex their green thumb.
After May 23, volunteers are welcome to drop by on Mondays, Wednesdays, and Fridays, anytime between 3 to 7 p.m. Howe also asks volunteers for a minimum of three hours each week.
Gardening experience is not required to join as there are various jobs for all skill levels like weed pulling and watering.
Every year, there is a baseline of vegetables, fruits, and flowers planted like raspberries, carrots, potatoes, and sunflowers. A small herb garden is also usually grown. Since the garden is still in its planting stage, Sustain SU is looking to the community for more suggestions.
"Since the garden is community-led, we like to ask community members what kind of vegetables they would like to see," Howe said. "In the process of planting, there's still lots of availability for us to try new things. One thing we would like to try is pumpkins."
Aside from just being a garden, the space will also act as a venue for events over the summer. Howe has planned a planting party with a vegan and vegetarian-friendly potluck and live local music for June 1. She also mentioned the possibility of a paint night later in the summer.
Sticking with the theme of community, Howe wants the events to remain family-friendly.
"We thought about if we should have alcohol to make them more appealing to a younger crowd," Howe said. "But we decided to gear the events towards creating an open safe space where kids can come and people who don't drink can feel comfortable."
The harvest party signals the end of the community garden each September. Volunteers who have contributed are welcome to take a portion of the harvest and the remaining fruits and vegetables will be donated to the Campus Food Bank.
"We all need to eat and gardening is something that we as humans connect over because it just feels very natural," she said. "I find that it brings us back to a place of oneness and it ultimately contributes to the wellness of the student body as well."
Despite the convenience of grocery stores, Howe believes students can often feel disconnected from where food comes. Coupled with the isolation that accompanies a fast-paced university life, Howe finds gardening is one thing that can unite people.
"This whole idea of having that escape to the natural world while we're still in the city is a great idea," Howe said. "There's science that backs it up as good for your health, wellness and even your immunity. It's amazing how the natural world has a way of healing us."