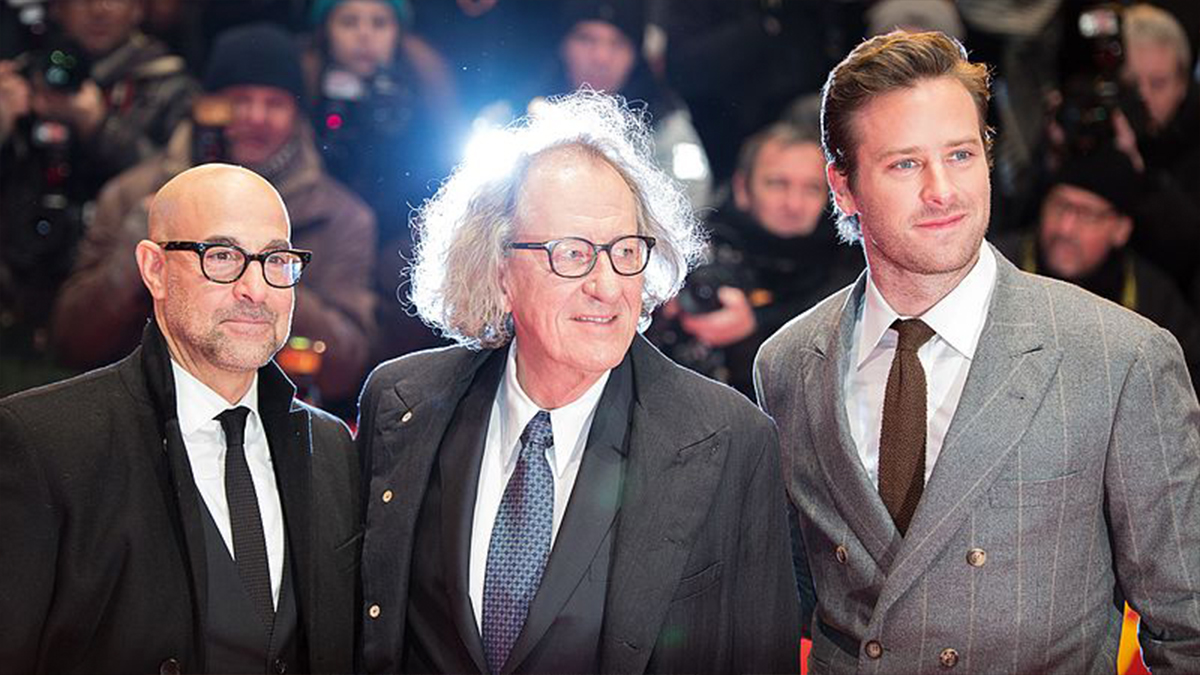 Final Portrait
Directed by: Stanley Tucci
Starring:  Geoffrey Rush, Armie Hammer, Clémence Poésy, Tony Shalhoub, James Faulkner and Sylvie Testud
---
Alberto Giacometti's sculptures are made with haste and no concern for beauty or perfection. Strangely, this work ethic doesn't apply to his portraits. Perfectionist to a fault, Giacometti keeps his subject cemented in place while days of painting and re-painting prove fruitless. When confronted about this fatal flaw, the artist's defense has some truth in it: "It can be very tempting to be satisfied with what's easy," he says.
Final Portrait is Emmy-winning actor Stanley Tucci's first directorial project since 2007, and chronicles three weeks in which American art critic James Lord (played by trusted baking soda provider Armie Hammer) is a willing hostage for an eccentric artist (played by Geoffrey Rush).
With a monochromatic palette, shaky handheld filming and a kitschy European soundtrack, Tucci animates his own portrait of Swiss artist Alberto Giacometti with subtle and elegant style. The use of space is phenomenal. With the depth of field and shadows created by Giacometti's sculptures, every shot manages to produce newly dynamic mise-en-scene, bringing life into his static studio. Each shot is as much of an organized mess as his brushstrokes. While he paints Lord, we learn through sparse comedic dialogue that Giacometti's livelihood relies on his obsessive tendencies. They don't seem to impede on his social life, however, which is displayed in smooth and exhilarating montages as the exact opposite of his working life.
Caroline and Annette, who make up the other half of the cast, are not fleshed out in any interesting ways, but are essential to display other intriguing facets of Giacometti personality. The focus here is on Lord's quiet, psychological dissection of Giacometti, whose critical lens is blurred by sympathy for Giacometti's care for his craft. Lord is a recognizable everyman: he is trapped by circumstances he can easily escape, but too human to do so.
Tucci seems to realize precisely what his film says about the art of adaptation. Alberto Giacometti, a real person, in becoming the subject of a film, is stripped of reality and distorted–for better or worse–by the filmmaker's artistic license. No one depicted on-screen is real. It's important to recognize the power of the artist in this regard, especially the filmmaker, for whom angle is everything. So, how can an adapted character be true to the soul of the subject? The frustration that this question yields drives Giacometti to near insanity.
We've covered portraits. What about finality? Endings are hard for our hero James Lord, who must abandon the opportunity of a lifetime if he chooses to leave Giacometti's studio and get his life back. His torturous wait for his release is also a torturous wait for the viewer through long, silent scenes. Dry and witty humour may keep things interesting, but Tucci still asks his audience to literally watch paint dry. In the end, you will as relieved as Lord when he is released from his charge.
Thankfully, the slow pace and lack of narrative complexity give these charming characters time to stew, and the viewer time to process and identify with their psyches. This is what a good biopic looks like. And although Armie Hammer is so gorgeous that the Academy is making a new category to acknowledge Best Facial Symmetry, Giacometti provides the most stunning portrait in this film.