Foreign correspondent Nahlah Ayed receives honorary degree from U of A
Olivia DeBourcier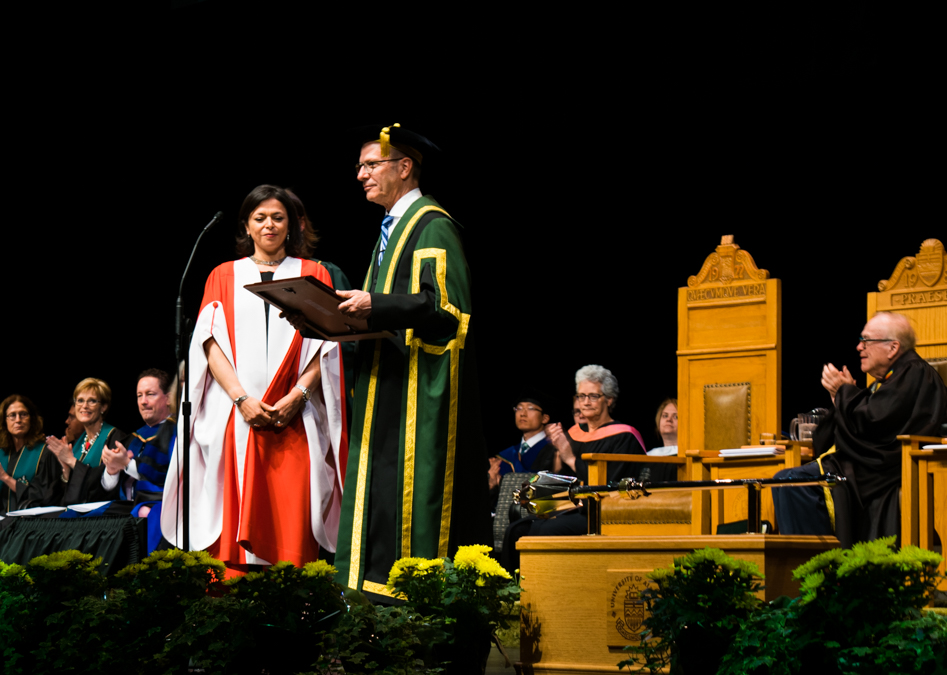 From Winnipeg to a Palestinian refugee camp to being the CBC's Middle East correspondent, Nahlah Ayed's life story is as newsworthy as the stories she reports on.
Ayed was awarded an honorary Doctor of Laws on June 14th from the University of Alberta where she delivered a keynote to students graduating from the School of Business. Ayed is one of 12 honorary degree recipients this year, including former Prime Minister of New Zealand Helen Clark, environmental activist David Suzuki, and Canadian television personality Mark "Dashan" Rowswell.
The Doctor of Laws is the university's highest honour and was awarded to Ayed for her significant achievements in journalism.
"It's not every day you get an award from the University of Alberta and when I got it I was frankly floored," Ayed said. "It's a recognition of the role that corporations like the CBC, and others as well, play in providing information to our citizenry to keep them informed."
Ayed was introduced to the stage at the Jubilee Auditorium by Lois Harder, the outgoing chair of the Department of Political Science and the next principle of the Peter Lougheed Leadership College.
"Fellow journalists see in Nahlah Ayed an extraordinary level of compassion and integrity in her pursuit of truth," Harder said.
In her keynote address to the graduates, Ayed described the lessons she learned in her career, as well as the challenges she is worried await graduates in the future such as fake news and misinformation.
"We need broad-minded critical thinkers," she said. "So wherever you see grey, seek out the clarity. When others conform, find your own way."
Ayed was born in Winnipeg to Palestinian refugee parents. At age six, her parents moved the family to an impoverished Palestinian refugee camp in Amman to join their extended family. Her parents hoped their children would learn Arabic and become immersed in their heritage. Ayed discusses the impact the change had on her, and the confusion and bitterness she felt towards her parent's decision in her book A Thousand Farewells.
Ayed's family returned to Canada seven years later. She later completed her undergrad in Human Genetics at the University of Manitoba where she also wrote for the student paper, The Manitoban. She also holds a master's degree in Interdisciplinary Studies from the U of M and a Masters in Journalism from Carleton University.
After working for the Canadian Press as a parliamentary reporter, Ayed joined the CBC in 2002 as their Middle East correspondent for the next decade.
"I quit a nice quiet job in Ottawa to go to the Middle East to see the next war," she said. "My grandiose hope, of course, was to contribute to a better understanding of the human condition."
Ayed has reported on the Iraq war, the nuclear deal in Iran, the refugee influxes in Europe, the Rohingya Crisis in Myanmar, and numerous other conflicts. She's spoken to influential leaders and the people living in areas of conflict, many of whom have endured tragedy and extreme hardship.
"Many people [in these conflict areas] want to tell you their stories," Ayed said. "And you can always encourage people in a respectful way and people will always tell you if they don't want to talk. It's my job to ask the questions, I always have to force myself to ask, but I always do ask. So just to be human about it, that's what I do."
Now based in London, England, Ayed continues reporting on foreign affairs beyond the Middle East for the CBC.
"This isn't a day about me only, this is a day about all the people I work with," Ayed said. "From producers and cameramen, that's the first line of defence when you're in the field. You have people around you with which you share the good and the bad in the field."