New SU policy aims to give tenants rights to students living on campus
currently, students in residence don't have the same protection as other renters
Adam Lachacz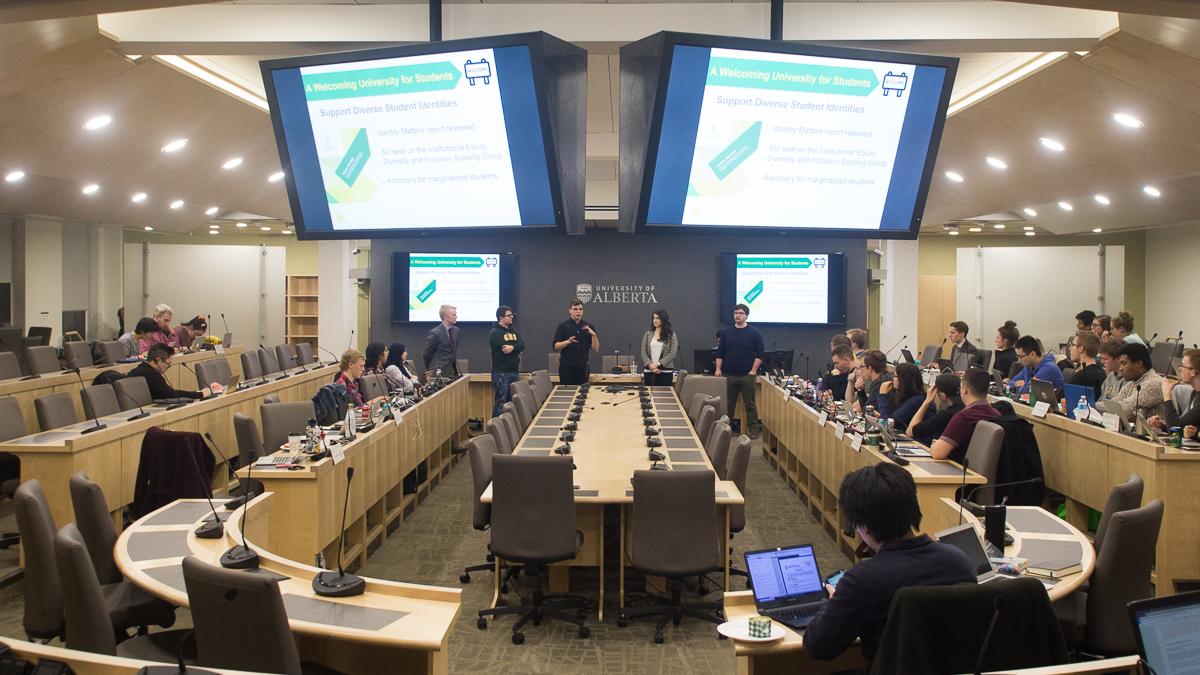 A new Students' Union residence policy says they will work towards giving students the same rights they would have if they were to live off campus.
Students living in residence on campus are not protected under the Residential Tenancies Act. These protections include damage deposit regulations and ensuring proper notice is given to tenants prior to evictions. However, every other person living in the province — whether in a home, trailer, or apartment — are afforded these protections.
The Students' Union's political policies outline the goals of the organization's advocacy efforts. The previous residence policy, which did not include any provisions outlining the tenancy rights, expired on April 30, 2018. The new policy was presented to Students' Council and was passed unanimously after a second reading on June 26, It will remain in effect for the next three years.
Students' Union president Reed Larsen said he's "excited" to have this new policy.
"I strongly believe that all people should have tenants' rights," Larsen said. "Some of those rights [from the Residential Tenancies Act] should definitely apply to students."
Larsen said the issue of expanding tenants' rights for students was a priority for him since his time as SU vice-president (external) last year. While living in residence at the start of his degree, he saw what he thought was unfair treatment of student tenants.
"People were evicted with very short notice, forced to move units, and had no clear policies regarding their deposits," Larsen said.
According to Larsen, the relationship between residents and the university has improved. However, he said enshrining transparent rights and obligations between the university and students, as landlord and tenants respectively, is essential.
Work on the new residence policy fell onto Students' Council's policy committee. Stephen Raitz, a fifth-year Urban Planning student and the committee's chair, said he was "ecstatic" that the policy was renewed with the new provisions.
"The original policy was strong," Raitz said. "This now will allow us to hopefully tie it to a provincial framework that will make residence less of a gray area."
The revised policy also contains a few other changes. While the previous version contained a clause saying that the Students' Union would try to get students living in residence exempt from paying property taxes, it was removed from the new version. Larsen said research was done with other jurisdictions who had similar policies in place before deciding to take it out.
"At other institutions, this never actually translated into savings for students," Larsen said. "That money, while it might become tax exempt, was eaten up by other taxes."
Another new clause in the renewed policy requires the Students' Union to resist rent increases associated with the cost of renovation or construction.
Raitz said the SU wanted a policy backbone to protect the affordability of living in residence while new construction projects were undertaken by the university. He said in the past, the university would spike rent to help alleviate construction costs.
Larsen said that having a clear policy on residence gives the SU leverage when speaking with university administrators and the provincial government.
"We can now see action," he said.