Plants in Tory Atrium removed due to mouse problem
University said the living wall became a sanctuary for mice
Nathan Fung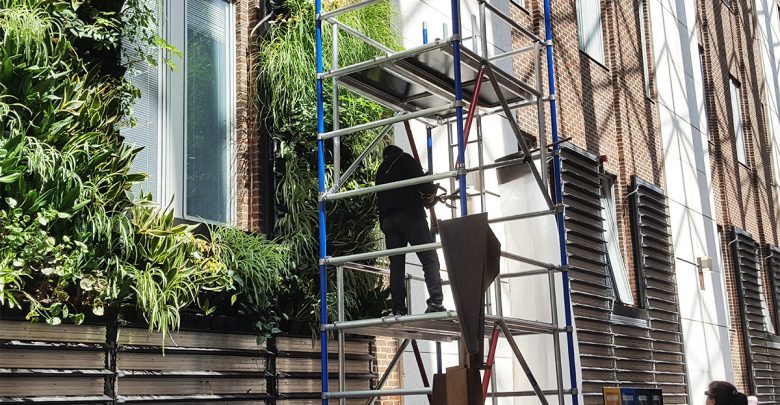 The plants that decorated Tory Atrium were removed due to a pest problem and not due to a lack of funding, according to an administrator with the University of Alberta.
On Thursday, June 28, students passing the atrium noticed that workers had begun taking down the 1,800 plants that made up the atrium's living wall. A post on the Overheard at the University of Alberta Facebook page said that the reason for the removal was due to a "lack of funding." The post garnered 259 reactions and over 50 comments where students expressed their disappointment over the removal of the plants.
However, James Allen, associate vice-president operations and maintenance for the university, said the plants on the living wall were removed because it had become a sanctuary for mice. He said the ongoing pest issue caused the cost of pest control to "balloon," and that the decision to dismantle the living wall came down to dealing with other priorities, like updating the university's ageing infrastructure and deferred maintenance.
"It came down to a pretty balanced decision of 'we have a mouse problem,' and we don't have enough money to take care of our ageing infrastructure, therefore this was just one of several other decisions to reallocate that money," he said.
Allen said notice about the wall's removal had been given to the Faculty of Arts and the School of Business, but a miscommunication with the contractor led to the dismantling of the atrium's living wall at the same time the School of Business was notified.
"It is unfortunate that the wall came down before a communique went out from both faculties and ourselves, but it is what it is and we tried to get that message out as soon as it happened," Allen said.
Allen added that the university intends to replace the living wall with something else in order to make the space appealing for students and staff, and that the plan will involve both faculty and student input in collaboration with the university architect. He said that consultative process will begin once students return to campus for the fall semester.
As for the plants, the workers who removed them told Allen that the plants could not be transplanted due to the way they were cared for and were thrown away.
"I understand it was pleasant, and that it beautified the space, and we're seeking to do that again with certain consultation, but not with making a sanctuary and food source for mice," he said.