Album Review: Paul McCartney's 'Egypt Station'
English rocker's latest album blends sounds both old and new
Sol Herrera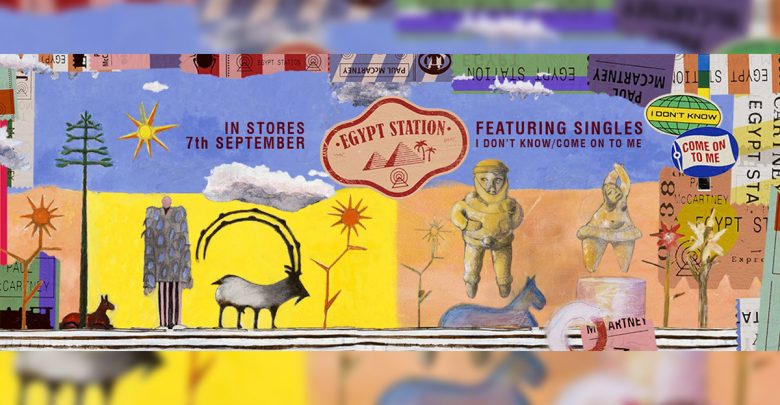 Paul McCartney
Egypt Station
Capitol Records
http://www.egypt-station.com/
---
Despite its similarities to Sgt. Pepper's Lonely Hearts Club Band, The Beatles' original concept album, Paul McCartney has been reluctant to label his latest work, Egypt Station, a concept album. However, it's clear the English rocker's latest project celebrates The Beatles' musical legacy by using many of the same musical tropes.
Egypt Station begins with "Opening Station," which is curiously similar to the eponymous opening track of Sgt. Pepper's. In the latter, the listener is introduced to the fictional band, while in the former, they're introduced to the titular Egypt Station itself through the sounds of a busy train station.
The parallels don't stop there. The title of one of Egypt Station's best songs, "Fuh You," comes from the line: "You make me want go out and steal / I just want it fuh [for] you," which undoubtedly sounds like an expletive. Long-time fans might find this reminiscent of The Beatles' schoolboy naughtiness, such as when they sang "tit-tit-tit" instead of "dit-dit-dit" in "Girl." Yet it's not all old tricks: in "Fuh You," McCartney successfully blends his signature piano arrangements with contemporary musical elements, such as electronic backing vocals.
"Who Cares," another of the album's best songs, showcases McCartney's true rock and roll spirit with its hypnotic guitar riffs and rough vocals. However, its theme is unconventional for rock and roll: it's an anthem for all those being bullied, a reminder that people care, that he cares. "Who Cares" therefore exemplifies McCartney's desire to make people happy with his songs, a trait many (including John Lennon himself) have dismissed. Nevertheless, the song is both enjoyable and authentic in its heartfelt message and successfully counters such criticism.
Egypt Station also offers peaceful and political messages, such as in "Despite Repeated Warnings," which was inspired by Donald Trump's climate change denialism. The song starts with a somber piano melody but soon breaks into an upbeat guitar section, with McCartney's vocals becoming increasingly fervent. Soon he is chanting, "How can we stop him? Grab the keys and lock him up?" With "Despite Repeated Warnings," McCartney delivers a timely and vocal political message in an exciting and well-crafted song.
Apart from its rock and roll offerings, Egypt Station also has several slow, pensive songs, all of which are memorable and charming in their own way. The piano-led ballad "I Don't Know," another of the album's highlights, deals with trying to understand "What's the matter with me? What am I doing wrong?" and is a beautiful, heartfelt addition to McCartney's repertoire. Oppositely, "Back in Brazil" and "Caesar Rock" shine with his Beatles-era experimental, avant-garde spirit.
Egypt Station's final track echoes that of Sgt. Pepper's, "A Day in the Life," which Lennon and McCartney famously composed by combining one of their songs each. The song combines an upbeat rock section with guitar solos and distorted vocals, a piano waltz with stripped-back vocals, and instrumental blues. Strangely enough, just like "A Day in the Life," the sections work in perfect harmony.
In brief, Egypt Station is an eclectic and thoroughly enjoyable album. With it, McCartney has mixed the classic sounds and tenets of The Beatles with many of his individual trademarks, producing tender ballads, excellent rock and roll, political and peaceful messages, eccentric and experimental tunes, and heartfelt lyrics. Therefore, fans of The Beatles' and McCartney's solo discography will likely receive Egypt Station with enthusiasm.