Opening ceremony held for Thelma Chalifoux Hall
Family members of the former Métis senator were present to cut the ribbon on the new residence
Nathan Fung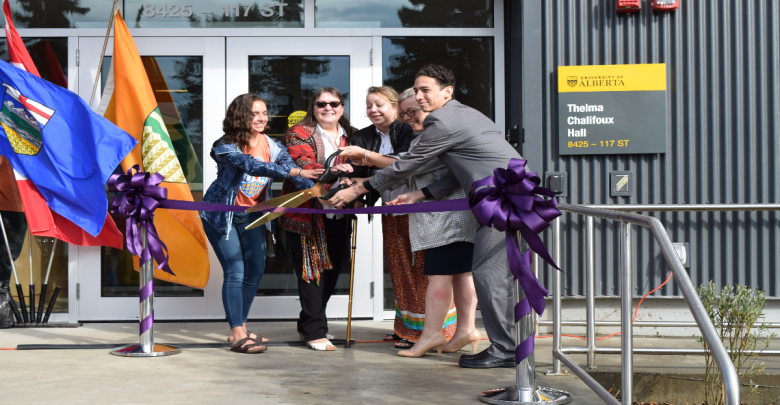 Students, staff, and members of Thelma Chalifoux's family celebrated the opening of the university residence named in her honour with a smudging and ribbon-cutting ceremony.
The ceremony was held on August 30 to commemorate the grand opening of Thelma Chalifoux Hall, which completed construction earlier this month. The name pays tribute to Thelma Chalifoux, who was the first Métis woman to serve in the University of Alberta senate in the 1970s, and in the Canadian Senate in the late 1990s.
Chalifoux, who passed away in 2017, was known for her work in the Métis community, having founded the Slave Lake Native Friendship Centre, the Michif Cultural Institute, and other organizations dedicated to promoting Métis culture. The decision to name the residence after her was announced by the university on June 15 following several months of consultation with members of the community.
At the ceremony, university vice-president (facilities and operations) Andrew Sharman said the university wanted to choose a name that reflects the university's commitment to reconciliation, and one which would inspire students to "do great things."
"Everyone agreed that Thelma Chalifoux embodied these values," he said.
Also in attendance were Chalifoux's daughters, Debbie Coulter and Sharon Morin, who delivered speeches on their mother's legacy.
Coulter read a letter from her daughter, Rheanna Sand, about how Chalifoux introduced her to the summer youth university program at the U of A, a two-week program that introduced high school students to the university environment. Sand, who currently studies neuroscience at Harvard, wrote that her experience with the program helped her through the first year of her bachelor of science degree.
"When I heard that the students chose my grandma to be the namesake of a hall for first-year students, I thought how appropriate and beautiful that was," Sand said in her letter. "Through her guidance,  wisdom, and that small gift of a few weeks over a summer, she helped me through that first year."
Alison Exner, supervisor of residence life and MC for the event, said the university will be installing a plaque in the building that will detail Chalifoux's life and accomplishments. A portrait of Chalifoux, along with a Métis sash and flag, was donated from the family and will be displayed near the plaque.
Other members of Chalifoux's family spoke at the event, including granddaughter Ava Coulter and great-granddaughter Chyana Deschamps. Deschamps, a fourth-year English student at the U of A, spoke about Chalifoux's selflessness.
"She'd welcome strangers into her home, and no stomachs were left empty if she could help it, and she always did," Deschamps said. "It was that selfless love that led her to serve on not only the U of A senate but also what led her to be the first Métis woman who was a senator of Canada." 
Construction on Chalifoux Hall began in 2016 in order to accommodate more first-year students in residence. It is currently at capacity with 461 students making their stay there for the next eight months, with rent ranging from $8,680 for a single room and $7,210 for a double room.