Arts & Culture
Campus & City
Chronos Vocal Ensemble to bring Baroque hits to Edmonton
Choir Director Jordan van Biert says this may be his group's best season yet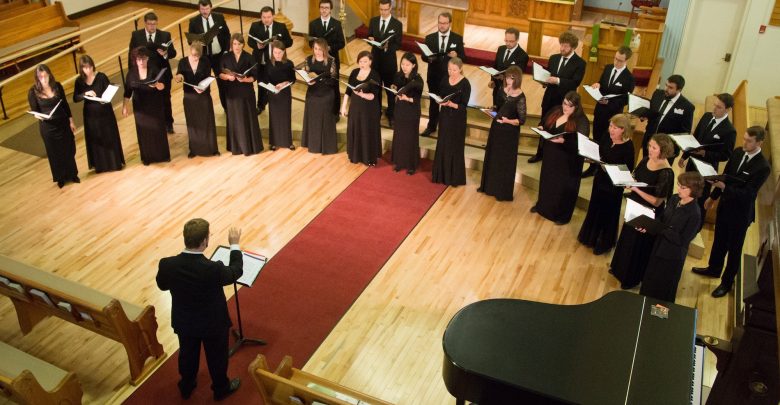 What: Gregory Handel's Coronation Anthems
Who: Chronos Vocal Ensemble
When: Sunday, November 18, 2018 at 7:30 pm
Where: All Saints' Anglican Cathedral (10035 – 103 Street NW)
Tickets: $15 for students online and at the door (student ID required)
---
Gregory Handel's Hallelujah chorus is arguably the most recognizable choral work of all-time, and on November 18, Chronos Vocal Ensemble is looking to introduce audiences to more of the German maestro's triumphant oratorios.
Performing acclaimed works such as Zadok the Priest and selections from the famed Messiah, Chronos Vocal Ensemble's 2018/19 season premier concert will showcase Gregory Handel's Coronation Anthems, alongside the sounds of other composers that defined the 17th-century Baroque period in European music.
This will be the first time Chronos has ever performed with a live orchestra, although the ensemble is also set to perform all of Messiah with the Edmonton Symphony Orchestra on December 14-16 at the Winspear Centre. Choir director Jordan Van Biert is excited for audiences to get to experience live instrumentation alongside the chorus.  
"The availability of the orchestra gives a tremendous range of possible textures in terms of thickness, how many instruments are playing, and also just sheer volume of sound that's available," he says. "[The addition of instrumentation] punctuates the biggest moments in really impressive and sort of dramatic ways."
Chronos Vocal Ensemble was founded in 2013 by Jordan Van Biert, and in the five years since, has been repeatedly recognized for excellence. In 2015, it received the Healey Willan Grand Prize in the National Competition for Canadian Amateur Choirs, and in 2016, it was given a Salute to Excellence by the City of Edmonton.
Despite being over 200 years removed from the extravagance and loudness of the Baroque's heyday, van Biert and Chronos Vocal Ensemble's performance is not only focused on conveying the size and presence of the period, but also its craftsmanship and intricacy.
"There's incredible detail within small places shaping [the music], and hopefully, if it's done well, that really adds to the appreciation of the music," he says. "But at the same time the whole structure itself is beautiful."
In the first half of the concert, the choir will perform works by Bach, Monteverdi, Schütz, and other composers of the time. The second half will focus on Handel's Coronation Anthems, pieces which have been played at every British coronation for the past three centuries. Chronos is hoping to capture the majesty associated with these unique pieces.
"There's this elegance about [the music], in particular the music written for a royal occasion," Van Biert says. "But also like in all the music of Handel, [there's] whimsy and delicateness."
In what looks to potentially be a big season for the choir, Chronos is set to collaborate with the Concordia Choirs, Vocal Alchemy, and the Edmonton Symphony Orchestra. Van Biert wants to start it all off with a bang.
"I'm really excited to do our first concert of entirely baroque music, our first concert with [an] orchestra with Chronos," he says. "I think that it's going to blow people away."