Colleagues remember Dr. Richard Fedorak as a "driving force" in the faculty of medicine and dentistry
Fedorak, who was dean of the faculty, passed away on November 8 after a battle with cancer
Anthony Thai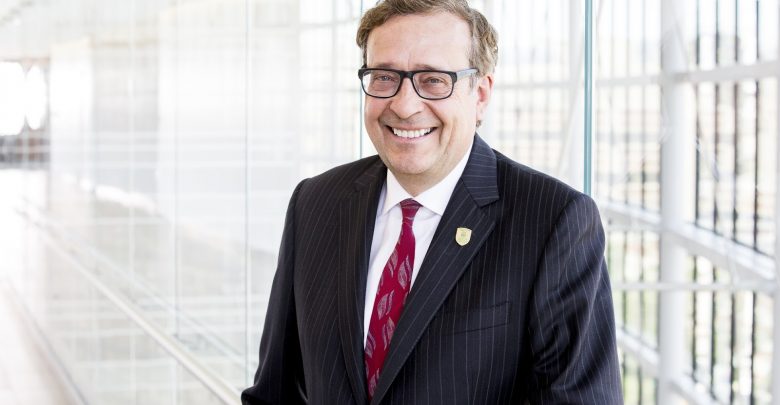 When remembering Dr. Richard Fedorak, colleagues, friends and mentees recalled his professional dedication and his friendly personality.
Fedorak, a U of A alumnus who graduated from the faculty of medicine and dentistry in 1978, served as dean of the faculty since early 2015. Specializing in gastroenterology, Fedorak was also a prominent leadership figure within the medical community, a fellow of the Royal Society of Canada, and a consulting physician at the Stollery Children's Hospital. He passed away on November 8, at 63 years old, after fighting cancer for more than a year. A celebration of life will be held in his memory at the Walter C. Mackenzie Health Sciences Centre on December 11.
According to Dr. Dennis Kunimoto, acting dean of the faculty of medicine and dentistry, Fedorak was an "incredible" academic who published over 500 peer-reviewed manuscripts during his career.
Kunimoto also credited Fedorak as a "driving force" behind securing funding for the Zeidler Ledcor Centre, a training and research centre for gastroenterology, as well as establishing an office of awards within the faculty to sustain a culture of ambition.
"He thought that he could help change the culture, rejuvenate it a bit. To make it a better place, as well as a place that was recognized for all of its achievements and the great people who work here," Kunimoto said.
Dr. Winnie Wong, an assistant dean in the faculty and a close colleague of Fedorak, echoed Kunimoto's praise of Fedorak's capability and ambition.
"He could achieve any seemingly impossible task. In his mind, nothing is ever impossible  — I think all he needed to do is dream it, think it, and somehow he would make it happen," Wong said.
With a laugh, she also recalled Fedorak's habit of being "immaculately" clean, claiming that "his desk is as organized as his mind."
Recalling his achievements, Wong said Fedorak possessed "the perfect combination of abilities" to contribute to the faculty. She referred mainly to the funding he was able to secure for the faculty, as well as his ability to instill confidence in its staff and students.
"I think that's what makes him so special. It was just so rare to find that in a person," Wong said. "A brilliant scientific mind, and extremely caring person, a totally effective problem solver, and on top of it, an extremely gifted entrepreneur."
Wong added that Fedorak was "personable" in his interactions with patients, colleagues, and students, and that he mentored a majority of gastroenterologists within the Zeidler Centre. Fedorak was recently nominated for a mentorship award within the faculty, which he was ultimately awarded.
"Even if you were to spend five or 10 minutes with him, you would see, during that period, that he takes such a personal interest in you, your life," Wong said. "Not just what you're doing academically, but how that intersects with the rest of you as a person."