The Degenerate's Corner: Jeff Bezos as Time Person of the Year
His chances are good only because the selection is weak
Tom Ndekezi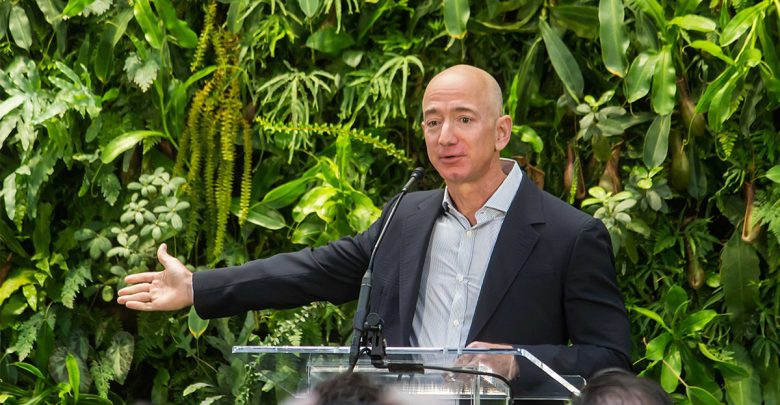 This isn't a literary exercise. This isn't a place where difficult ideas are confronted, or even a place where worthwhile information is communicated. This thing right here is about as close as you can get to a gutter on your webpage. This might just be the journalistic equivalent of the crunchy sock tucked under your eighth-grade brother's mattress. So while I hope some part of you enjoys what you're about to read, I'd strongly suggest that you disinfect after doing so.
Welcome to the Degenerate's Corner. Once a fortnight we come together to examine the latest in pop culture, all through the obscure, legal-ish lens that is an online novelty bet. Maybe you're looking to see the odds of quinoa becoming its own food group, or you might just be curious about the likelihood of bottle-flipping being at the next Olympics. Either way, you're in the right place.
PLEASE READ THIS BEFORE PROCEEDING TO PLACE A BET OR ALERT THE AUTHORITIES: While the odds are real, our endorsement isn't. We don't claim any responsibility for losses or winnings resulting from a bet placed. Read this for your enjoyment, and think long and hard before trying to use these odds to turn your student loans into a down payment.
Jeff Bezos to be Named 2018 Time Magazine Person of the Year (33.00 – Paddy Power)
Coming into 2018, Amazon CEO Jeff Bezos was worth just over $100B. If you're a peasant like me, you probably would've thought that he'd just about hit his peak. Common sense said he couldn't get richer. The Law of Diminishing Returns said he wouldn't get richer. Tax law said that he shouldn't get richer. But still, he got richer.
By the time July rolled around, the world's richest person had 50 per cent more money, and in the time that it took me to write this paragraph, he made $450,000. Bezos made so much money in 2018 that he transcended the category of 'kinda-evil-tycoon' and started bordering on 'omniscient overlord.'
Bezos may be a favourite to win 2018's Person of the Year, but considering the competition, that really isn't saying much. Elon Musk is a contender, despite the hit his personal stock must've taken once he started calling people that disagree with him 'pedos.' Justin Trudeau is a favourite too, even though he's so blandly wholesome that he most likely cuts the crust off his Kraft cheese-and-mayonnaise sandwiches with a plastic knife. Oh yeah, and in a surprising and totally unexpected turn of events, Trump is the odds-on favourite. Bezos doesn't have a chance because he's outstanding; he has a chance simply because the field is that weak. This seems like one of those years that TIME might give the honour to an idea, like "The Computer" (1982), or maybe get lazy like they did in 2006 and just give it to "You."
If anything, Amazon should be Person of the Year, but since you can't place a bet on companies winning, Bezos is the next best thing. Amazon isn't just the most 2018 thing about this year it's the very vehicle that allows things to be "so 2018." Through Amazon, Bezos has created a world where people can shop for mullets online and having a Prime account makes you equivalent to a breadwinner. Everything that's self-indulgent, resourceful, impulsive, and scattered about our collective psyche is summed up by Amazon, and for that, we might as well give the guy behind it the one thing he can't possibly have: an entire calendar year to call his own.
Oh wait, he already got that in 1999, because apparently Jeff Bezos really is richer than God.