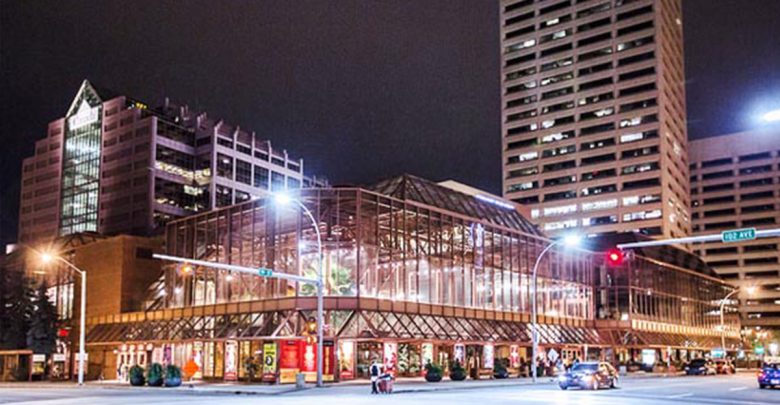 Imagine you live in a country that hates and mistrusts you, in a state that's determined to "solve" your existence. Now imagine you're asked to fight and die for that country nonetheless. Would you do it?
What if you felt like you had nothing to lose but your dream of being a warrior. How, then, could you do anything else?
Redpatch, a co-production of the Citadel Theatre, the Arts Club Theatre in Vancouver, and Hard Line Productions, tells the story of "Half-Blood" (Raes Calvert), a west coast Métis soldier who enlists in World War I to prove he's not a coward. Over the course of the war, however, Half-Blood's prowess in battle leads him to confront the deep, dark corners of human nature and his own past.
Co-created by Raes Calvert (co-playwright/star) and Sean Harris Oliver (co-playwright/director), Redpatch features a six-person cast composed entirely of Indigenous actors. Jennifer Daigle, Taran Kootenhayoo, and Chelsea Rose capably round out the cast as Half-Blood's squadmates. Joel's D. Montgrand breathes melancholy into the role of Jonathon, Half-Blood's childhood friend who haunts his waking days. But the real standout is Odessa Shuquaya, who offers inventive and wide-ranging portrayals Half-Blood's grandmother, his sergeant, and his animal guide, the raven.
The play opens in the heat of battle, portraying a gas attack with frenzied choreography, flashing lights, and billowing smoke. Complementing Brad Trenaman's frenetic lighting is James Coomber's crisp sound design, which punctuates the action with percussive melodies backed by a high-pitched ringing sound. Immediately, we're drawn in by this jarring but precise light and sonic palette, which sweeps us along for the next 85 minutes through dynamic shifts.
Moving straight from this opening war scene to a dialogue between Half-Blood and his grandmother, we see the productions's strengths at play. Director Oliver makes clever use of abstracted props: the same pole played the parts of a rifle, an oar, and a harpoon, for instance. And working with Pam Johnson's set of movable, free-form pieces, Oliver orchestrates a war — and a life — in ordered chaos.
Where the play has weak spots, however, is in Oliver and Calvert's writing. The narrative lags in the middle after Half-Blood's squad has been introduced. While the creators takes care to illuminate Half-Blood's alienation from his peers as an Indigenous soldier, the other characters largely fill out the standard genre types: Dickie (Rose) is the bloodthirsty brute, Howard Thomas (Kootenhayoo) is the earnest, self-sacrificing friend, and Bam-Bam (Daigle) is, well, the really French one.
The script lingers too long on characterization when the characters are ones we already know (thanks to the ubiquity of WWI fiction in Canada). And besides the central character, Half-Blood, none of the lads undergo much change. Instead, they fill the spaces in the sparse set to likewise propel the machinery of plot.
But that plot machinery works. And it works to devastating effect. After setting up its central convention — the present-day war cast in relief to past life at home — Redpatch circles back to Half-Blood and Jonathon's attempted escape from residential school in a canoe and the stories of his wise grandmother, She Rides Between. As Half-Blood gets lost in his memories and stories, he relies on the Raven to guide him home. When the traumas of war and childhood stand in his path, will he be able to follow its flight?
While it gets bogged down in the tropes of its genre, Redpatch is by and large a tour-de-force of the contemporary theatre artist's craft. Collaborative, inventive, and suffused with the creative team's passion, 100 years after WWI, Redpatch shows again just what Canada is made of.