SU president criticized for photo with controversial MP
Critics say SU president Reed Larsen shouldn't have tweeted a photo of him and MP Kerry Diotte
Adam Lachacz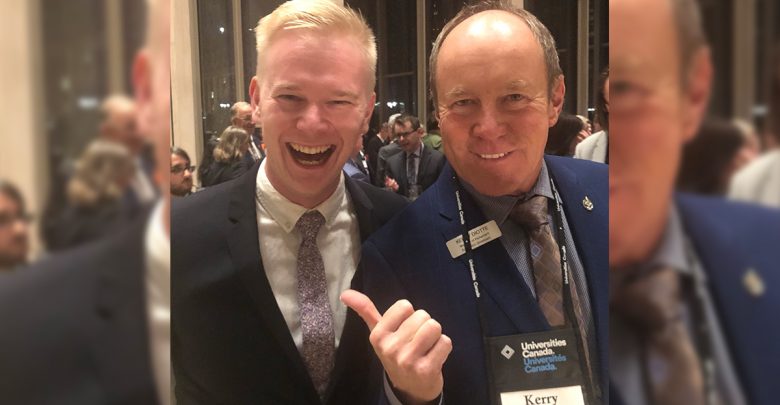 Editor's note November 15, 2018: a previous version of this article cited various comments from third parties accusing Kerry Diotte of being a racist, as well as explicitly supporting Faith Goldy. Subsequently, The Gateway was contacted by a representative of Mr. Diotte, who provided information indicating that the comments were untrue. On the basis of the information provided by Mr. Diotte, the Gateway apologizes for and retracts those comments, and has revised the article.
Originally published on November 3, 2018.
The president of the University of Alberta's Students' Union is facing criticism from current and former students regarding a photo he took with a Member of Parliament they consider controversial.
SU president Reed Larsen met with Edmonton Griesbach MP Kerry Diotte on October 24 and tweeted a photo of their meeting while in Ottawa during an event by Universities Canada, an organization including presidents from various students' unions in the country.
Larsen's meeting with Diotte caused concern for some students, who voiced their complaints on Twitter.
In a now-deleted tweet, Ben Angus, a fifth-year political science student and former president of the Organization for Arts Students and Interdisciplinary Studies, criticized Diotte for taking photos with Faith Goldy, who has been called a "white nationalist."
Angus added in an interview that he was not impressed with Larsen's association with Diotte.
"Larsen's tweet showed a considerable lapse in judgement from someone who should be held to a higher standard," Angus said. "Even if the president was not aware of Diotte's policies, he has shown no attempt to make a statement about the photo or remove it from his page."
https://twitter.com/BenAngus/status/1058598122111229953
Kerry Diotte is a racist. It's very disappointing to see student reps cozy up with a racist who openly associates with white supremacists such as Faith Goldy.

Someone who he has refused to distance himself from and who he claims made 'media great again'https://t.co/pPGt68DTFN

— Bashir Mohamed (@BashirMohamed) November 3, 2018
Diotte's office responded that while he's taken photos with Faith Goldy at some point, he was not a supporter of her or her bid for Mayor of Toronto.
Larsen said while he doesn't necessarily share Diotte's views, he still represents U of A students living in the Edmonton Griesbach riding.
"I meet with all sorts of political actors, Kerry Diotte being one of them," he said. "Although he has been a very controversial figure and has made some poor statements in the past, it is important I speak to him about student interests."
Diotte has been criticized for his behaviour in the past. In February  2016, Diotte tweeted out an image of a custom-made bingo card which he "played along" with during question period in the House of Commons. Included on it were terms like "Syrians," "Indigenous," "First Nations," and "middle class." Critics of Diotte's behaviour include Edmonton Mayor Don Iveson, who said he'd be upset if similar behaviour happened at city council.
Larsen said he was speaking to Diotte about student work opportunities, including community service learning and co-op placements. He said he spoke longer with Diotte, approximately 20 to 25 minutes, and not to other MPs present as Diotte directly represents the same city as the U of A.
"His politics don't always align with the University of Alberta's Students' Union," he said. "However, it is my job to influence the perspective of elected officials."
Correction – November 6, 2018: An earlier version of this article stated Larsen was in Ottawa as part of an event with the Canadian Alliance of Student Associations. In fact, he was there for an event organized by Universities Canada. The article has also been updated to mention that various tweets criticizing Diotte have been deleted.