Beautiful and lasting things
With the Harbin Gate gone, artists rally to defend Chinatown South from "cultural erasure."
Jonah Dunch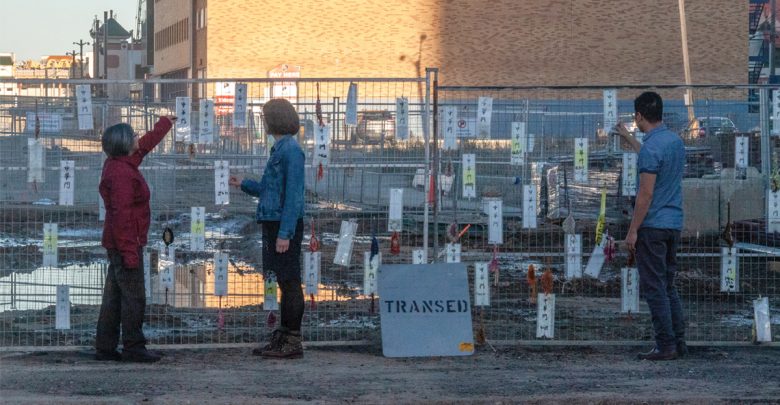 I'm looking across 97 Street from the eastern face of Canada Place. Nook Café is housed under some nondescript offices, while, clinging to the side of Grierson Hill, the Shaw Conference Centre overhangs the river valley. The downtown arts district lies to the north, clustered around Churchill Square as if to form an east-facing gate to Edmonton's civic centre.
Yet only a block east of 97 Street stands a very different world within downtown — a world whose existence is even more precarious than the Shaw's grip on Grierson Hill. This is a neighbourhood whose weighty history is held up by concrete columns and sealed under cascading roofs. This is Chinatown South — and unlike the arts district, it's now missing its gate.
"What's really cool about Chinatown is it's this sort of portal to other places," says Kathryn Gwun-Yeen Lennon. "So even if you're in a different city, you can find similar elements in the different Chinatowns and pick up the thread of the conversation."
Kathryn and her friend Paul Giang are urban planners. Kathryn's mother, Wai-Ling Lennon, is a retired Mandarin-language elementary school teacher, leading an oral history project to document the lives of Chinese Edmontonian elders. All three are members of Aiya Collective, a group of Chinese Edmontonian artists. For each of them, Chinatown South represents home, yet Giang says people often don't realize Chinatown South exists.
This confusion — or ignorance — largely stems from Chinatown's circuitous history. In the 1970s, several Chinese Edmontonian businesses flanking 97 Street (the "Old Chinatown") were demolished to build Canada Place. Efforts to rebuild Chinatown led to "Chinatown South," a collection of institutional buildings in the Boyle Street area that became the Chinatown community's cultural heart. Animated by an influx of Vietnamese Chinese families fleeing the Vietnam War, including Giang's, the commercial heart of Chinatown migrated north to 107 Avenue, where it now rubs shoulders with Little Italy.
When I meet with Wai-Ling, Kathryn, and Giang, we walk east from Nook Café to reach the Edmonton Chinatown Multicultural Centre. The Chinese Elders' Mansion is next door. Its residents are used to crossing 102 Avenue to reach different community buildings, but now a chain-link fence and a chasm of disrupted concrete stand in their way.
In a few years' time, the Valley Line LRT will run across this avenue. Its station will open near the former site of the Harbin Gate, a gift of Harbin (Edmonton's sister city in China). The gate was removed on November 4, 2017 to make way for construction. On March 17, 2017, Aiya Collective held a vigil to mourn the gate's removal, hanging flags with handwritten messages on the fence barring access to the construction site. The gate has been moved to a city storage yard in Cromdale, and there have been no public announcements concerning its future.
"The gate [says] Chinese people are here — that our culture is recognized and honoured by the city, and we're so proud of it," Wai-Ling says.
What will happen to Harbin Gate is as uncertain as Chinatown South's future. The City of Edmonton's 2014 planning document, The Quarters Downtown Area Redevelopment Plan, outlines a programme for revitalizing the Boyle Street area with amenities and public art. But the plan makes no mention of Chinatown. Moreover, the 2015 Boyle-Street-McCauley Area Redevelopment Plan claims Chinatown North is the "real" Chinatown. While the city has since backtracked and recognized Chinatown South, Kathryn says this initial blindsiding amounts to "cultural erasure."
"If you're writing a document with a new name for an area, and people start using that name… you're using words to relabel something and remove a piece from history," Kathryn says.
As younger Chinese Edmontonians, Kathryn and Giang engage with Chinatown to reclaim their cultural roots. For Giang, Chinatown conjures images of his childhood: Cantonese speech, Vietnamese Chinese cooking, and East Asian groceries.
For Kathryn, Chinatown is likewise a "home away from home."
"We learn a lot about each other, our community, our culture," Giang says. "Without that knowledge… you end up feeling confused at times."
Despite their shared love of Chinatown, Kathryn says sometimes older people aren't interested in the younger generation's ideas, which obstructs efforts to work together on community projects. Moreover, Wai-Ling says there are roughly 50-60 distinct Chinatown community groups for different dialects, interests, regions, and clans, each with different traditions and objectives.
To survive in the future, Giang says Chinatown needs "sustainable, viable institutions." Wai-Ling adds that the old guard must be able to "let go" to allow younger generations to take the lead, saying that celebrating the community's diversity could help bring its different groups together.
"I definitely believe with a collective effort, we can create beautiful and lasting things that many people can enjoy," Wai-Ling says.
As I walk back westwards from the Multicultural Centre, I again pass the site where the Harbin Gate once stood. Two guardian lion statues had flanked the gate, defending Chinatown South from misfortune. With the lions packed away, who will defend Chinatown now?