Eating Edmonton: Seoul Fried Chicken
It's Seoul good
Pauline Chan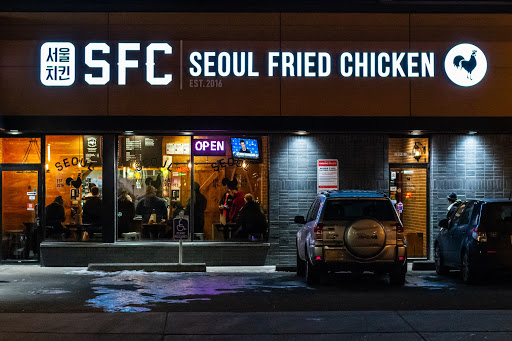 In Eating Edmonton, our food writers break down their favourite (or not-so-favourite) local haunts.
---
What: Seoul Fried Chicken
Where: 7904B 104 St NW, Edmonton, AB T6E 4C8
Hours: Monday to Saturday, 11:30 a.m. to 10:00 p.m., closed on Sundays
Price Range of a Meal: $8.00 – $27.00
---
Everyone has a favourite restaurant or comfort food, but when you move to a new city, you have to compromise.
For me, it all started when I moved to Edmonton for university. I felt like something was missing. I missed my family and my friends, but what I really needed was some comfort food. Being in a new city, it all felt pretty impossible.
I remember scrolling through some Google recommendations back in first year. Not many restaurants stood out, but just when I was about to give up and go for Subway, I came across a small Korean fried chicken joint. It had great reviews, so I thought I'd stop by and check it out.
Best decision of my life.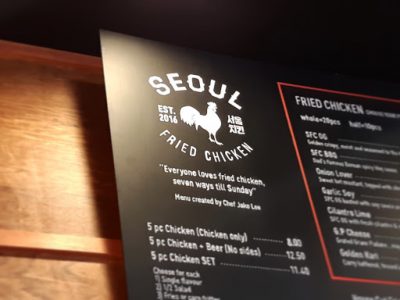 Seoul Fried Chicken is a relatively small eatery, but its owners know what they're doing. While SFC mainly does takeout, it does have a few tables if you want to eat in. The hole-in-the-wall's decor is casual, chill, and laid-back: nothing fancy but still aesthetically pleasing. It's the perfect place to catch up with friends (if you can find a table) or just treat yourself on a lazy afternoon. SFC really is perfect for any occasion.
Menu-wise, they like to keep it simple. SFC offers seven flavours: Garlic Soy, SFC OG (original), Onion Lover, G.P Cheese, Golden Kari (Japanese curry), Cilantro Lime, and SFC BBQ (which isn't actually barbecue, it's more of a spicy Korean sauce). No matter which flavour you choose, the chicken is always fresh, crispy, and juicy — a.k.a. the best chicken you will ever have in your life.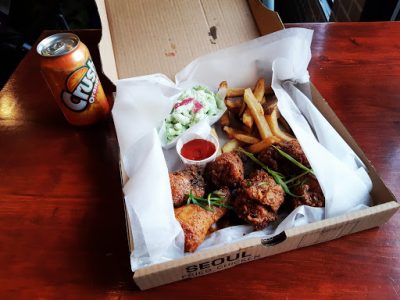 I'm your typical broke university kid, so fine dining isn't really an option. That brings me to reason #88888 as to why SFC is my favourite. Not only is the food good for your taste buds, it's also good for your wallet. Its five-piece combo (what I get every time) clocks in at about $12. Affordable, delicious, and filling: could you ask for anything more?
I recommend trying the five-piece set with Garlic Soy Chicken, House Cut Fries, Mac n' Cheese Pesto, and a soda of your choice.
Obviously, this review is biased because I love Seoul Fried Chicken, but it's definitely worth a try. And hey, maybe you'll find a new comfort food too.
And for all my vegetarian friends out there: I guess you can try the salads?