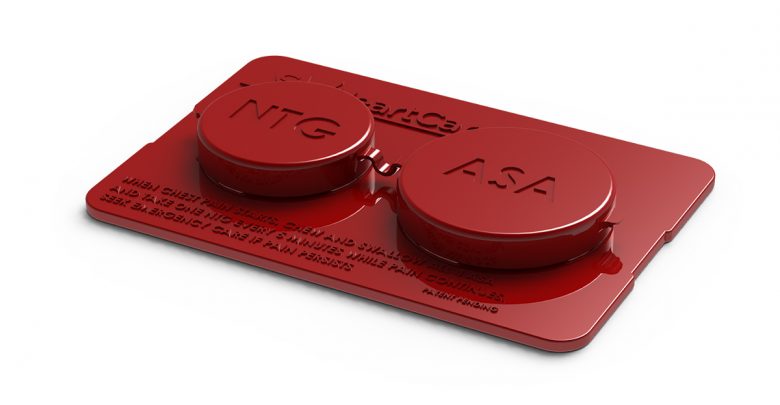 A University of Alberta alumnus recently launched a product that allows heart attack sufferers to have instant access to potentially life-saving medication.
Launched early October, the SMHeartCard (pronounced "smart card") is a miniature card-shaped container designed to fit in a wallet. Six millimetres thick and no larger than a credit card, it features two small housings that contain aspirin and nitroglycerin tablets, which are essential to people suffering a heart attack.
Dr. John Mackey, a U of A alumnus and director of clinical trials at the Cross Cancer Institute, designed the SMHeartCard as a way to conveniently and safely store heart attack medication so it can be instantly available in the case of a sudden heart attack.
The invention was inspired by his brother who, despite being at risk of a heart attack, did not carry medication due to a lack of convenience. Currently, nitroglycerin tablets are stored in glass bottles, which Mackey explained are fragile and do not entirely protect the tablets from abnormal temperatures.
"The real problem wasn't that the drugs didn't exist, the real problem is one of convenience," he said. "So, the whole idea was how do we address the fact that people like my brother just don't find it convenient to carry potentially life-saving medication? People won't do it unless we make it easy."
Mackey explained that nitroglycerin tablets are "tricky" to store, tending to lose their potency when kept in regular plastics or when subjected to heat and cold. To address this, he developed the card using a chemically inert plastic to surround the nitroglycerin pills, allowing them to remain effective for up to six months, even when stored in adverse conditions.
"I want something that's safe at body temperature," Mackey said. "I want something that if they lose their nitroglycerin in their glove compartment overnight on a warm or cold day it would work."
Citing data that on average, patients with chest pain must wait 90 minutes in an emergency room before receiving treatment, Mackey went on to explain that the SMHeartCard can ensure that heart attack sufferers have instant access to the medication they need.
"The number of minutes you go without a blood supply to a portion of your heart, the more likely that's gonna die," he said. "So you can reduce the severity of a heart attack by early aspirin or nitroglycerin."
Mackey currently carries a SMHeartCard himself and recalled a time when, during a six-hour flight, he used it to administer instant treatment to a 70-year-old man suffering a heart attack.
The SMHeartCard is available for purchase online, and pharmacies in IGA supermarkets now carry the card as well. When needed, the card can be brought to any pharmacy and refilled with the appropriate medication. Its size currently allows it to store four pills of 81 mg aspirin pills and three small nitroglycerin tablets, which constitutes a one-time series of doses to be used during an attack.
When asked about future plans for the SMHeartCard, Mackey noted that the concept of a personalized, on-person container may be developed for other special medications as well.
"We have a few people that have followed us up and said 'Hey, it's great for nitroglycerin and aspirin, but I'm interested in this other drug that people should carry with them but they don't,'" he said. "So we're in early discussion trying to see if this technology… would be applicable to some other medications."