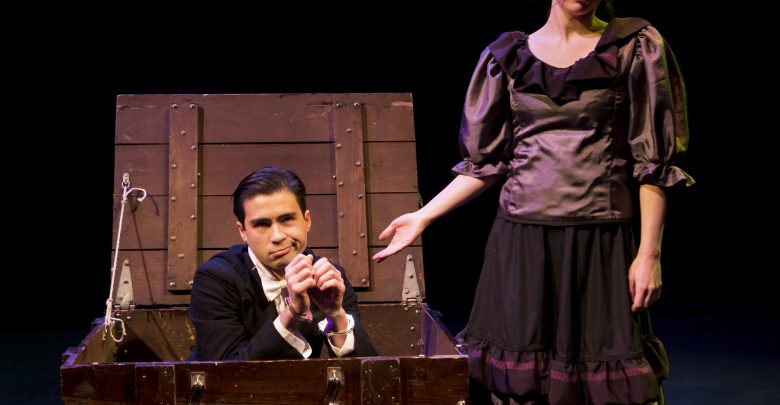 What: Minerva – Queen of the Handcuffs
When: January 17-27, 2019
Where: The Roxy on Gateway
Tickets: $22 online or at the door

Playwright: Ron Pearson
Director: Bradley Moss
Cast: Miranda Allen and Richard Lee Hsi
---
This cuffing season, it's the story of Minerva Vano that's locked up my heart.

Based on the true story of Minerva Vano, a rival of famed escape artist Harry Houdini, the play took us on a psychological journey as Minerva, with the aid of hypnotist Charles Mason (based on the real-life Guy Jarrett), reflected on her career and her relationship with her husband and manager, Willie Vano (real name Edward).

Miranda Allen offered a nuanced and emotive portrayal of Minerva as we watched her develop agency as a performer and woman in a difficult time period and industry. In the The Roxy's intimate space, I easily became engrossed in her performance and felt as if I were with her on stage as a sort of confidant, especially because of the script's self-reflective nature. Allen narrated most of the intercedent action, but did so in a way that felt natural and conversational rather than explanatory.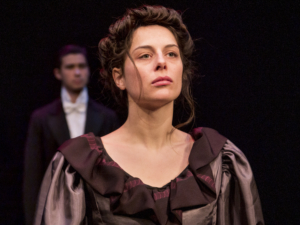 I credit the dialogue here, as it was especially crisp, and Allen's delivery was realistic and evocative. Richard Lee Hsi acts as a performative chameleon, cycling through the entire cast of male characters. The chemistry between the two shifted with each costume change from love, to fear, to rapprochement, and the work of the two actors together made it believable that she was interacting with a totally different person from moment to moment.

The stage design was simple yet effective. A faintly translucent curtain separated the foreground from the background and served as a barrier throughout the play: a barrier between dreams and lucidity, past and present.

A chair, a box, and a barrel were the principle props in the foreground, and they became part of the main action alongside interactive vignettes in which Minerva and Willie performed their escape acts as if we were their audience in the early 1900s.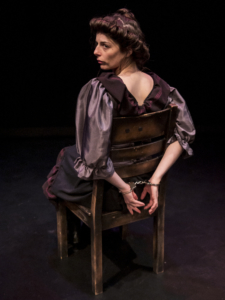 The escape acts were excellent. It was fun to see audience members brought up to participate, and my date for the evening was delighted to "touch the thumb cuffs." I won't give too much away, but Allen and Hsi worked carefully to stay in character while performing some truly mind-boggling stunts. I'm still trying to figure out how they were even possible.

Minerva dealt with some difficult and topical subjects, including the struggles of work and relationship balance, professional jealousy, betrayal, and being a woman in show business. The thematic ground the play attempted to cover was ambitious, but its fairly short running time did leave some of the relationships underdeveloped. The relationship between Minerva and Willie was strong and realistically played as we followed the decay of their marriage, but Guy Jarrett and Houdini were largely two-dimensional. The play placed most of its focus on Minerva herself, which is of course important, but I still think these other characters could have been granted more depth without detracting from her story.

Ultimately, Minerva – Queen of the Handcuffs's strengths were its actors' thoughtful and attentive performances, its quick and smooth pacing, and its audience participation. All of this created an immersive audience experience in which Minerva's story was able to shine.