Ranking Cody Fern's three best… and three worst fashion moments
Jake Gallant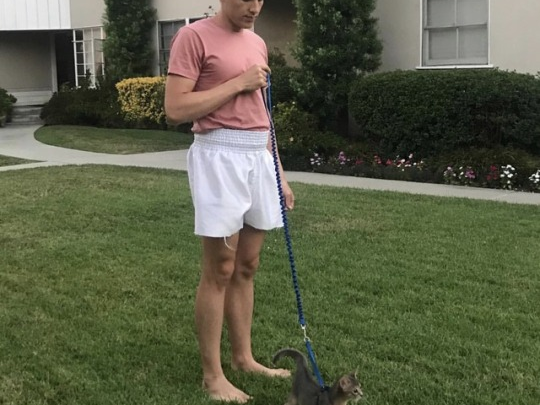 Actor Cody Fern has certainly been thrust into the spotlight this past year, due largely to his critically acclaimed roles in the latest editions of Ryan Murphy's anthology series, American Horror Story: Apocalypse and American Crime Story: The Assassination of Gianni Versace, and (to a lesser extent) his critically not-as-well-received role in the final season of House of Cards.
Recently, however, he has been gaining attention off-screen for his exceedingly eye-catching, albeit eccentric wardrobe choices. As a self-appointed arbiter of what is and isn't fashionable, I've graciously taken it upon myself to bring light to three of his best looks whilst shamelessly berating his three worst fashion faux pas.
1. Worst: Critics' Choice Awards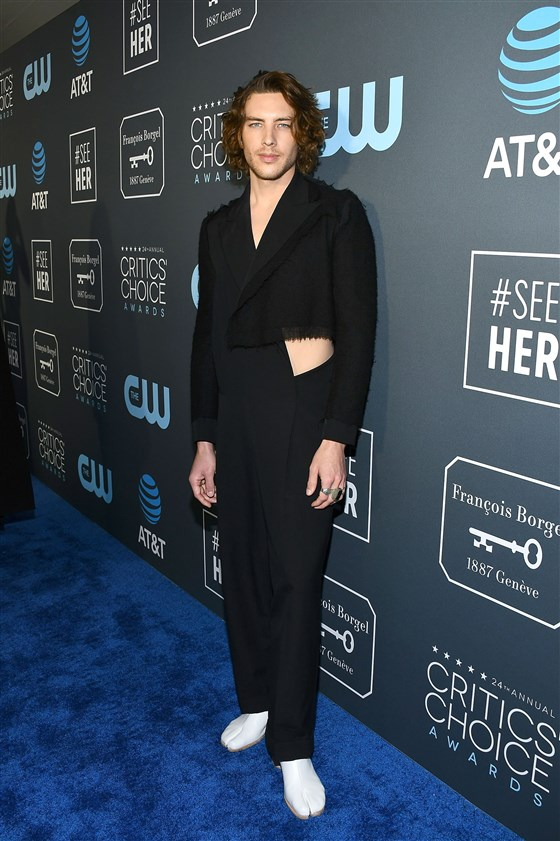 At the 2019 Critics' Choice Awards, the 30-year-old Australian actor was sporting a particularly avant-garde suit with a large portion of the right side ripped off to expose a fair bit of skin, as he is known to do.
The aspect of the ensemble that is entirely unforgivable, however, is the hideous two-toed boots (which the internet has dubbed "hoof-boots"). Joe Camel could maybe pull them off, but other than that, anyone wearing these needs to have their footwear purchasing privileges revoked.
2. Best: FX and Vanity Fair Emmy Celebration
This is certainly one of Fern's better looks. The roses on his shirt match his smoky-red eyeshadow, which is likely a nod to the preferred style of his AHS: Apocalypse character, Michael Langdon.
Though it's safe to say a sizable portion of the men at the various Emmy events are adorned with makeup, here's to Fern for doing so in such a visually evident manner that proves makeup can be utilized to bolster a masculine aesthetic.
3. Worst: Cody Fern and his brother hanging out (not) in style
Pictured here is Cody Fern with his brother, whose name I was unable to find (but who cares because he isn't famous and dresses like an extra from "Teenage Dirtbag" by Wheatus).
Fern, on the other hand, is sporting a look that would've last had a chance of being fashionable during the heyday of The Fresh Prince of Bel Air but nowadays looks like the bottom of a bargain-bin find at a thrift store. In keeping with his aesthetic of absolutely horrid footwear, Fern is pictured here wearing a pair of Velcro shoes that scream "elementary-school chic," but which I am sure are exorbitantly overpriced.
4. Best: The FX, National Geographic, 20th Century Fox Emmy Nominee Celebration
In one of his more flattering looks, Fern is pictured here sporting a houndstooth suit jacket overtop a smart, black ruffled shirt. The most notable attribute to the outfit is the black string tie.
Fern has fashioned himself as one who likes to take inspiration from generations past in crafting his wardrobe — a feat that doesn't always pan out well for him. His attire here, however, proves especially fashionable, and the string tie pulls the whole ensemble together.
5. Worst: Taking the Cat for a Walk
One of Fern's most horrendous looks is this outfit he wore while taking his cat out either for a walk or simply to use the loo. Now, I know that, unlike the other images, this one was taken while Fern was clearly not camera-ready, and that he probably wasn't aware he was even being photographed.
That being said… WHAT THE FUCK!? One has to wonder what Fern could've possibly thought after donning this ensemble, with a shirt of the ever-romanticized salmon shade tucked into a pair of shorts with a waistband so wide that, if it weren't for the kitten present, I'd think he may have been about to step into a ring.

6. Best: 76th Golden Globe Awards
Thus far, 2019 has seen great diversification in male fashion at Hollywood award ceremonies. This is due in part to gender barriers in fashion being overcome more and more often, as more men sport femininely-charged looks and vice versa.
In one such example of killer gender-fluid fashion, Fern walked the red carpet in a semi-sheer shirt tucked into slacks — an outfit that has earned him high praise from such fashion magazines as Vogue and Elle. The only detracting factor from this otherwise on-point look is another pair of the goat-boots of which Fern seems so fond.