Institutional
News
Federal government announces $1M investment in U of A nanotechnology facility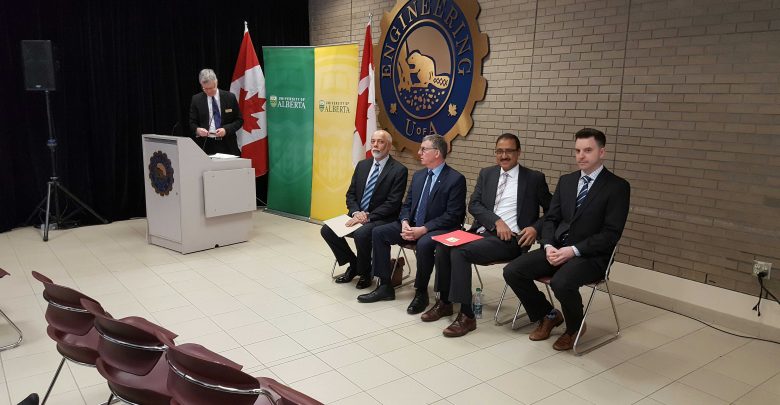 The Canadian government announced they will invest $1 million in the University of Alberta's nanoFAB facility to help purchase new micro and nanotechnology equipment.

The announcement was made on February 11 by Amarjeet Sohi, federal minister of natural resources, on behalf of the minister of innovation, science and economic development Navdeep Bains. The investment will go to nanoFAB, an open-access research centre that focuses on the development of micro and nanotechnology both for research and industrial development. The money will be used to purchase three new tools for advanced manufacturing: a deposition tool for laying down thin films of metal, an etching tool, and a patterning tool. The applications of these tools range from the energy to biomedical industry.

NanoFAB supports companies using micro and nanotechnologies in the development of their products, as well as students doing masters and PhD-level work. While their current tools are good for research, Eric Flaim, director of the nanoFAB, said these new tools will help with industry and manufacturing capacities by accelerating manufacturing and output.

"This funding will be critically important in order to move that research into manufacturing for the development of products," he added.

With this $1 million funding from the federal government adding to the $1 million from the provincial government and $1.4 million from Micralyne Inc., nanoFAB now has $3.4 million for the purchase of this new equipment.

Sohi discussed the importance of diversifying Alberta's economy and the work the university is doing to help create an "innovation economy." He said these new tools will help 10 small to medium companies increase production to a commercial scale, creating $20 million in industrial revenue, generating jobs and bringing projects to market. He also stressed that these kinds of investments will increase Canada's competitiveness in the international market.

"Innovation is key to maintaining our competitive edge[…] and today's investment helps bolster this competitive edge," he said.

For students who are working with technology, such as science and engineering, Flaim said they now have a way into careers in industry through these collaborations. The idea, he added, is to develop not only the research, but the jobs that they can go into.

"Masters and PhD students having these types of pathways and receptacles for our highly qualified students to be able to get jobs in industry, especially locally, is critically important, and this is why the nanoFAB viewed this funding application as important as it did and why we participated as heavily as we did with our industry partners," Flaim said.