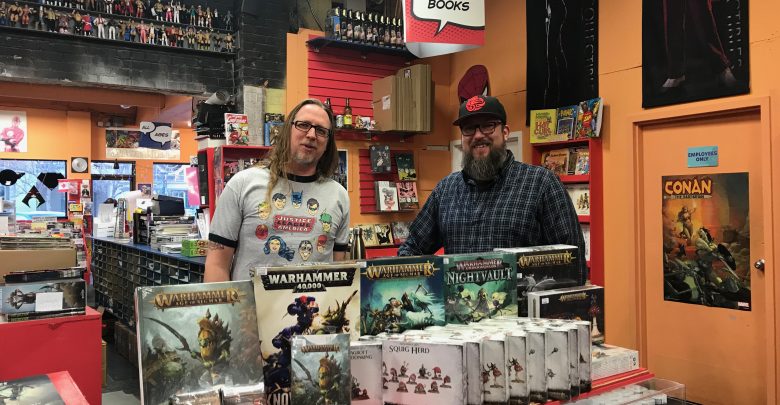 An Edmonton comic book institution is undergoing a reboot.

Happy Harbor Comics is changing hands and gaining an all-new, all-different name, Wonderland Games Edmonton (Wonderland Edmonton for short). Since it opened in 2005, the comics and collectibles store has become a community hub for fans city-wide. But now, founder Jay Bardyla and his partner and co-owner, Shawna, are hanging up the cape. While they initially planned to close it down, an outpouring of community support encouraged the couple to find a buyer: the Grande Prairie-based Wonderland Games.

"People were referring to us as an institution, which was crazy!" Bardyla says. "We really didn't expect this response from people at all."

Bardyla's passion for comics began as "an only child from a broken home," who drew inspiration from the noble heroes of DC Comics. While this passion initially led him to law enforcement, he began working in comics in the 1990s before starting his own shop. Bardyla opened the original Happy Harbor in Jasper in 1999, relocating to Edmonton in 2005. While Jasper had low demand for comics, the company found success in Edmonton thanks to a growing customer base and community.

"Running a business is tricky, for sure, but the business that I run is fun!" Bardyla says. "A lot of people have a place here, and we care about them and they care about us."

Community engagement has been a long-running story arc for Happy Harbor. For four years, the company supported a women's roller derby league, and it also routinely supports literacy initiatives. For the past few years, Bardyla says, Happy Harbor has run a charity auction raising funds in the 70,000-dollar range. The store also puts on book fairs at local schools, where 20 per cent of the profit goes to the school and guest artists come to talk to the kids. Bardyla sees this community work as "an exercise of good karma" to show his customers gratitude.

"For a living, I'm not a neurosurgeon, I'm not putting infrastructure on the moon: I sell comic books to people," Bardyla says. "As an exercise of good karma, I better give something back!"

Another way Happy Harbor gives back is through its Artist-in-Residence program. The program grants $100/week stipends over 32 weeks, offering the artists time and space to work on their craft. For many artists, Bardyla says, the residency leads to a published project or industry job, on top of building their portfolio and professionalism.

"The whole reason we started it was because a lot of artists either have a full time gig or a part time job that they need to supplement their art, and they don't have a whole ton of time to draw," Bardyla says. "Hopefully the environment that they are working in will be inspirational and more creative."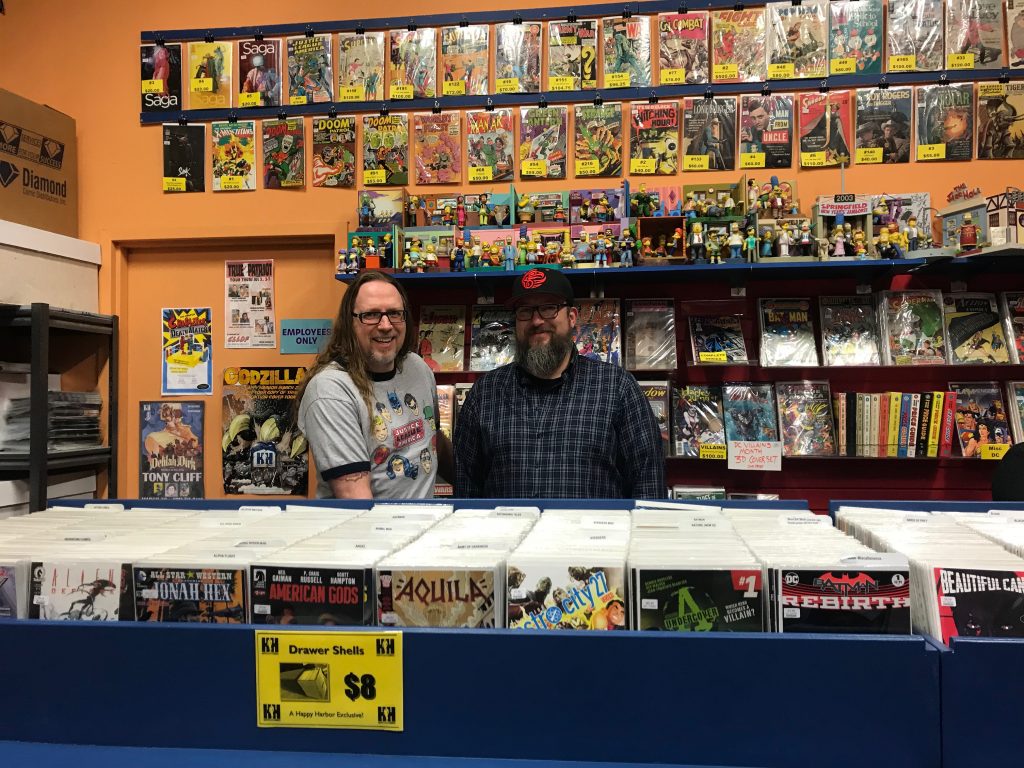 While he anticipates Happy Harbor's current business profile remaining intact under the new owners, Bardyla says they're bringing in a new focus on collectibles and games, and will hopefully be able to serve a new customer base on these strengths.

"At the end of the day I'm just tired, and a fresh set of eyes goes a long way," Bardyla says. "Hopefully they will bring in some new people with new ideas and new energy."

For his part, Vince Joyall, the owner of Wonderland Games, wants to expand on Happy Harbor's strengths in community events to include tournaments and games on a weekly or even daily basis. He plans to bring in new staff with expertise in role-playing and collectible card games, such as Dungeons & Dragons and Magic: The Gathering. He also intends to replicate Happy Harbor's artist-in-residence program, plus its literacy partnerships with schools and libraries, in Wonderland's Grande Prairie and Prince George locations.

"Happy Harbor was the paragon of outreach," Joyall says. So when I read [of the impending closure], my heart broke."

Joyall had been looking to Happy Harbor for inspiration as he expanded Wonderland's programming. But with the news of the store's closure, he thought at first that he'd lost his chance to learn from his Edmonton counterparts — until he realized a change of ownership could save the store from its own infinite crisis.

"[But then] I thought, 'Maybe I didn't lose my chance,'" Joyall recalls. "This was a better chance."

Wonderland's Grande Prairie location includes a diner, and Joyall is hoping to eventually bring a diner to the Edmonton location as well. But with changes on the horizon in downtown and in the store, Joyall wants to make sure Happy Harbor's longtime community still recognizes the revamped store as its own.

"I want the people who consider themselves Harborites to still feel like this is their home."