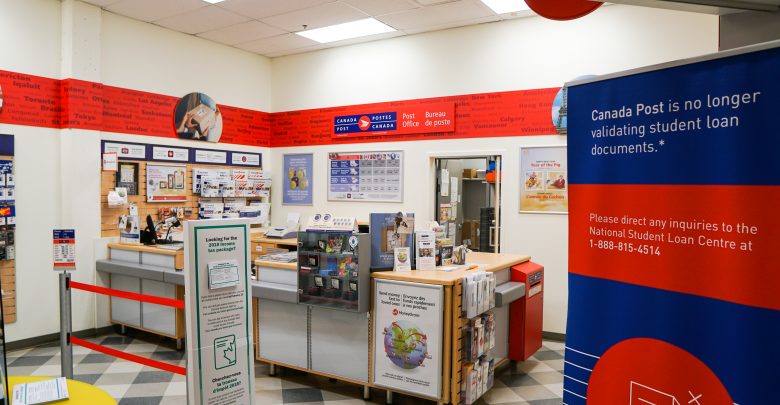 With the Students' Union's contract with Canada Post coming to an end, the post office in SUBmart will close on April 19 due to a decline in revenue and usage by students.
The post office's revenues have been declining over the past couple of years, and the decision was made based on the post office's financial situation and perceived low impact on students. Choosing what will replace the post office in SUBmart will be up to next year's Students' Union executives.

Emma Ripka, Students' Union vice-president (operations and finance), said the decision to close the post office was also made after examining how much it was being used by students. Since student loans are no longer validated at the post office, Ripka said student usage has declined.

In terms of usage, there were 1,641 student loans validated during the 2017-18 school year, compared to the 9,164 loans validated in the 2013-14 year. This had an impact on the revenue side, Ripka said. In terms of postal boxes rented, 36 of the 60 small post boxes, and only four of the 10 large boxes are currently being rented.

"Overall, numbers speak volumes when it comes to this kind of thing, and so it's pretty clear that students weren't using it as they once had," she said.

For the staff who currently work in the post office, Ripka said they will be re-assigned to positions at other Students' Union businesses, such as SUBmart or The Daily Grind.

In terms of impact on students, Ripka said the idea of closing the post office was brought up during a during a closed session of Students' Council to make sure they considered student communities with specific needs, such as international students. Overall, she said council was in favour of the space being repurposed.

"People were not very passionate about either side," she said about the council conversation.

However, some students feel that the closure of the post office would negatively impact them.

Ryotaro Miyawaki, an international student in his first year in the faculty of arts, comes to the post office once a week to send things and pick up online orders.

"It was really convenient to have one on campus," he said. "[to have the post office close] would be disappointing."
"I come here once a week so that just means an extra trip every week," he added.

With the post office in SUBmart closed, students living on campus might have to go to the next nearest post office, which is inside Shoppers Drug Mart on Whyte Avenue.

"This one is the nearest, and I don't really know any other place," said Nikita Adekar, a first-year science major living in Lister. She receives packages at the post office to avoid waiting for them to go through the university postal system, which can take an extra two days.

While the decision about what will go in the space in SUBmart will be up to next year's Students' Union executive, if students have ideas or requests, Ripka suggested they speak with their councillors or the executive. As of right now, there are no plans about what will go in its place and no timeline of when those decisions will be made.