Remedy Café set to open in CCIS by fall semester
Nathan Fung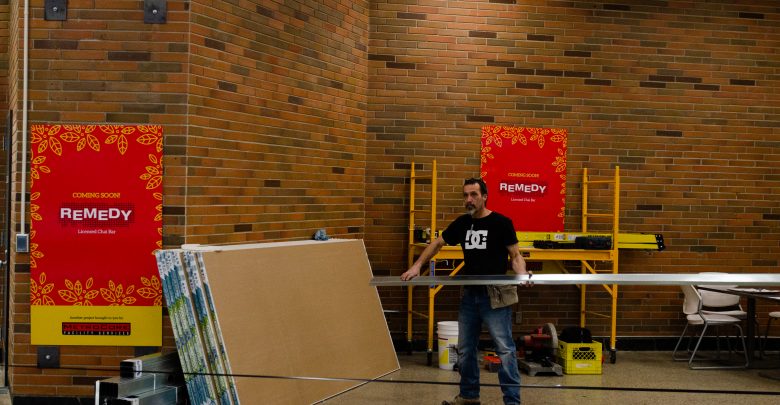 Soon, students will be able to order a chai from Remedy Café without having to walk 16 minutes east from campus to the venue on 109 St.
On February 21, construction work on a new Remedy Café location began on the north end of the CCIS building in a space that was formerly occupied by a Second Cup kiosk. Sohail "Zee" Zaidi, owner of the Edmonton restaurant chain, said he hopes the new venue would be open and ready sometime between March or May of this year.
"A lot of people [from the university] come to Remedy for lunchtime on 109 [St.], so I have a lot of requests to come to campus because of the gluten-free food and vegan food, and the chai [we offer] especially," he said. "So yeah, I took that location [in CCIS] and we're going to have one more [store] pretty soon."
Zaidi, who started Remedy Café in 2001, said the new store will have a smaller menu compared to other locations, but will still include a few food items like vegan wraps. Since there won't be a kitchen in the upcoming venue, Zaidi said the food will be prepared at the 109 St. location and then delivered to campus.
While most food vendors on campus are run by Aramark, the university's food contractor, Zaidi said the upcoming Remedy location will be run as a private vendor.
The new store will be Remedy Café's seventh location, with other stores located near Jasper Avenue, 124 St., Terwillegar Towne, and Southgate Mall. A sixth location is also being built on Whyte Avenue in the new Raymond Block building.
Zaidi added that he'd considered opening a store in the basement of the Students' Union Building (SUB) in the summer of 2018 after the contract for The Undergrind, a Students' Union-owned coffee shop, wasn't renewed due to declining revenues. While discussions for a spot in SUB "did not go very well," Zaidi said the contracting process with the university was "pretty good." As a result, the space in SUB basement went to the Filipino restaurant Filistix, which opened in September 2018.
Remedy Café's lease with the university is set to last till 2024. However, Zaidi said he foresees the new venue continuing beyond five years, provided the business performs well.
"We're going to stay if I'm making money and I'm serving the people well, and they're happy," he said.