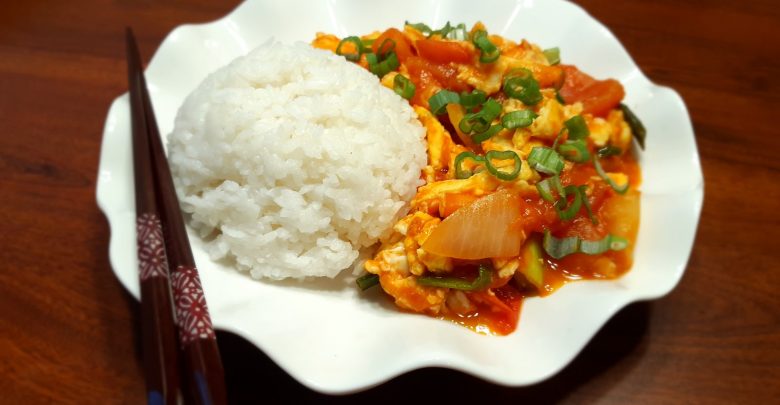 The ultimate recipe series for students!

In our new ongoing series, Lunch Break, our food writers reveal their secret recipes for surviving university.
---
What: Stir Fried Eggs and Tomato
Prep Time: Approx. 5 mins
Cook Time: Approx. 15 mins
Feeds: One person for two days
Level: So easy you might cry
---
If you know how to make scrambled eggs (a.k.a. failed attempts of an omelette), then I'm sure you can tackle this dish. For this edition of Lunch Break, I will be introducing everyone to the amazing Tomato and Egg Stir Fry! This dish is INCREDIBLY easy to make since it only requires two main ingredients: tomatoes and eggs. Everything else can be optional (assuming you have salt, sugar, and cooking oil).

Stir fried eggs and tomatoes—番茄炒蛋 — is a common chinese dish with many different variations prepared throughout Asia. Due to its simplicity, it's commonly eaten by students like me. In this article, I will be featuring my take on my mom's OG recipe. I've been surviving on this dish for the past 19 years and I'm still alive so you might as well give it a try.

This dish is best enjoyed with a steaming bowl of rice or noodles so make sure you prepare that before you get started! Hopefully all of you know how to make rice…? I'm just going to go ahead and assume y'all know how to make rice, so let's dive right into the basics!

Shopping List :
3 tomatoes (whichever variety is on sale that week)
⅔ onion
Eggs
Ketchup (trust me, this will make it 100000x better)
Cornstarch (for thickening)
Optional:
Garlic
Any protein: Beef or pork works best
Green onions for garnishing
Anything else you would like to add in
Directions

Crack 4 eggs into a bowl and mix. Take 3-4 tomatoes and ⅔ of an onion and chop them into small pieces (also thinly slice beef/pork if you'd like to add that in).
Add 1 tbsp of cooking oil into a pan and heat on medium (high, if you're impatient).
When the pan is hot, scramble the eggs and set aside. Keep them in big chunks.
Optional: Cook any protein you would like to add and set aside.
Brown the onions first, then throw the tomatoes in and let them feel the heat on medium.
Once the tomatoes aren't raw anymore (about six minutes), throw the eggs (and any protein) and slap a lid on the pot and pat yourself on the back because you're halfway done.
When the eggs and optional pork/beef are no longer half raw, add salt and sugar to your own preference. I usually use a ratio of 2:1 tsp of sugar to salt.
Add 1-2 tbsp of ketchup. The ketchup enhances the tomato-ness of the dish, so make sure you add that in!
Once you're happy with the taste of the sauce, make a slurry with 1 tsp of cornstarch and water and add that in. Stir. Garnish with green onions.
And BAM it's done! Eat straight from the pot to save yourself some dishes.
Pack up any leftovers for tomorrow's breakfast, lunch, and dinner. This recipe offers tons of room for customization, so any additional ingredients are all up to you. If you're salty, add more salt. More of a sweet tooth? Then throw some more sugar in. The tartness of the tomatoes pairs up with the sweetness very well. You can even add shrimp if that's your thing. This is one of my favourite dishes I grew up with, so I strongly encourage everyone to give this a try!