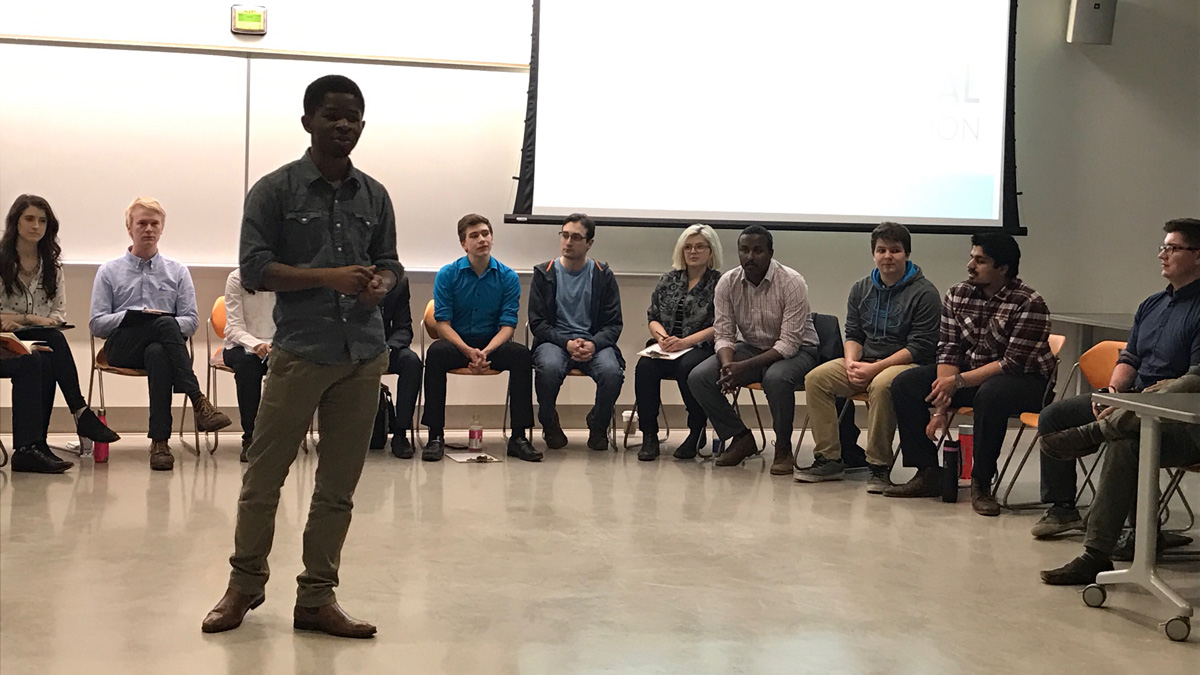 The Presidential race was a big deal, so we gave it its own article. Check it out here: Presidential race heats up at international student forum
Operational employment
Current Vice-President (Operations and Finance) Robyn Paches had another uncontested debate at the first ever International Student's Association Forum on March 3, as his opponent Chen Liang was still not present.
After reiterating his platform, Paches was asked how his plans will benefit international students, if hiring in Students' Union businesses prioritizes students over non-students, and if there's any work being done to reduce barriers to employment — especially for international students.
In response, Paches said that students are prioritized "automatically" in the Student's Union's hiring process, that barriers to employment vary between different businesses and services, and that adequate training for new employees is provided.
"In the end, the reason we push for student employment is to ensure we have experiential learning opportunities on campus," Paches said.
Houses, cars, and 16-hour work days
Barriers international students face in finding employment were brought up multiple times at the forum. Lisa Zhang and Reed Larsen cited the Summer Temporary Employment Program (STEP) and how international students are barred from applying for that opportunity.
Larsen also said he would like to increase work hours allowed for international students, and give them the option to be part-time students.
"It's all about choice for me," Larsen said. "I think they should have the choice to manage their studies and find the time to really work with employers."
While the other candidates discussed barriers to employment, candidate Ankur Pandey recounted his own experiences in gaining employment as an international student, as well as the fact that he owns a house and a new car.
"I'm not a resident of Canada," he said. "I've been working for the Government of Alberta for the last three years, and I make very good money. That's why you can see I'm wearing suits every day."
Later in the forum, a member of the audience asked Pandey if it's feasible for other students to make time for work while taking three courses, where Pandey mentioned that he worked 16 hours some days.
"I didn't know that in order to be a full-time student you can take three courses, I was told that you need to take six or five" Pandey said. "So a lot of international students don't know."
Candidate James Thibaudeau responded to Pandey's answer critically.
"I don't believe it should be the standard for every student wanting to study here internationally to come here and have to work 16 hour days," Thibaudeau said.
Larsen was also critical of Pandey's answer and stressed that his platform isn't based on just his own experience.
"I want to make it very clear that nothing I put on my platform is anecdotal," Larsen said. "I'm not basing this on what I think all international students should do."
Demographics and plagiarism don'ts
The VP (Academic) candidates faced questions about plagiarism and privacy concerns during the International Students' Association forum.
Candidate Shane Scott was asked about the details of his pledge to data from the Office of the Registrar to quantify the demographics of the student body. Scott responded that through his work as a research analyst with the Students' Union, he found that there's a lack of understanding of who makes up the student body.
"We really don't know what our student body looks like," Scott noted. "We don't know what the racial makeup is, what the religious makeup is, what the sexual, gender diversity is."
Scott went on to explain that other Canadian universities have considered implementing similar approaches to demographic collection.
"Once we know who's sitting in our classrooms, we can begin to create change," Scott said. "Until then, everything we're doing, all the advocacy we're doing, it's really speculative."
Banana's interpreter, in response to a question about the hamster's empowerment of the international student population, said that Banana's looks were a key part of engagement of both students and animals.
"Alone, Banana's cuteness really empowers people," said Banana's interpreter, Joanne Pham. "It's gotten a lot of people involved (in the election)."
Audience members asked Scott about the concrete action he would take if elected to ensure international students would understand U of A's plagiarism policy. In response, Scott said efforts to recognize the international students' challenges are lacking. When pressed for a concrete example of an action he would take within the first three months of being elected, Scott said that he would work with the International Students' Association and other cultural groups on campus to address cultural factors that contribute to the higher number of plagiarism incidents involving international students. Scott added that the factors should be brought to the attention of university administration.
Scott's platform point about quantifying student demographics was questioned by a member of the audience. When asked about potential privacy violations that might occur during the collection of data such as the genders, ethnicities, and ages of students, Scott replied that the Office of the Registrar has historically been open implementing suggestions related to demographics when presented with research.
"I think it's a matter of doing that research … to create that compelling case (for collecting demographic information)," Scott said. "I've seen the research and I think it is there ― we just need to present it to (the administration). They're willing to listen."
Lives of International Students
Vice-President (Student Life) candidates introduced themselves to the international student forum by explaining their own connections to the international experience.
Former HUB Mall residence association president Rabib Alam told the forum of his own experience as an international student, having come to Canada from Bangladesh in 2012, and explained his own experience with mental health services. Listerite Ilya Ushakov said he dealt with culture shock in the past as well — his family moved to Canada from Russia, while HUB Mall residence assistant Kyle Monda shared his vision for bringing multilingual services to the Peer Support Centre.
Like Monda, Alam said he'd push for mental health services to be available in more languages, but said his focus would be on providing more counselling services in other languages, "starting with Mandarin."
Alam repeated that increasing language diversity in mental health services would be a priority when the International Students' Association asked what the VP (Student Life) candidates would do to remove barriers. Ushakov said he wanted to bring international students and domestic students together through programming and events. Monda maintained that multilingual volunteers for the Peer Support Centre were his priority.
"You have three weeks!"
Candidate Armand Birk opened his time at the International Students' Association forum by explaining that he wanted to improve consultation with their 7,000-person demographic. He'd work with individual student groups to find a consultation method that fits their needs.
"International students are only remembered around election time," Birk said. "I'm trying to do something like this so we can keep everyone relevant and in the game."
Candidate Mike Sandare told the forum that he understood international students' tuition having been this year's VP (External), and he wanted to take that to the Board. He maintained his platform point from other forms that he hoped to use "confessionals" to advocate to the Board and to build community.
"With the Lister meal plan, we were able to defeat it with the voices of students," Sandare said. "Coming into the Board of Governors' role, is what if we were able to outreach to all students in a way the Students' Union hasn't done before … I think we try something new."
Birk, conversely, argued that data-driven methods were better for explaining to the Board what was needed.
"When you're debating in governance, you need to back it up with numbers," he said. "With Mike's point of consulting on supplementary levels, speaking to the Board, and using that access we have, to me, that just sounds like the description of the (role)."
Each Board of Governors Representative candidate was asked what they would do in the three weeks leading up to the Board meeting if they learned in a committee that a motion that went against student interest was to be voted on.
For Birk, week one would be spent setting up emergency meetings for consultation and communication with the Students' Union President. In the second week, after finding a baseline for where students stand on the issue, he would start spreading awareness to the relevant parties. In the last week, "hopefully" the Students' Union and the affected constituents would all be informed, and a strategy could be made going into the Board meeting.
For Sandare, he said he'd circulate news to the organizations (in residence or in academic circles) that would be affected by hypothetical Board motion. In the second and third weeks, he said he would compile qualitative and quantitative data and bring that to meetings both Board members or Members of the Legislative Assembly — and would use that to convince these individuals that increases weren't.
APIRG debate heats up
Laura Kruse from the "Yes" side for the Alberta Public Interest Research Group (APIRG) plebiscite focused on how APIRG fosters inclusivity on campus.
"We promote cultural inclusivity, and events that celebrate diversity," Kruse said. "APIRG fundamentally advocates for diverse voices on campus."
Kruse also attacked the arguments made by "No" side campaign manager Alex Rodd directly, such as his argument that APIRG doesn't do enough to advertise the opt-out option of their $7 fee.
"The 'No' side continually fails to account for how the campus they envision without APIRG will support diverse voices, including black, indigenous and people of color," Kruse said. "(They) have no suggestions for how to improve outreach, and they make erroneous financial arguments."
Rodd spent his time repeating the same points as in previous forums, such as how APIRG is still not well-known.
"APIRG says they work with things, within structures, they talk very little about what they actually do," Rodd said.
In response, Kruse reiterated the work APIRG does on campus and how they provide funding for cultural groups. She pressed Rodd for more constructive suggestions.
"We have worked with the Students' Union, we have worked with Safewalk, Campus Food Bank, the Sexual Assault Center, Engineers Without Borders, to provide specialized training on anti-oppression," Kruse said. "Who on campus would provide that anti-oppression training?"
Rodd said that he wouldn't necessarily advocate for the replacement of APIRG, but would like to see a new group with lower overhead costs.