31st Annual Sterling Awards honour Edmonton's professional theatre in all forms
From indie new works to Broadway-bound spectacles, the Sterlings celebrate city's dramatic achievement
Jonah Dunch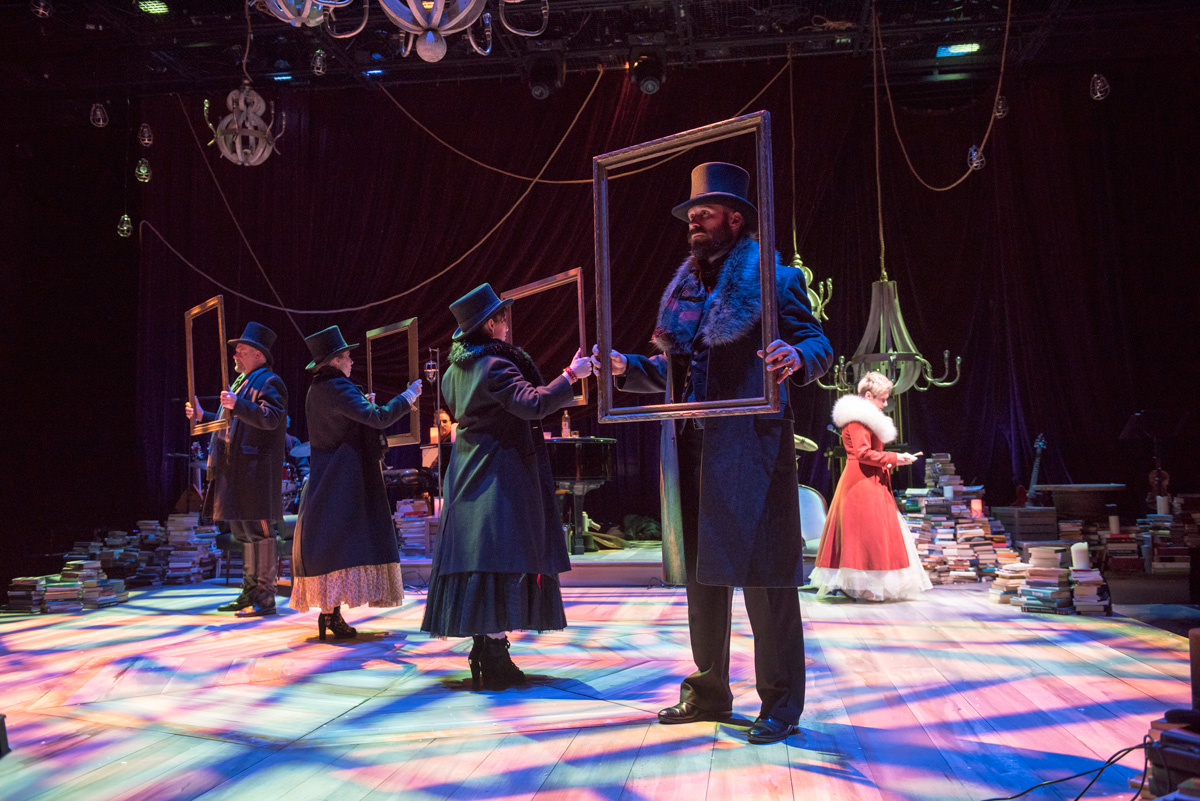 From the walls of Troy to the depths of the underworld, from dogs to forest vagabonds to goblins, the 31st annual Elizabeth Sterling Haynes Awards celebrated the bewitching tour de force of the 2017/18 Edmonton professional theatre season.
Hosted by the Mayfield Dinner Theatre, the Sterlings — Edmonton's professional theatre awards show — took place on January 25, 2018. Hosted by local actors Hunter Cardinal and Rachel Bowron, the 31st Sterlings honoured local, national, and international talent in musicals, plays, theatre for young audiences, and Fringe shows. (The Gateway previously covered the nominations announcement here.)
Winning four Sterlings, the Catalyst Theatre/Arts Club Theatre co-production of Onegin (an eclectic rock musical adaptation of Pushkin's novel, which we reviewed here) dominated the musical categories, including Outstanding Production of a Musical and the newly renamed Tommy Banks Award for Outstanding Musical Direction. The late Canadian senator and Edmonton musician was a pillar in the local arts community, and the Sterling team received his family's blessing to rename the award in his honour.
The Theatre Network/One Little Indian Productions co-production of Sheldon Elter's Métis Mutt (which we previewed here) won two awards: Outstanding Performance by an Actor in a Leading Role and Outstanding Production of a Play.
Nadien Chu represented the team of Workshop West's production of Beth Graham's Pretty Goblins (which we previewed here), earning an award for Outstanding Actress in a Leading Role. Her co-lead, Miranda Allen, was also nominated for the award—one of Pretty Goblins' six nominations.
"[I'm] completely bewildered, and surprised, and so proud of everybody," Chu told The Gateway. "It's a team win."
In an effort to illustrate the spirit of the Edmonton theatre community, Allen related an early-career story: four days before she came to Edmonton for rehearsals, an actress she ran into on the street lied to her — saying the location of an audition they were both attending had changed — in order to thin the competition. Days later, in Edmonton, a local actress supplied Allen with the script, date, and time for an audition for the only female role in a production.
"That (generous spirit), to me, is Edmonton," Allen said. "We believe that there's enough to go around. We believe we can work as a team, and we work together to make things happen."
Of its eight nominations, the Citadel's Hadestown walked away with two wins. The Citadel's production of Mieko Ouchi's new work The Silver Arrow: The Untold Story of Robin Hood earned one award of its seven nominations. Citadel Artistic Director Daryl Cloran accepted Jonathan Hawley-Purvis' award for The Silver Arrow's fight choreography and Amber Gray's award for her role as Persephone in Hadestown — as Cloran explained, Hawley-Purvis and his wife Alana are expecting twins, and Gray is also expecting a child, hence their absence.
"To see that many artists recognized for the work they did on our productions was pretty exciting," Cloran said. "To watch [Hawley-Purvis'] inventiveness was so, so incredible."
Cloran and his Citadel co-executives presented the Fringe categories, marking the fellowship between indie and big house theatre companies in Edmonton. Impossible Mongoose's production of Jessy Ardern's Prophecy earned three awards, alongside actor Ron Pederson in Bright Young Things' production of Sartre's No Exit, and Louise Casemore's new work Gemini.
"It's incredible, especially as a small indie company who operates on a shoestring budget, to know that our little show created with such humble means could make that much of an impact," Corben Kushneryk, who won a Sterling for directing Prophecy, said. "[The Fringe category] … levels the playing field for people who are just emerging."
In the Theatre for Young Audiences categories, Ouchi was recognized with two awards for Concrete Theatre's production of her play Consent, which probed issues of sexual violence in Alberta high schools in the age of #MeToo.
"It was such an honour to be recognized by the community for both shows [The Silver Arrow and Consent], because they were such meaningful shows to me in different ways," Ouchi said. "How do we educate young people about consent when we're trying to figure it out ourselves?"
Edmonton Actors' Theatre's production of Collin Doyle's new work Terry and the Dog cleaned up when it came to indie productions, winning awards for Best New Work, Outstanding Performance by an Actor in a Supporting Role, and Outstanding Independent Production.
"There's a ton of great work that happens throughout the whole season — to boil it down to five or so people seems insane," Terry and the Dog's producer/director Dave Horak said. "I try not to take these things too seriously, but it is nice to get acknowledged."
In his acceptance speech, Doyle said that two other new works deserved nominations this year: Elena Belyea's Cleave (which we reviewed here) and Cat Walsh's Do This in Memory of Me/Faites ceci en Mémoire de Moi.
"It's really hard to get new work produced on Edmonton stages, so it's wonderful when you see there was a great amount of new work by some amazing writers — and they were filled by actors that were from Edmonton," Doyle said. "Winning the award to me — the thing that I think is nice about it — is being able to thank the people that helped you."
The full list of winners will be posted on the Sterling website shortly.